Awards highlight exceptional faculty
Awards highlight exceptional faculty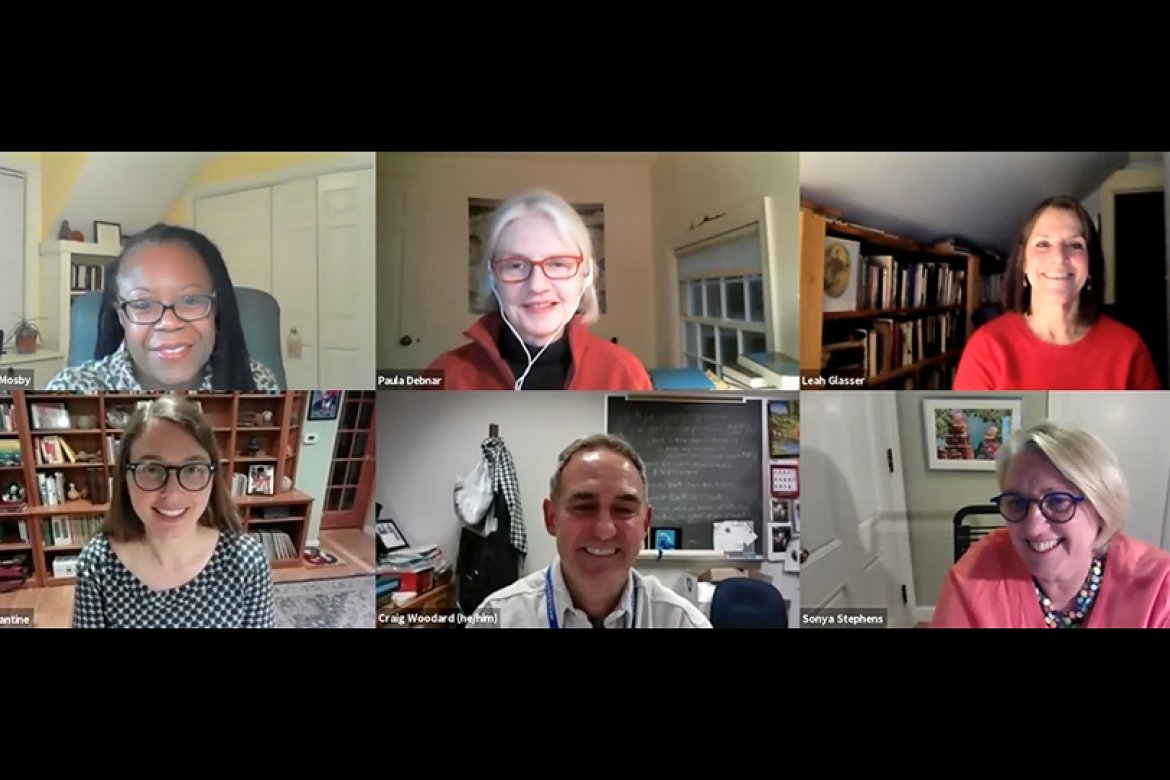 The recipients of the coveted Mount Holyoke College Faculty Awards were celebrated at a Zoom ceremony replete with warmth and kindness.
This year, the Mount Holyoke College Faculty Awards ceremony, an annual tradition dating back more than 20 years, was celebrated on Zoom for the first time. Despite the remote gathering, more than 100 people attended to watch their friends, colleagues, professors and mentors receive the College's highest recognition of their scholarship and teaching. 
"It is disappointing that this occasion, usually so convivial, must be remote this year. But I am delighted to take this moment to be in intellectual community with you all, to celebrate the exceptional work of this faculty, and in particular that of the four amazing recipients of this year's faculty awards," said President Sonya Stephens. 
Interim Dean of Faculty Dorothy Mosby introduced the recipients, praising them for embodying the spirit of the Mount Holyoke community. In a year in which Mount Holyoke professors were named best in the country by The Princeton Review, the awards carry an even greater weight. 
"These faculty are representative of what holds us together as a community," Mosby said. "The dedication of the faculty, persistence, passion for teaching, pursuit of knowledge and academic rigor."
Kate Ballantine, Marjorie Fisher Associate Professor of Environmental Studies
Kate Ballantine received the Meribeth E. Cameron Award For Scholarship. Ballantine may be best known in the Mount Holyoke community for her tireless devotion to restoration ecology and ecological restoration. Her focus was not a random choice. 
"When I was a student I was in pursuit of the Big Question: What was the most important thing I could do to save the world?" she said as she accepted the award.
After much soul-searching, she landed on the new field of restoration ecology.
Restoration ecology and its practical partner, ecological restoration, are the anchoring theory on one end, and the sweaty, muddy practice on the other, of bringing environmental balance back to sites around the world that have been negatively impacted by human activity.
"I hope this work promotes the understanding that the science, practice and social dimensions of a project are all mutually informing and equally important," said Ballantine.
Ballantine's latest project analyzes the efficacy of different methods of ecological restoration, measuring the impact of various interventions on water and soil quality and on greenhouse gases.
Passing her knowledge, skills and techniques to Mount Holyoke students is a great joy for her, she said. As her students develop their own work and push the edges of knowledge further and further, she knows that their contributions too will help bring balance back to the environment in real and tangible ways.
"In doing this work I have answered my own question — what is the most important thing you can do to save the world? It's devoting yourself to the thing you love," Ballantine said.
Craig Woodard, Christianna Smith Professor of Biological Sciences
Craig Woodard also received the Meribeth E. Cameron Award for Scholarship. In Woodard's lab, more than 200 students have cut their scientific teeth on the biology laboratory workhorse, Drosophila melanogaster — the fruit fly. 
Woodard studies the mechanisms that underpin the fruit fly's incredible conversion from a single cell to a complex organism. In his 25 years at Mount Holyoke, the students he has taught and mentored have all gone through no less dramatic transformations into fully fledged scholars. 
In his acceptance comments, Woodard talked about the fruit fly, which goes through such a full-body overhaul during their multi-stage life cycle that even its larval salivary glands are totally destroyed within just 45 minutes by a process called programmed cell death. Similarly, it must grow wings and legs and become an adult through generative processes that are mediated by specialized glands and neural processes. 
"These processes have relevance to cancer and degenerative diseases, wound healing, nutrition, diabetes and a whole host of other human health challenges," he said.
Woodard is well-known and loved by students and colleagues alike. 
Woodard has published many papers with undergraduate co-authors, and his work has been supported with grants from the National Science Foundation, the Howard Hughes Medical Institute and the National Institutes of Health. 
His former students are professors and doctors who run their own labs and work in biotech. 
He has now turned his attention to a salamander species that produces only eggs and must borrow sperm from other species to reproduce.
"Talk about collaborations!" he said, thanking his colleagues and co-recipients for their support and inspiration.
Leah Glasser, Senior Lecturer in English
Leah Glasser received the Mount Holyoke College Faculty Award for Teaching. As summed up in the citation by her colleague, Elizabeth Young, "In four decades at Mount Holyoke, Leah Glasser has transformed generations of students through her expertise in both literature and creative writing, her compassionate mentoring, and her unflagging commitment to her students."
Glasser's courses reflect her expertise as a scholar of 19th-century American women writers, and she brings her excitement about her field into seminars with titles such as Desperate Housewives, A Landscape of One's Own and Nature and Gender. She also has a talent for cultivating student writing in her creative writing courses. 
Her service to the College also includes many years of serving as a dean. Combining that work with her teaching gives her special insight into faculty and student life and makes it possible for her to give so much more to each student who comes through her classroom or dean's office. 
"It's impossible to become stale as a teacher if the soil is rich enough for your own development as a teacher and a scholar," she said, crediting Mount Holyoke, her colleagues and her students for her unflagging enthusiasm. 
Growing up in a working-class neighborhood, Glasser came to see literature as a haven. Her father would put poems on the blackboard for her to memorize, contemplate and recite, which gave her an early understanding and deep appreciation for the power of words.
When she began teaching, a colleague offered her advice: "Just be the best student in the classroom," and that has stayed with her. She sees this as the greatest pleasure of teaching, to be an eternal student, to keep learning and to share her discoveries.
Glasser's approach to teaching is transformative, as her former student, Suzan-Lori Parks '85, whose honors include a Pulitzer and a MacArthur award, often confirms. Glasser sees and nurtures the potential in her students that they may not yet see in themselves. Discouraged from writing in high school, Parks credits her professor's teaching and encouragement for the direction she chose to take.
"What a gift it is to inspire our students to write, to help them discover their strengths, and to stay connected with them over the years," Glasser said. 
Paula Debnar, Professor of Classics on the Alumnae Foundation
Paula Debnar also received the Mount Holyoke College Faculty Award for Teaching. When Debnar first began teaching Greek at Mount Holyoke, she switched from the more traditional route of introducing students to the Attic dialect to beginning with Homeric Greek. 
Not finding what she needed for modern students in the standard textbook, she developed her own material, which the publisher of Clyde Pharr's "Homeric Greek" asked her to incorporate into a revised edition. Thanks to those revisions, for years now her students have begun reading the "The Iliad" about halfway through their first semester —  Enrollment in elementary Greek at Mount Holyoke have sometimes equaled those at universities elsewhere in New England.
Two years ago, Debnar collaborated on a website to support the teaching of Homeric Greek. When teaching went remote in the face of the global pandemic, she already had the classroom tools to meet the new needs of her far-flung students. 
Throughout the years Debnar has also taught a range of subjects in English, including courses on the literature, history, politics and even religion of the ancient Greeks and Romans. She has also team-taught with colleagues from art history and the Italian side of her own department.
Beyond her contributions to the wider world of classics, in particular her scholarship on Thucydides and Greek tragedy, her dedication to her students is legend. In one evaluation, a student simply said, "Paula is a goddess."
Quick to celebrate her students' successes — they are doctors, lawyers, set designers and more — Debnar also credits them with her own success. 
"We attract extraordinary students in classics," she said. "The kind that make their professors look really good."