Building communities of faith online
Building communities of faith online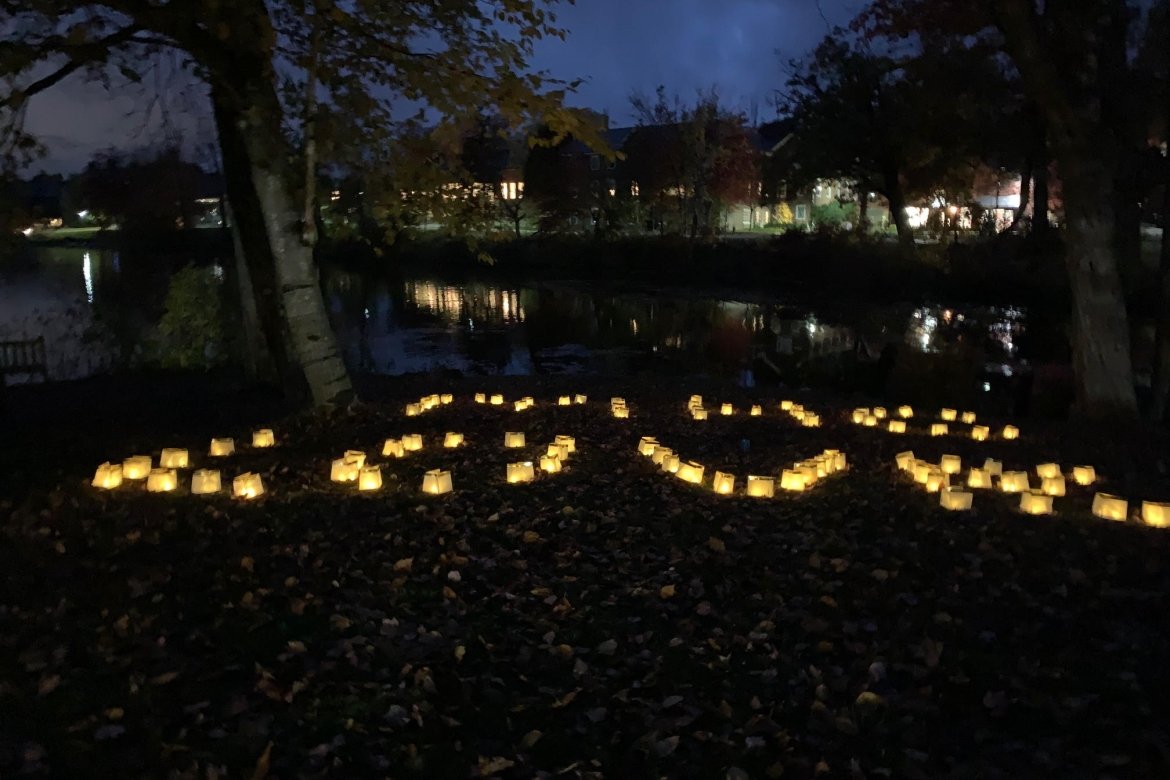 Mount Holyoke students are finding deeper spirituality during the pandemic — despite and because of online services and events.
By Sasha Nyary
If this were a typical year, Celia Mulcahey '21 would be serving as the coordinator of the Abbey Singers, the group that sings at Mount Holyoke College's weekly Sunday evening Mass. But in this year of remote learning, she is serving instead as the co-liturgical coordinator for online services, finding readers and writing petitions — prayers of special intent that are part of the Catholic service.
The Mount Holyoke Catholic Community has been an important part of Mulcahey's life. After going home to Newtown, Pennsylvania, when campus closed in March, she was looking forward to returning. But then in August it became clear that students would not be allowed back for the fall semester in-person classes, residential life — or religious services.
Over 700 students have returned for the spring semester, but Mulcahey decided to finish her education remotely. 
"When I realized I'd not be back on campus as a student again, I also realized I would not be able to celebrate the Mass as a student," said Mulcahey, an astronomy and geology double major. "That sparked some fear. I am not ready to give up this community. At Mount Holyoke, for the first time, I have felt truly at peace within the Catholic faith. It scared me not to be able to experience another Mass like that in person." 
Mulcahey wanted to maintain connections with her spiritual community, even if that meant doing it remotely. The online community she — and Mount Holyoke students of other faiths — have built and the services she attends have not only given her solace. They've also deepened her sense of spirituality and her relationship with her religion.
"When everything is unpredictable, having a place to just be is beneficial."
That students are finding deeper spirituality at this fraught time doesn't surprise Sister Annette McDermott, a Sister of Saint Joseph and dean of Religious and Spiritual Life at Mount Holyoke.
"When everything is so unpredictable, to have a place where you can join and talk and just be can be a great benefit," she said, noting that, at times like these, faith practices and the office's weekly events such as Interfaith Lunch and Tea-ology and Talk are essential. 
"A lot of times we start by talking about our hair, or the food, or the weather. And then all of a sudden we're moving to where we feel safe and we can start revealing what's more vulnerable with ourselves. It's been fascinating to see students develop relationships across time, across differences. I've said to the staff and to students that the one thing that can transcend space and time is the sense of spirituality, the sense of the sacred. It need not be bricks and mortar."
Mount Holyoke is one of few liberal arts colleges in the country to actively support such a variety of religious and spiritual services, which are also intended for nondenominational seekers and those of no faith.
McDermott advises the Catholic community, including leading the Sunday afternoon Catholic Prayer Service — Rev. Warren J. Savage, a priest from the Diocese of Springfield, Massachusetts, presides over Sunday Mass. She and her team of six spiritual advisors work with students to present events and guidance around Baha'ism, Catholicism, Earth-Based Spirituality/Pagan/Wiccan, Hinduism, Judaism, Islam, Protestantism, and Unitarian Universalism.
Gathering to practice their faith
Going online after hours of classes can be challenging, said Nafeesah Ahmed-Adedoja '23, co-president of the Mount Holyoke Muslim Student Association. Her organization still offers programs and opportunities to learn more about Islam. But they have modified their programming to fit the online module semester system.
"After spending hours in class and in one particular spot, it can be tricky to attend a virtual event," she said. "But I believe that it has been helpful to have the space open, even if a student decides to not attend a particular week. We have received feedback that shows that students appreciate it even if they are too busy, or stressed. When they do attend, it is beneficial for me, and I hope for them too."
Being a predominantly International community spread across time zones makes the remote model challenging, said Elizaveta Lozovaya, the Muslim advisor. Even so, the audience for online events has expanded beyond previous in-person attendance. Current programming features Jumma Reflections, Lozovaya's recording of her weekly sermon, and "Muhadatha Matters" — mudadatha means "conversation" in Arabic — a weekly topic discussion that's facilitated by students.
"They come specifically for that conversation and not for food or social exchanges," she said. "I also feel that the spaces created by my group are more authentic in their identity expression. They are the designated spaces, the affinity spaces for Muslims or those who really want to learn about Islam."
In some ways not much as changed, said Ahmed-Adedoja, who lives in Lagos, Nigeria, and London, England, and majors in neuroscience and behavior.
The community still meets regularly, albeit on Zoom. "However, the connections that I was able to build and have on a non-virtual level have changed," she said. "One thing I value more is the time I have to redefine what my experience means to me now, and its uniqueness to each and every one of us."
The challenge of building spiritual communities online
Amelia Ender, the Jewish community advisor, began working with the Jewish Student Union in July to plan their fall programming. Judaism's High Holy Days, Rosh Hashana and Yom Kippur, always occur in the beginning of the fall semester. This can be an important time for the Jewish community to welcome first-year students and others new to the College.
This year, of course, services and celebrations were online. But Ender was able to help students look at the many options for services, either where they lived or if they wanted something different. Closer to 20 people participated in the College's services, about half the size of the in-person gatherings.
"Quite a few students said that they were just so grateful to have the opportunity to be in community and have a Jewish holiday experience, which they hadn't had in a while," Ender said. "It's hard to sustain it unless you really seek it out and want to be part of a community, of a congregation online."
Ender and the Jewish Student Union have also been able to offer weekly Shabbat services. "We do the prayers and I will bring bread for the blessing and light candles," she said. "The question is, how do we make sure that people are getting what they need and that we have a sense of building community? It's new and challenging."
No matter your faith, the reassurance in belonging to something larger is what matters, said Mulcahey. 
"It's humbling and puts things in perspective. You can recognize what's important when things are safe to be in person again."