Celebrating history with an eye to the future
Celebrating history with an eye to the future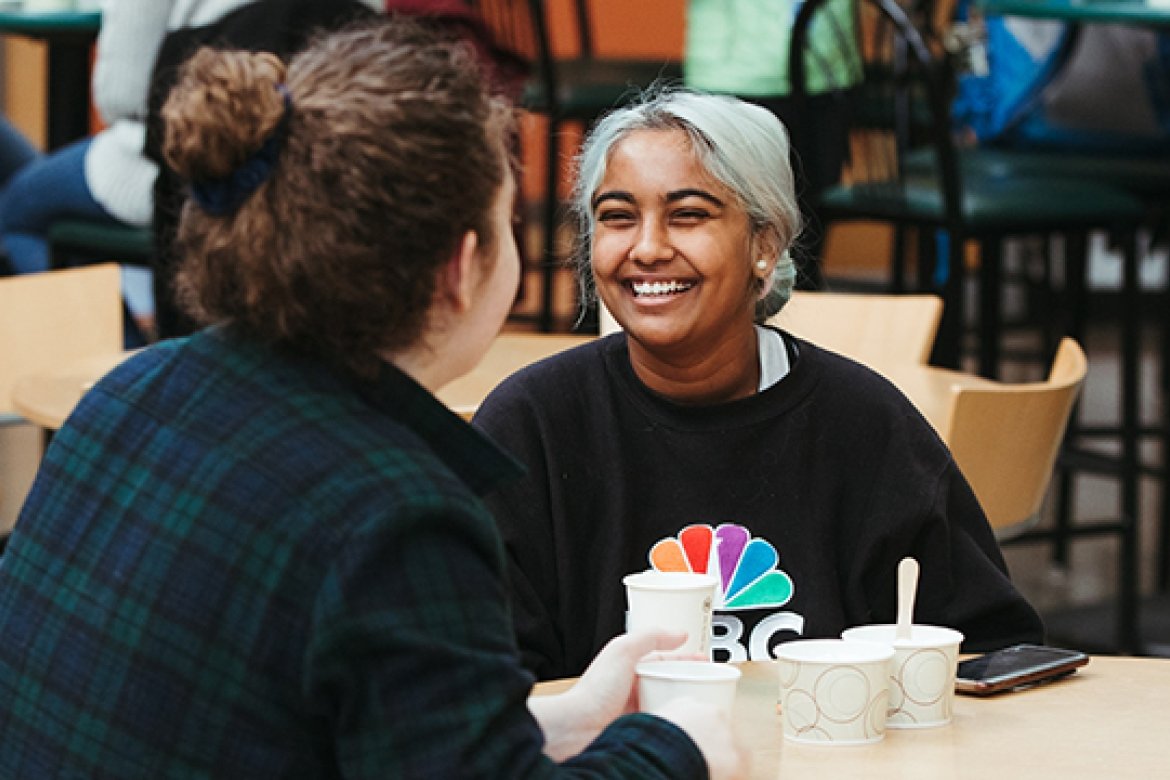 Staff and students gather to commemorate Mount Holyoke founder Mary Lyon with ice cream, hot chocolate and gratitude for her vision.
By Keely Sexton
The threat of snow brought this year's Founder's Day inside Kendade Hall, but the crucial components — ice cream, donuts, mulled cider and hot chocolate — remained the same. 
The event marks the day when Mount Holyoke College, at the time a seminary, opened its doors to the first class of 80 students, and commemorates the College's founder, Mary Lyon.  
Founder's Day is a dynamic celebration, which has been observed for the College's 182 years save for 1916 when it was canceled due to a polio outbreak. Initially a formal occasion for the laying of wreaths and giving of solemn speeches, it has evolved over time into a looser — but no less heartfelt — occasion to celebrate Lyon's labor and love. 
The ice cream itself started as a prank that seniors in the 1910s used to lure underclass students to the ceremony. Sometime around 1920, seniors made good on the tease, and beginning in 2018, Mount Holyoke's own M&Cs ice cream from Herrell's became the flavor of the day.
"The Founder's Day celebration is an opportunity for us to reflect on the College's past and, in so doing, to engage with our present as well as our future," said President Sonya Stephens, as she scooped ice cream into bowls for the gathering crowd. "While Mary Lyon could not have envisioned our campus today, we find new ways both to honor her legacy and to reimagine it for our times and for our diverse community." 
Sarah Day '22 took a break from midterms to enjoy the festivities with her friend Meaghan Ging '22. 
"I don't know of any other college where they have this connection to their roots," Day said. "I saw Mary Lyon's original recipe for apple dumplings in her handwriting in our archives."
The class of 2020 introduced their Senior Campaign in support of The Mount Holyoke Fund on Founder's Day. The head class agents, Marisol Fernandez de Cordova and Eloise Arnot, led the fundraising efforts alongside members of their class board. Throughout the day, seniors raised a total of $765 in support of The Mount Holyoke Fund. 
"I took this role to inspire others to give back," said Fernandez de Cordova. She said her hope is to provide future Mount Holyoke students with the same opportunities that the College has given over time. 
"We are a constantly changing campus and a constantly changing community, and I want to ensure that the College will be able to continue evolving to meet the needs of future students," she said. "I want people who come after me to experience all that Mount Holyoke has to offer."
Recent alumnae from the classes of 2005 to 2019 and the Frances Perkins scholars took part in a Founder's Day challenge, with the goal of increasing class participation. Over the course of 24 hours, 433 alumnae donated almost $10,000 in support of The Mount Holyoke Fund.