Chloé Zhao '05 wins at the Academy Awards
Chloé Zhao '05 wins at the Academy Awards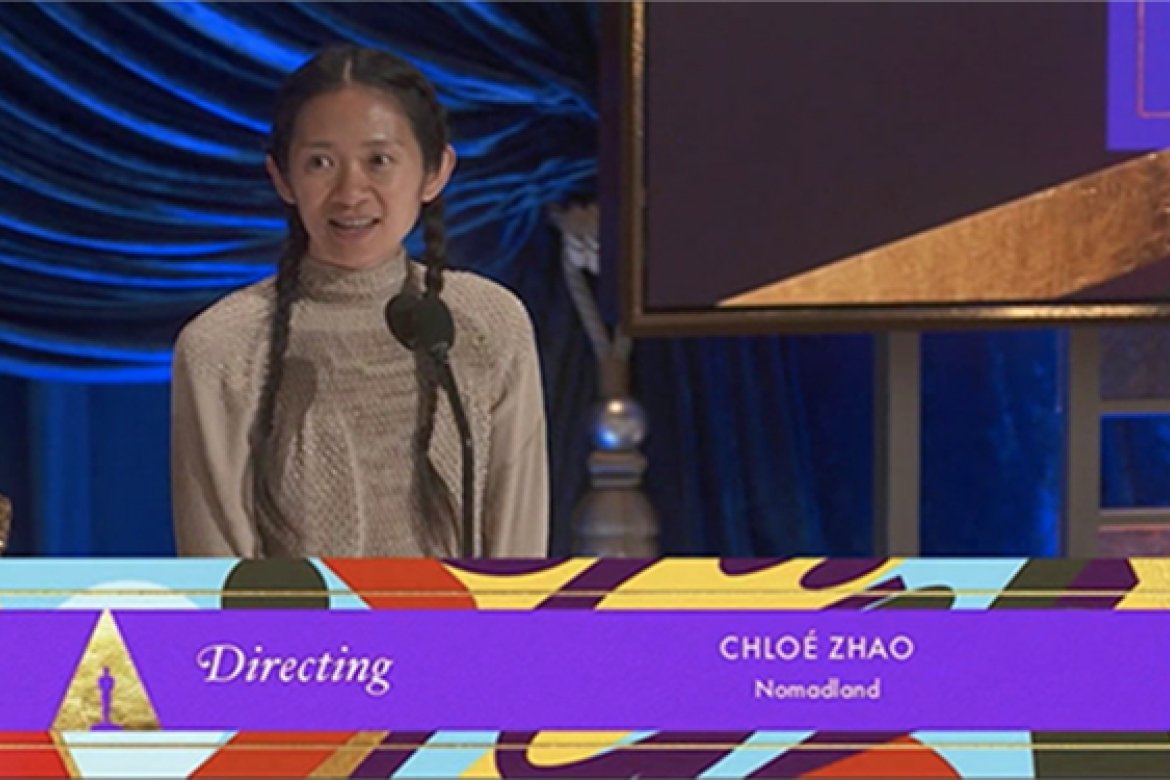 Chloé Zhao '05 has made history with her wins at the 93rd Academy Awards, held April 26, 2021.
Chloé Zhao '05 has made history with her wins at the 93rd Academy Awards, held April 26, 2021. 
Her film "Nomadland" swept the awards, winning for Best Picture and Best Director. Frances McDormand also won Best Actress for her role as Fern. 
Zhao is the first woman of color to receive an Academy Award for Best Director, and only the second woman ever to win in that category. 
"For the exceptional beauty, intelligence, and artistry of this film, Chloé Zhao certainly deserves the lasting recognition that these Oscars bring. Mount Holyoke joins with the Academy of Motion Picture Arts and Sciences in celebrating her extraordinary accomplishments. We congratulate Chloé on her groundbreaking work and on being only the second woman to win Best Director in nearly a century," said President Sonya Stephens. "It is gratifying to see more women, and women of color, leading the nominations and securing major awards this year, and especially so to see Chloé Zhao so widely recognized and so richly rewarded for the subtlety, empathy and power of her cinematic world-building."
In her acceptance speech for her Best Director win, Zhao said that when she was growing up, she would memorize Chinese poetry. Her favorite was "Three character classics," and the first phrase is, "People at birth are inherently good." 
"I still believe that today," she said. "This is for anyone who has the faith and the courage to hold on to the goodness in themselves and to hold on to the goodness in each other." 
Robin Blaetz, chair of the Department of Film Media Theater, taught Zhao in her introductory film class in 2002 when there were few films directed by women, and fewer still by women of color.
"Film is an incredibly powerful cultural force," said Blaetz. "Chloé understood that if you want to make a difference in the world, this is how you do it. This is how you talk to the world."
Zhao has won much critical acclaim and attention for her work and is directing Marvel's "Eternals," slated for release in November 2021.
Andra Day was nominated for Best Actress for her titular role in "The United States vs. Billie Holiday," written by Suzan-Lori Parks '85. While Day didn't win, Blaetz sees a greater depth in the stories the two alums tell. 
"Mount Holyoke is a place where you come to not only learn how to say something, but learn what you want to say and gain a depth of knowledge about the world that allows you to say it with nuance and complexity," she said.