Congratulations, Class of 2021!
Congratulations, Class of 2021!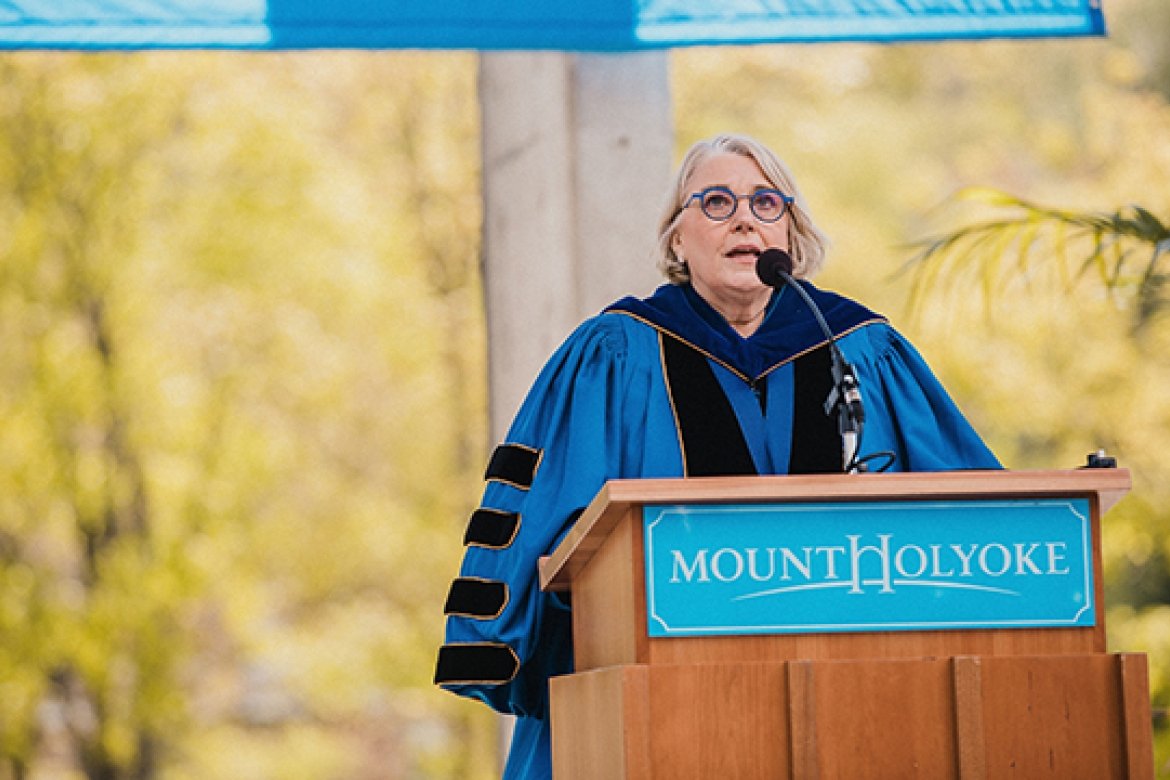 Mount Holyoke hosted its first-ever virtual Commencement for its 184th ceremony to honor graduating seniors and send them on to do great things.
By Keely Sexton
More than 500 seniors and 58 master's degree candidates were honored at Mount Holyoke College's 184th Commencement — its first virtual one — May 23, 2021. Students and their families tuned in from near and far, as the graduates represented countries and continents around the globe, to celebrate students' phenomenal successes under extraordinary circumstances.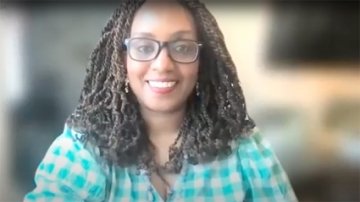 Kijua Sanders-McMurtry, vice president for equity and inclusion and chief diversity officer,  began the event with a land acknowledgment and a reflection on the special meaning of moments of joy and celebration, especially against the backdrop of pain and loss.
"May all that you contribute in the future help heal yourselves, your loved ones and the world," she said. "Thank you. It has been an honor to be a part of your journey."
In convening the ceremony, Karena Strella '90, chair of the Mount Holyoke Board of Trustees, congratulated the new graduates on their induction to the community of more than 39,000 Mount Holyoke alums. 
"You've all benefited from Mount Holyoke's intellectually adventurous education," she said. "Each and every one of you has grown in many ways through experience here at Mount Holyoke. You're well-poised for whatever you encounter outside these beautiful gates and will accomplish great things."
President Sonya Stephens addressed the graduating students, reflecting that empathy and its intellectual companion, curiosity, are at the core of a liberal education and are invaluable characteristics in this time of continual challenge and change.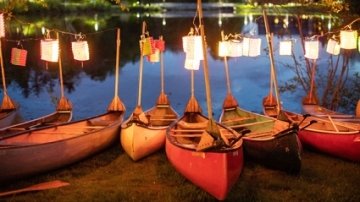 "Empathy is the most important of human attributes — it is a pillar of social understanding and of our interactions. It is the connective experience that underpins friendships as much as it fuels advocacy and collective action," she said. 
"By making empathy a central part of your own engagement with others, and a part of your own ambitious imagination, you, Class of 2021, can be empaths who make radical change — whatever the ways you are able to make a difference may be."
As this year's graduates joined the worldwide network of Mount Holyoke alums, Stephens exhorted them to stay in touch with their empathy, a source of great strength, justice and courage. 
"May you accomplish great things, and may you do so with the advancement of humankind always at the center, and with generous curiosity, ambitious imagination, unlimited courage and, especially, with great empathy."
Senior speaker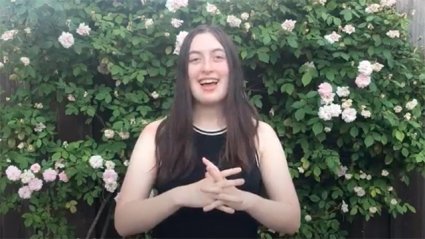 Stephens introduced the senior class speaker, Casey Roepke '21, who promised that her speech would not be about the pandemic that had interrupted the class of 2021's junior year and scattered many across the globe during their senior year.
Instead, Roepke focused on the togetherness of the Mount Holyoke community, and how even through geographic separation, their bonds endure. 
"We each brought our own unique experiences and histories to the table," she said. "And we learned that at Mount Holyoke, community extends to the classroom — after all, the Mount Holyoke community would not be complete without the incredible, life-changing faculty who … became our trusted allies in the pursuit of knowledge."
She recalled her favorite tradition — the staircase in the Williston Memorial Library atrium that begins as one set of steps and then separates into two staircases, the flags of the green griffins and blue lions hanging above one side and the yellow sphinxes and red pegasi above the other. 
"Superstition says that you have to take the stairs that match your class flag or otherwise risk not graduating," she said.
"It's an everyday reminder of the history, legacy, tradition and community of Mount Holyoke and how our footsteps are a part of it all. … The class of 2021 is a bit like that set of library stairs," she said. "We may drift apart in the middle of our journey, but we'll always come back together."
Roepke and her fellow green griffin seniors were joined by the teal owl graduate students and the purple phoenix Fances Perkins students and by three honorary degree recipients, who shared their thoughts and well-wishes for the graduation class.
Honorary Degree Recipients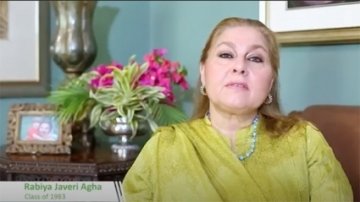 Rabiya Javeri-Agha '83 received an honorary Doctor of Laws degree for her decades of championing the rights of women and LGBTQ individuals in Pakistan. 
"My desire for social and political change was sown in heated debates in [emeritus professor] Vinnie Ferraro's class."
She cited Mount Holyoke founder Mary Lyon's commitment to global education and change as firing her own political awakening.
"It fired my ambition to challenge patriarchy and to dismantle the walls of patriarchy and injustice," she said.
"Dream and dare to defend your dreams," she said. "Be hopeful, but give hope to others. If you need acceptance, accept others. Remember that rigidity is brittle and brittle things break." 
"We often hear the saying 'believe in yourself,' but now I ask you to believe in more than yourselves: Believe in each other," she said. "Embrace the common humanity that unites us all."
Next, Stephens introduced famed cellist Yo-Yo Ma, spouse to Jill Hornor '74. World-renowned for his music, Ma's humanitarian work has brought together musical traditions around the world.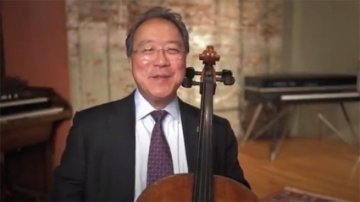 Ma, the recipient of multiple Grammy Awards, the National Medal of the Arts and the Presidential Medal of Freedom, regards his highest honor to be the first-ever Fred Rogers Legacy Award. 
Recalling Fred Rogers' advice, Ma told graduates to "look for the helpers."
"This community is full of helpers and with your graduation, each of you is being called to help whatever way you can," he said. 
Citing the strength and values of the Mount Holyoke community, he said that it gave him "profound hope for the future."
Ma was given an honorary degree of Doctor of Fine Arts, and concluded his remarks with a cello rendition of the "Alma Mater" so that the Mount Holyoke community could join him in song.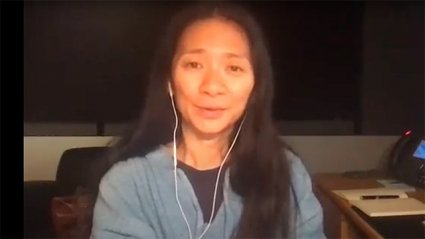 Then, Stephens introduced none other than green griffin Chloé Zhao '05, who made history in April as the first woman of color to win an Academy Award for Best Director for her film "Nomadland," which was voted Best Picture. 
Zhao, whose path as a filmmaker has not been easy, reminded the class to honor the "primal need for silence" when they feel lost. 
"And in that silence," she said, "Wonder on your own. Discover on your own. And don't ever be afraid to get to know yourself better. … Go forth, and best of luck!"