Cori Bush and Nina Turner to give public talk
Cori Bush and Nina Turner to give public talk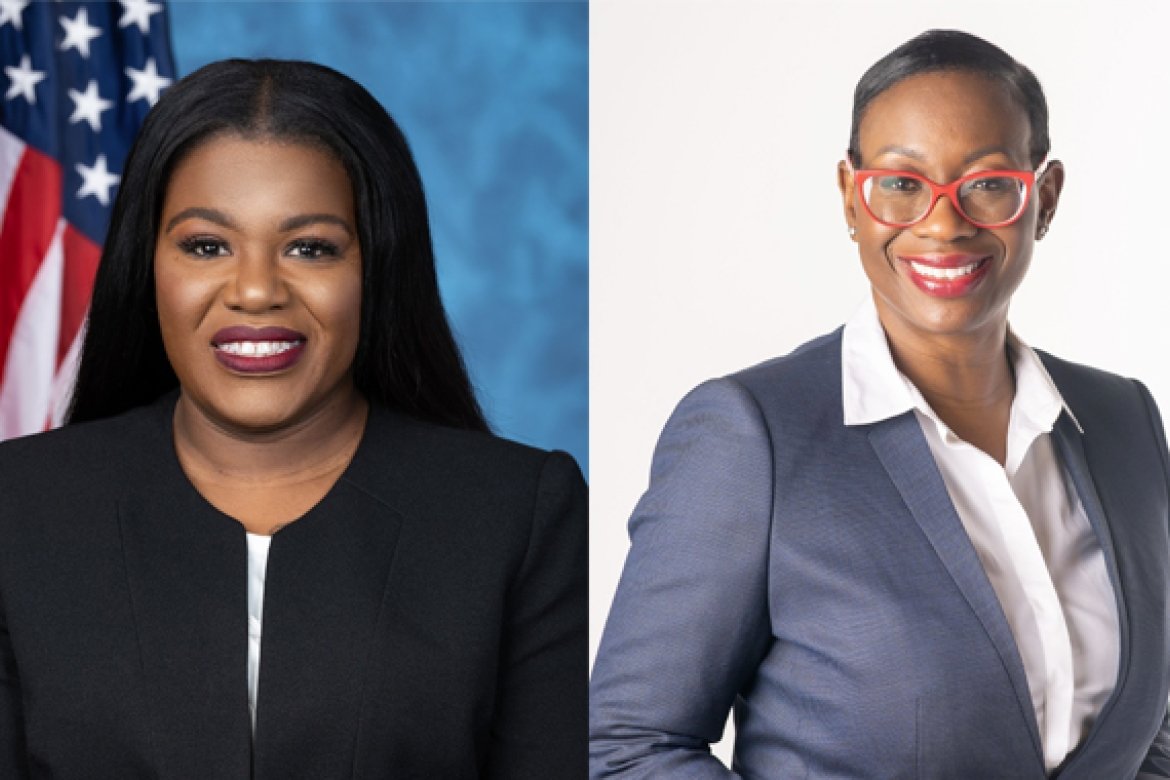 Rep. Cori Bush will be in conversation with former State Sen. Nina Turner and Carmen Yulín Cruz from Mount Holyoke College about racial justice.
U.S.Rep. Cori Bush, D-MO, the first Black woman and first nurse to represent Missouri in Congress, will be in conversation with former state Sen. Nina Turner and Carmen Yulín Cruz from Mount Holyoke College. The discussion will be centered on racial justice and police brutality.
The event will be held online. The talk will be Monday, April 26, at 4:30 p.m. EDT. It is free and open to the public. 
The conversation between Bush, Turner and Cruz is part of a series of town halls held by the Weissman Center for Leadership at Mount Holyoke College entitled "Our Voices, Our Platforms." The town halls explore how people can use their voices to make meaningful change and discover and create the platforms necessary to achieve that transformative change. 
Rep. Bush is a registered nurse, community activist, organizer, single mother and ordained pastor for the people of St. Louis. She is serving her first term as the representative of Missouri's 1st Congressional District. In 2014, following the murder of Michael Brown Jr. by a now-terminated Ferguson police officer, Rep. Bush spent more than 400 days protesting for justice. In the years following, she continued her activism as a co-founder of The Truth Telling Project and as a leader of the protest group #ExpectUs.
Rep. Bush pursued public office because she could not stand to see her son or daughter become hashtags of injustice without doing all she could to protect them. She intends to legislate in defense of Black lives to ensure that no family has to fear that their loved ones may suffer at the hands of police. 
Former state Sen. Nina Turner made history in 2005 as the first Black woman to represent Ward One on the Cleveland City Council, and again in 2008 as the first woman to serve as state senator in Ohio's 25th District. As a champion for criminal justice reform, she led the effort to create Ohio's first task force on police and community relations in the wake of police killings in Ohio and across the country. Turner served as the national co-chair for Bernie Sanders' presidential campaign in 2020. She is currently running for Congress to represent Ohio's 11th District. 
Carmen Yulín Cruz, most recently the mayor of San Juan, Puerto Rico, is the Harriet L. Weissman and Paul M. Weissman Distinguished Fellow in Leadership at the Weissman Center for Leadership at Mount Holyoke College. 
Born in Puerto Rico, Cruz received degrees from Boston University and Carnegie Mellon University and worked on the mainland for years. She returned to Puerto Rico in 1992, working as an adviser to a previous San Juan mayor, and was elected to the House of Representatives of Puerto Rico in 2008. 
She ran for mayor of San Juan in 2012 against Jorge Santini, a 12-year incumbent who called her "esa señora," or "that woman." Cruz won the election and was re-elected in 2016. Cruz came to international prominence after Hurricane Maria struck Puerto Rico in 2017, both for her impassioned pleas for help after the storm and for her stinging critiques of the Federal Emergency Management Agency, as well as the White House and the United States federal government more broadly. She is an international figure of women's bravery, leadership and action. 
To register for the talk, visit Mount Holyoke College's events calendar.