Developing a path out of poverty
Developing a path out of poverty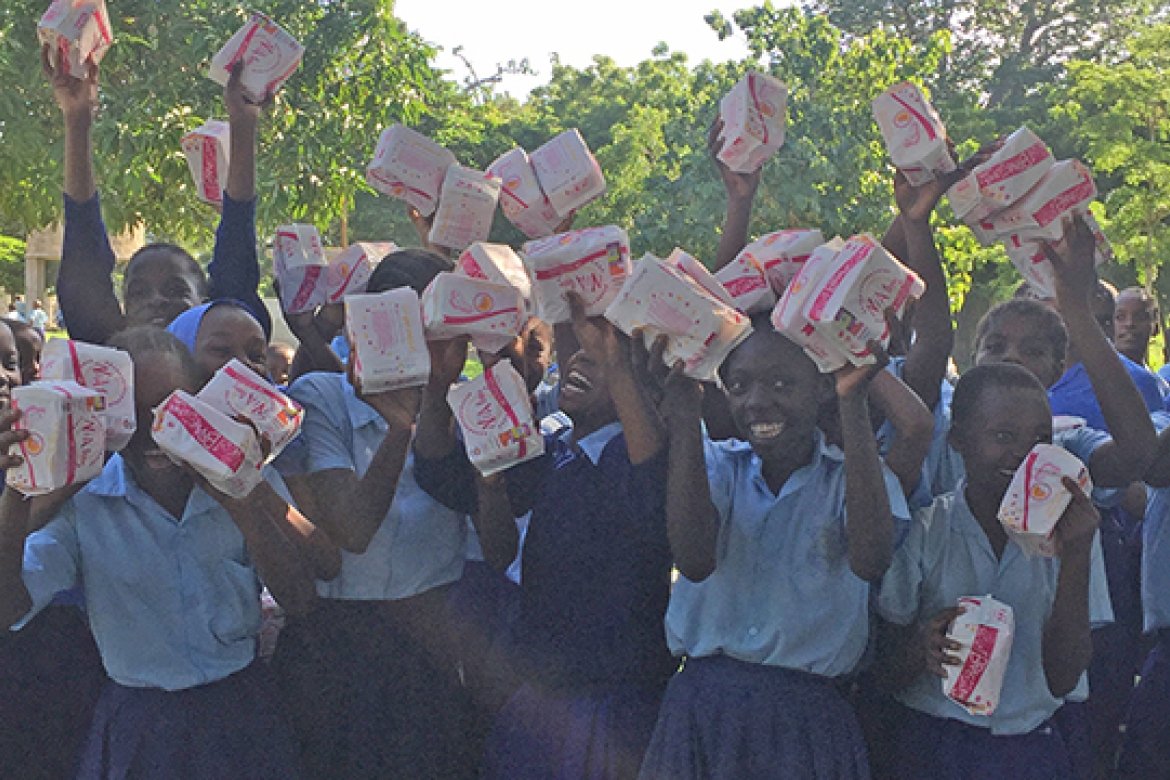 Tess Tuitoek '21 brought her menstrual health and hygiene project to her ancestral village in Kenya.
Tess Tuitoek '21 was inspired to come to Mount Holyoke because of an article she read in Forbes magazine about Ellen Chilemba '17, who founded Tiwale, an organization focused on lifting women and girls out of poverty in Chilemba's native Malawi.
"I read an article about her in Forbes and I was just amazed," said Tuitoek. "I said, 'I have to come to Mount Holyoke. That's how I'm going to end up.'"
Tuitoek, who designed her own major in global development and entrepreneurship with a Nexus: Curriculum to Career concentration in global business, wanted to develop a project to help her own ancestral community in Baringo county, Kenya. Now, on the verge of graduation, she has already developed an organization that distributes sexual health information in the form of comics and menstrual products in areas where neither is easy to come by.
The need is critical. Without sexual health and reproductive education and menstrual products, Tuitoek says, adolescents may be forced to stay home or abandon school altogether when they menstruate or become pregnant.
It all started in her sophomore year, when Tuitoek took a class in entrepreneurship with Rick Feldman, lecturer in Entrepreneurship, Organizations and Society. In that class, an idea began to take root.
"It was really just in theory because we were doing it as a project in class and he encouraged us to dream big," she said. "It was something that I was interested in doing, maybe some time in the future."
Feldman, who has a background in both entrepreneurship and social development, sees liberal arts, not business school, as key to being able to develop the flexible skills and thinking required to respond to the world's complex and changing needs. 
"I'm a big fan of the broadest possible exposure and education and I'm a big fan of the methodology that we champion at Mount Holyoke, which is to say project-based inquiry driven by students," he said. "My goal is to graduate students with the personal capacity to pursue things, to question things, to discover things. To me, that is the foundation of all successful entrepreneurs."
With Feldman's encouragement and advice, Tuitoek started assembling the pieces she would need to get her project off the ground: She received social innovation impact funding from the McCulloch Center for Global Initiatives and EOS, which she combined with her Lynk internship funding. And she connected in real life with Chilemba at a Mount Holyoke event. 
Chilemba, who had also worked with Feldman in developing her own project, offered help to Tuitoek — and to give her an eye-opening internship between Tuitoek's first and sophomore years.
"I was able to see how she did the work, and that informed how I was developing my project," Tuitoek said. 
With Feldman's advice and Chilemba's encouragement, Tuitoek reached out to ZanaAfrica Foundation, another organization doing work to provide sexual and reproductive health education and supplies in remote areas of Kenya. 
"In very low income areas and especially rural areas it is a big issue," Tuitoek said. "Topics of sexual health are not discussed because of religion, traditions and cultural values. In some communities there are still child marriages and genital mutilation, and this also affects students being able to go to school. My main goal was just being able to ensure that students can get access to education and are able to remain in school."
Using what she learned through ZanaAfrica, and with a network of principals, teachers and a devoted cadre of volunteers in Baringo county, Tuitoek distributed about 160 informational comics and around 2,000 sanitary pads in one summer, which she estimates to have helped 160 adolescents in the community.
Back on campus in South Hadley, Tuitoek envisions her post-Mount Holyoke life as one where she can work with the community on issues of sexual and reproductive health.
"When I meet people like Tess who have that spark and they express it, I'm all there to try to help, to encourage," said Feldman. "I think the main role for faculty here is to encourage our students to be thoughtful and caring, and to discover their own power in their own strength, and to know how to take that into the world."