DIY masks: Alums step up to help
DIY masks: Alums step up to help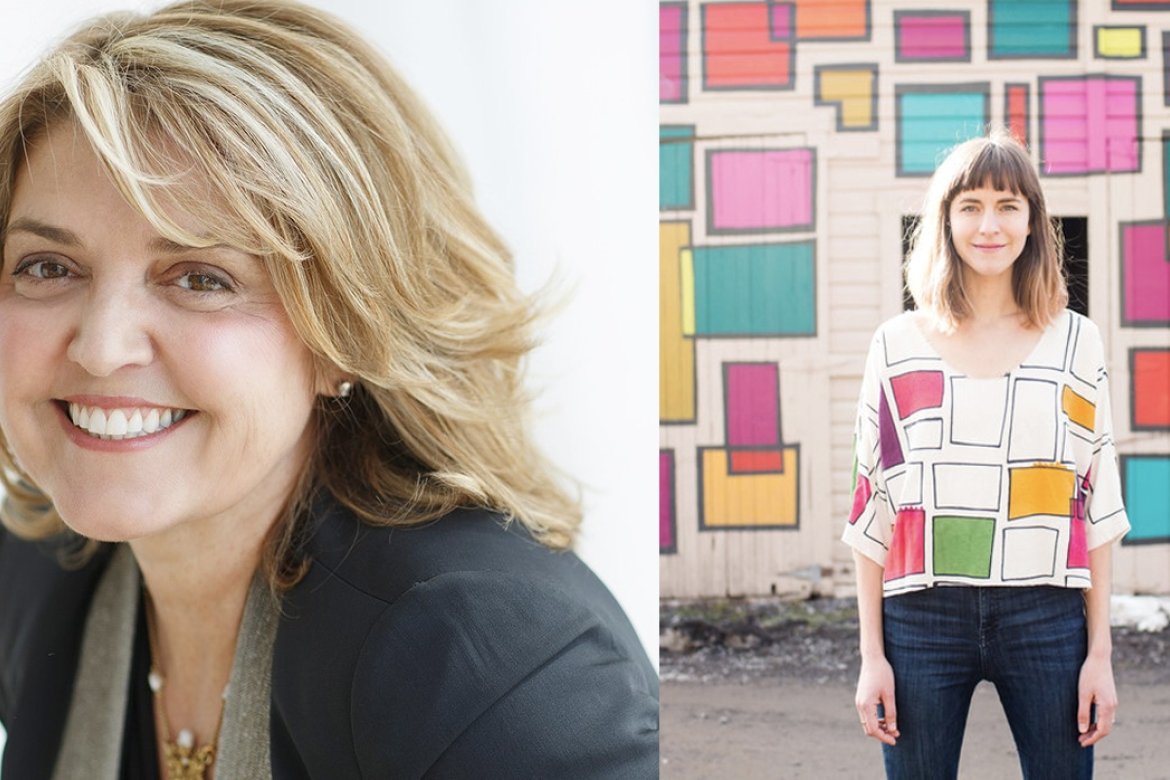 Mount Holyoke alum Linda Craib FP'02 and Nellie Rose Davis '11 are volunteering their time to help people protect themselves.
By Jeremy Gantz
It was the bandannas that pushed Linda Craib FP'02 into action. When the Centers for Disease Control and Prevention updated its guidelines in mid-March to suggest health care workers battling COVID-19 use bandannas as a last resort, she knew the country had to do better.
"The idea that clinicians could wear bandannas was abhorrent to me," said Craib, a registered nurse who studied textiles and design while at Mount Holyoke College. 
She herself had worked without adequate proper personal protective equipment at the outset of her nursing career in 1987, during the HIV epidemic. Due to a national shortage, the hospital where she worked had rationed gloves — one pair per shift per worker.
With a dire national shortage of personal protective equipment apparent and misinformation about homemade masks circulating, Craib realized she needed to collect information detailing best practices into a publicly available resource. 
"I wanted to find out what made a good design. The masks I was seeing were literally two pieces of fabric, no better than a bandanna," said Craib, who now works for PwC's health-care consulting practice. "But mask-making is actually very complex, which is why PPE should be FDA-approved."
On March 30, after a few weeks of research and many conversations with fabric science experts, she launched MaskFacts.org. 
The site, which Craib created with a web developer, offers key facts about various kinds of masks (personal protective equipment and cloth) drawn from peer-reviewed research. And it details best practices and offers designs for sewing masks at home.
About four weeks after its launch, the website had about 16,000 pageviews from people in 52 countries, underscoring the pandemic's truly global scope. "I thought it would be an American audience, but visitors come from every single continent except Antarctica," Craib said.
Since the pandemic started, she's sewn cloth masks for friends and family. Two design features can ramp up protection, Craib said. 
First, the mask should fit all the way over your nose — the CDC-provided pattern tends to run small, she noted. Second, leave a slot for inserting replaceable filters between fabric layers. Craib uses Swiffer filters.
Nellie Rose Davis '11 has also been sewing masks a lot lately. 
When the pandemic triggered the personal protective equipment shortage, she began canvassing social media to build a regional network of needleworkers — people who could not only sew at home, but also share resources such as elastics, fabric and patterns. Interest quickly surged, so she and two close friends decided to launch Holler! MASKFORCE to better scale and coordinate the effort.
Davis wanted the name to feel "regional and rooted." A textile artist and clothing maker who operates Nellie Rose Textiles in the small town of Thomas, West Virginia, Davis was born in a holler (a small valley) in the state. Her organization's name also plays on the phrase "holler at me."
The need for help was immediately clear after the website launched at the end of March. Five hundred mask requests came in the first week. 
Then, on April 3, the CDC changed its guidelines to say the general public should wear masks when in public. About 2,000 requests came in to the Holler! MASKFORCE site in the week following. Many of those were from outside West Virginia. 
"I wanted to identify urgent regional needs," Davis said. "But what we're dealing with is a crisis that is national and global. So we're a regional-based network, but we help wherever we are needed."
As of the last week of April, about 90 people had volunteered their time and talents to produce masks for Holler! MASKFORCE. Approximately 1,300 masks had been shipped across the country—more than half to states beyond West Virginia. 
Davis and other volunteers have fielded requests from a variety of people in need, including those working in nursing homes, birthing centers and correctional facilities. As of April 28, 700 of the group's masks had been sent to health care workers.
"It terrifies me that in this country we're at the point that front-line workers are having to wear these masks," Davis said. Those who are at high risk of exposure should have professional-quality protection, not homemade masks, "but it's better than a bandanna or a scarf."
With her own business closed and her studio converted into a mask-making operation, she intends to keep working to connect competent needleworkers with people in need — although she hopes Holler! MASKFORCE "doesn't have to exist forever."
But four weeks in, her newfound mission grounds her. 
"Amidst this horror that we're going through, I'm seeing so much beauty," she said. "People are stepping up and volunteering their time and resources. It's a beautiful illustration of humanity."