Employee awards celebrate community
Employee awards celebrate community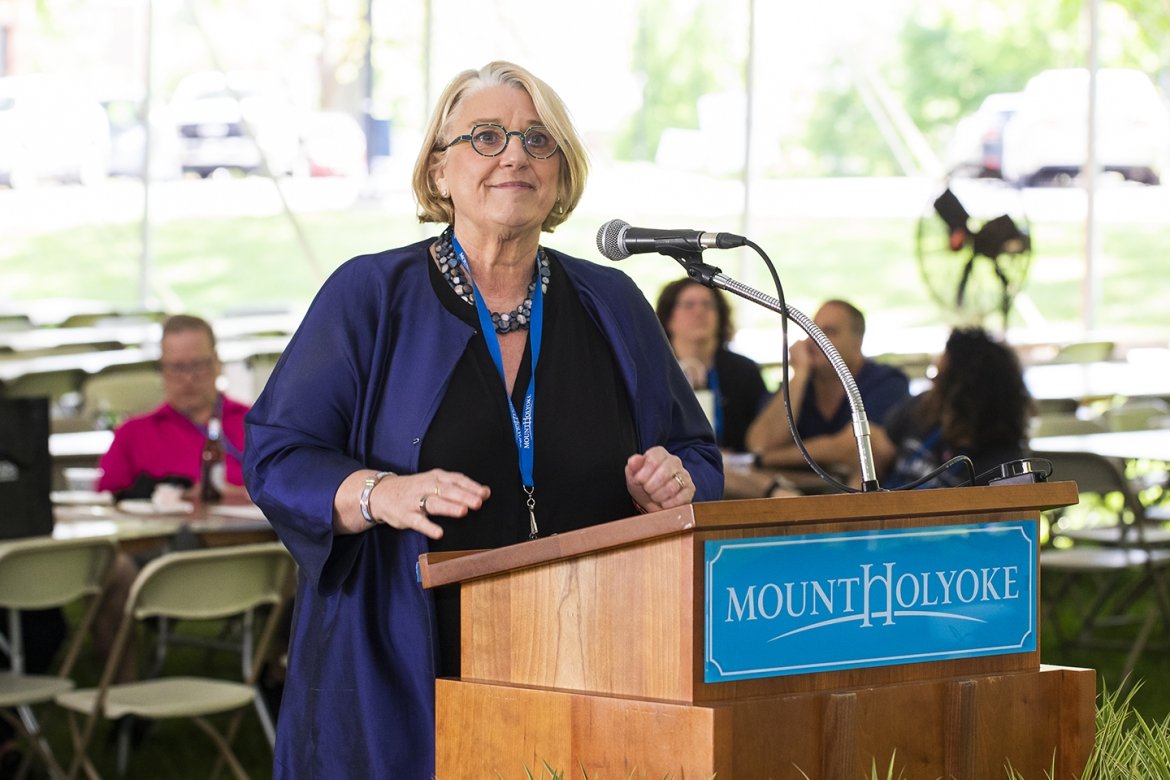 Mount Holyoke College's first employee awards ceremony in two years was about celebrating community and each other.
Mount Holyoke College celebrated its first staff award event since the beginning of the COVID-19 pandemic on May 24, 2022. 
The event was held under a tent on Skinner Green, where employees greeted each other joyfully, many having not seen each other in person for over two years. 
Penn'lope Davis, associate vice president of human resources, kicked off the festivities. "I am reminded that Mount Holyoke College is grounded by people," she said. "Over the last two years, many of you have not been able to interact in ways you wanted to, but the connection was never severed." 
Former President Sonya Stephens then spoke to the assembled employees. "It's a wonderful opportunity to rebuild our sense of community. I am so very grateful — I couldn't be more in awe of all the hard work you've done. I feel so fortunate to know so many of you and the impact of your work." 
The full list of awards are below. A gallery of photos from the event can be found on my.mtholyoke. 
2022 Trailblazer Award Winners 
Accounts Payable
Julie Borne
Gloria Reyes
Alice Rose
Tracey Sarlan
Athletics
Louise Labrie
Catie Leblanc
Erica Lemm
Colby Newsham
Ellen Perella
Bardee Sadlier
Jon Santer
Classroom Emergency Response Team
Lindsey Freer
Stephen Garde
Gary Gillis
Chrissa Lindahl
Jen Marion
Liz Markovits
Kieran Najita
Nick Pelloso
Elizabeth Pyle
Mike Urgo
Carl Weber
COVID Emergency Response Team
Rachel Alldis
Penny Davis
Alicia Erwin
Christian Feuerstein
Cheryl Flynn
Gary Gillis
Paul Kandel
Ray LaBarre
Cindy Legare
Stacey Lyons
Liz Markovits
Keith Michel
Leykia Nulan
David Powicki
Lori Smith
April Stroud
Jenny Watermill
Imad Zubi
Human Resources
Penn'lope Davis
Kellie Gallivan
Beth Haber
Solonia Jordan-Lewis
Mika Keezing
Chimia King-Coleman
Kathy Koske
Cindy Legare
Jenny Ly
Kim Ouimet
Lucy Perez
Sue Rusiecki (Temp)
LITS Wireless Network Troubleshooting Team
Joel Broyles
Matthew Burch
Mike Crowley
Cheryl Kiras
Denise Moreau
Kevin Slate
Chris Woods
LITS Remote Operations Team
 Joel Broyles
 Zoe Crabtree
Aime DeGrenier
Krista Denno
Marie DiRuzza
Abby Drury
Lindsey Freer
Stephen Garde
Justin Jackson
Luke Jaeger
Beth Johnson
Mark Klitzke
Susan LeDuc
Chrissa Lindahl
Zach Matys
Kieran Najita
Melaine Navarro
David Powicki
Rachael Smith
Drew Soucy
Matthew Strand
Angel Suarez
Mike Urgo
Doug Vanderpoel
Public Safety and Service Leadership
Josh Dufresne
Raymond LaBarre
Residential Life
Rachel Alldis
Sam Benson
Kelly Bernatsky
Jenna Caputo
Mishka Murad
Teresa Picard
Sam Tressey
Nashalie Vazquez
Registrar's Office
Candace Branche
Jorrell Campbell
Izabela Karch
Tara Mackay
Elizabeth Pyle
2022 Mary Lyon Award Winners
Latrina Denson
Gary Gillis
Rich Perna
Lori Smith 
Counseling Leadership
Dining Services Team
Rachel Agustin
David Aminia
Alan Anderson
Kahatagasdigiliye Ariyaratana
Jennifer Banner
Peter Barry
Christopher Bland
Denise Blondek
Donna Bortone
Elke Bosshart
Trisha Braman
Alizea Calderon
Bonita Catalfamo
Shane Cauley
Anne Connors
Frederick Crouss
Jennifer Davila
David De Bettencourt
Holly Delphia
John Demers
Susan Desjardins
John Dos Santos
Geoffrey Douglass
Carolyn Dunlap
Jamie Farnum
Matthew Foley
Karen Friel
Glenda Fuentes
Larry Fuller
Aweys Gaab
Ralph Gabriel
Wayne Gates
Karen Gaulin
David Gauthier
John Gauthier
Teresa Gauthier
Kathryn Gay
Alexander Giguere
Peter Grygorcewicz
Peter Haas
Laurie Halford
Ronald Hartling
Terrance Heatley
Thomas Hidas
Meggan Hillenbrand
Darren Howe
William Irausquin
Jesus Jauridez
Brandi Johnson
Troy Johnson
Helena Kacen
Nancy Keenan
Shawn Kelsey
Steven Kirejczyk
Christopher Kostek
Joanne Kotwicki
Frederick Kroll
Robert Lacasse
Andrew Ladeau
Brian Langevin
Marcia Lapointe
Cynthia Lenart
Charles Livingstone
Deborah Magill
Deborah Magni
Paul Menard
Lynn Mercier
Donna Merrell
Alan Metcalf
Heather Minnich
Philip Momnie
Robert Naroff
Nathen Obremski
Robert Olinski
Leonardo Ortiz
Jorge Ossandon Mendoza
Gretta Pagorek
Richard Parrott
Jamie Patruno
Richard Perna
Joshua Pontbriant
Mark Rentschler
Butoyi Reverian
Ryan Reynolds
Thomas Ritter
Ralph Robitaille
Harry Rodriguez
Mary Rousseau
Dennis Saletnik
Christine Saltmarsh
Bradley Sherwood
Darryl Sinkfield
Dana Sisco
Brandon Smith
Brian Smith
David Soucie
Katherine Soucie
Roussa Soufan
Richard Sugrue
Wilson Torres Diaz
Laurie Towne
Didier Voisin
Corina Wardwell
James Wehner
Bradd Williams
Max Wojcik
Audra Yelin
Chi Yuen
 Enterprise Services
Darcia Malone
Stephen Parmenter
Doug Vanderpoel
Jeff Wohlers
Health Services Leadership
Media Services
Stephen Garde
Zach Matys
Kieren Najita
Nick Pelloso
Mike Urgo
Testing Center Staff
Frank Allen III
Nilsa Arocho
Anne Broussard
Ryan Cimineri
Kimerly Condino
Debra Dorunda
Karen Engell
Sue Ferraro
Cheryl Flynn
Matthew Foley
Karen Franz
Kellie Gallivan
Michelle Hamelin
Ronald Hartling
Paul Kandel
Cindy Legare
Christina Mailhott
Aimee Malley
Nicole McClellan
Shirley Mejia
Cristina Mitchell
Dylan Moore
Vanessa Moore
Rosemary Nadeau
Monique Nelson
John O'Brien
Isabel Ocampo
Gretta Pagorek
Maureen Picard
Laurie Reid
Sue Rusiecki
Linda Samano
Gary Shaw
Dana Sisco
Matthew Strand
Susan Turschman
Cheri Upham
Spotlight Award Winners
Teresa Azahar

Nick Bader
Averi Barthelette
Julie Borne
Dennis Bowen
Melissa Burke
Jenna Caputo
Joy Collins
Linda Chesky Fernandes
Jaime DeCaro
Alicia Erwin
Beth Feeney
Cora Fernandez-Anderson
Sue Ferraro
Christian Feuerstein
Cheryl Flynn
Stephen Garde
Nicole Gilbert Cote
Gary Gillis
Roxanne Godek
Beth Haber
Beth Johnson
Paul Kandel
Kathy Koske
Louise Labrie
Cara Lapenas
Cindy Legare
Erica Lemm
Zach Matys
Shani Mensing
Heather Minnich
Melanie Navarro
Kim Ouimet
Brenda Payette
Nick Pelloso
Teresa Picard
David Powicki
Elizabeth Pyle
Jerome Renault
Wendy Rua
Bardee Sadlier
Lori Smith
Rachael Smith
Andrew Soucy
Mike Urgo
Nashalie Vasquez
Heather Vickery
Carl Weber
Alex Wirth-Cauchon
Linda Woods