Engaging with presidential portraits
Engaging with presidential portraits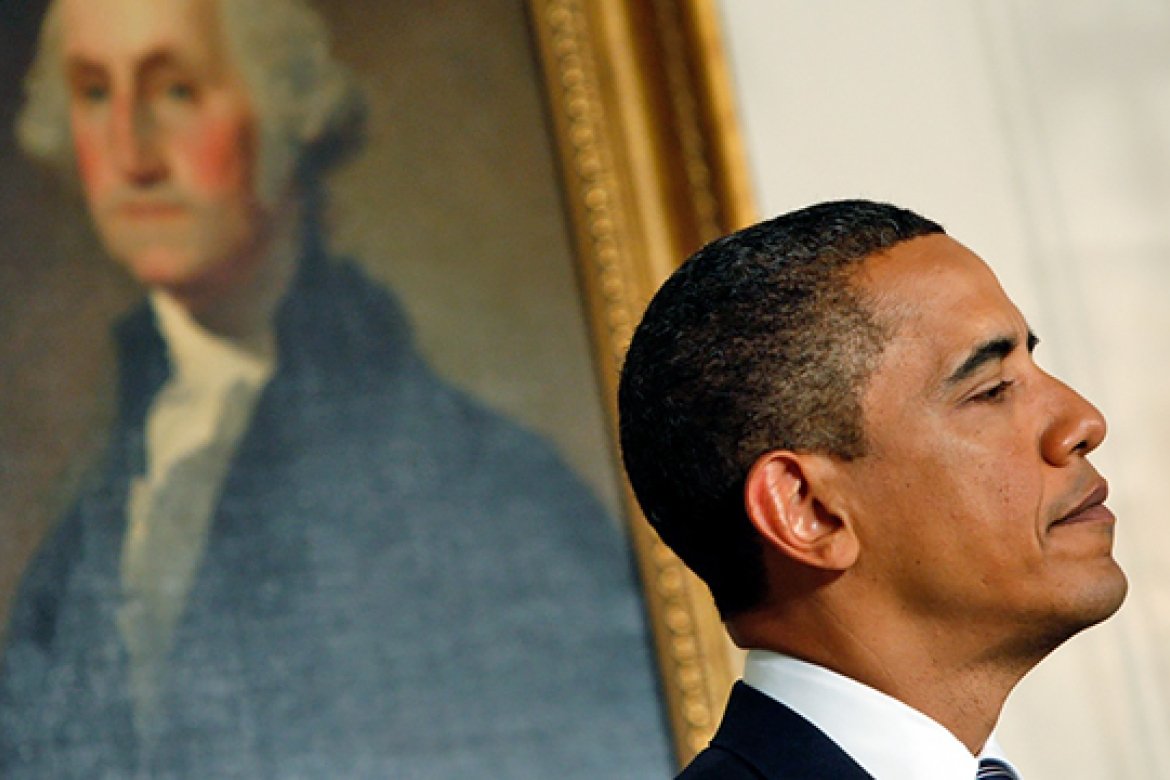 View the new paintings of Barack and Michelle Obama through the eyes of Mount Holyoke's Paul Staiti, an expert on presidential portraits.
Interview by Sasha Nyary 
Paul Staiti, an expert in presidential portraits, specializes in American art and cultural history, with a particular focus on the intersection between American fine arts and politics. 
Staiti, Professor of Fine Arts on the Alumnae Foundation in the art history department at Mount Holyoke College, has written extensively about 18th- and 19th-century portraiture. His well-received 2016 book "Of Arms and Artists: The American Revolution Through Painters' Eyes," explored the lives and works of five eminent painters from the Revolutionary War era. Kirkus Reviews called the book "a lively, splendid history that captures the times with insight, acumen, and a juggler's finesse." 
Staiti is also part of the current conversation on presidential portraits, given two recent commissions — former President Barack Obama and his wife, Michelle — by the Smithsonian's National Portrait Gallery. He was quoted in a New York Times article about Michelle Obama's selection of artist Amy Sherald and wrote an opinion piece in the Washington Post about Kehinde Wiley's portrait of Barack Obama. 
With the February 2018 debut of the portraits, Staiti recently expanded on his observations. 
The former president's portrait shows him in a suit with an open collar, gazing at the viewer from a lush garden, which as you write, is "so bountiful that its leaves begin to overtake the armchair on which [he] sits." The first lady's portrait is quite different. She sits against a blue background, resting her chin in one hand, wearing a flowing dress that the artist has said resembles the quilts made by the women of Gee's Bend in Alabama. The Mount Holyoke Art Museum is currently displaying a wonderful exhibition of some of these quilts, incidentally. What is your response to the two portraits? 
The Barack Obama painting is a terrific departure from the usual sort of portrait. Some of that is Wiley's fabulous sense of color. Some, the image of Obama's seriousness, combined with the lush setting. It's novel to associate a president with a garden. For most of the history of art, men do not have themselves painted in garden settings. Women do. There are exceptions, such as Gainsborough and others, but for the most part, no. I think the setting is a great aspect of this picture because it upends convention. Men of power and significance tend to want to be represented in what would typically have been called a masculine setting: a desk, papers, instruments of power, columns, horses. Settings that would speak to their respectability and professional office. I like Wiley's departure here. 
At the same time, Obama is seen as a serious man, thoughtful, reflective, the direct look, solemn expression, leaning forward at the edge of his chair, as if he's waiting to hear from you: "What do you think?" A deep, receptive man, in his garden setting. It's great. 
Some people think the Michelle Obama portrait doesn't resemble her, but there's no requirement whatsoever that a portrait be an exact likeness. It looks enough like Michelle. She picked this artist and knew exactly what Amy Sherald's pictures look like. Sherald does somewhat depersonalize her sitters in her paintings in a number of ways. She doesn't detail faces as much as perhaps Kehinde Wiley does. She often paints people with gray-tone skin. So whether the sitter has light-brown, medium-brown, dark-brown or black skin, they end up with the same "grisaille" coloring. As a result, if we look across the broad range of her portraits, she creates a kind of pan-African-American family. Michelle Obama joins that family of subjects. 
What is the purpose of a presidential portrait? 
All works of art make some rhetorical pitch. They never tell the whole truth and nothing but the truth, but are interpretations with fictional elements. There is a concept at work. The pictures are instruments for honoring and remembering a person, usually the way in which that person wants to be honored and remembered. And because they are paintings and not photographs, they are enduring. You can count on a portrait being around a couple hundred years from now. 
When George Washington was president in the 1790s, he was a transcendent figure in America. He was the United States. Citizens would talk about wanting to see him, just set their eyes on him. It was extremely unlikely that was ever going to happen. So the portraits — and all the millions of reproductions of the portraits — stood in for the person, allowing citizens to engage with Washington that way. 
I'm looking forward to the day when I can stand in front of Obama's portrait at the National Portrait Gallery and he and I are having an imaginary conversation. It's really unlikely that I'm ever going to be having a conversation with the real Barack Obama. And, so, for most of us, pictures like this are the substitute. 
In a case such as Washington's, he often comes across as grim, stiff and dull in his presidential portraits, which he definitely was not. He was alternately fierce, temperamental and charming as a person. He liked fancy clothing. He wore velvet suits at Mount Vernon. But the point of the portrait was to establish the look of the presidency at a time when there were no presidencies any time in history. What exactly does a president look like? How does a president behave? After all, he is a servant of the people. So in a lot of the presidential portraits of Washington, he's wearing a plain black suit. He looks modest, like a New England minister. He might be in an elaborate setting, but usually he's surrounded by papers of state and books and a pen and inkwell. Politically, it is meant to be understood as a major departure from depictions of kings. Throughout the 19th century and much of the 20th century, down to the two Bushes, many presidential portraits follow the original Washington template. 
The second type of presidential portrait goes back to the Gilbert Stuart portrait of Thomas Jefferson, who wanted to be remembered as "not Washington." He decided he wanted to be himself, seated at a desk with papers, more of a scholar, doing the people's work. There are plenty of descendants of that portrait type too.
The third is the Abraham Lincoln portrait, which the Kehinde Wiley portrait references and that is just so unusual. There's almost no setting. Lincoln is in an interior. It's dark. He emerges into the light. He's at the edge of his chair, his legs crossed. He's not standing. There are no instruments of power. He's not doing any work. He's thinking. This is by the artist George P. A. Healy. He had extracted and enlarged the figure of Lincoln from another painting of his called "The Peacemakers," which shows Lincoln conferring with some of his officers only a couple months before his assassination. They are considering how to end the Civil War. Who's going to take down Robert E. Lee? How is that going to be done? 
This is the first time the National Portrait Gallery has selected African-American artists to paint its official presidential portraits. What is the difference between these portraits and the one of Barack Obama that will hang in the White House? 
The White House portrait is more official, more enduring. It's the Mount Rushmore of painted presidential portraits. The National Portrait Gallery has all sorts of portraits and neither Michelle nor Barack Obama's portrait is any more radical than some things that they already have. You can find wicked caricatures in the National Portrait Gallery. They have a gigantic Chuck Close portrait of Bill Clinton made of inflated pixels. They have the Nelson Shanks portrait of Bill Clinton, where it was later said by the artist that the shadow of Monica Lewinsky's dress is behind the president. That is the only "gotcha" portrait I can think of. 
The portrait in the White House hasn't been painted yet, but it will be very important. Because White House portraits hang in all the rooms and hallway, all presidents, and all future presidents, walk the gauntlet of history. You're having a meeting in this room? Well, Teddy Roosevelt is watching. And over there, there's FDR. These are the eyes of history. One of the great ones is the big Gilbert Stuart portrait of Washington, an eight-foot picture in the East Room of the White House. We often see it in photographs. Washington is standing there, watching, and he has a withering look on his face. And if officeholders have has any sense of history, they will feel the weight of responsibility that these pictures represent. The portraits act as reminders of where we came from, what values we endorse. 
Barack Obama will choose the painter of his White House portrait. Will it hang near the people who did something to make his presidency possible? That is, those who helped pave the road to an African-American presidency: Lyndon Johnson, Ulysses S. Grant, John Quincy Adams, Abraham Lincoln? Or will Obama be placed next to some of the presidents who would rue the day when any black person might hold their office: John Tyler, Andrew Johnson, James Knox Polk or Woodrow Wilson? The occasion will be momentous. 
Discover your history. Learn more.