Excellence in Teaching Award creates leaders
Excellence in Teaching Award creates leaders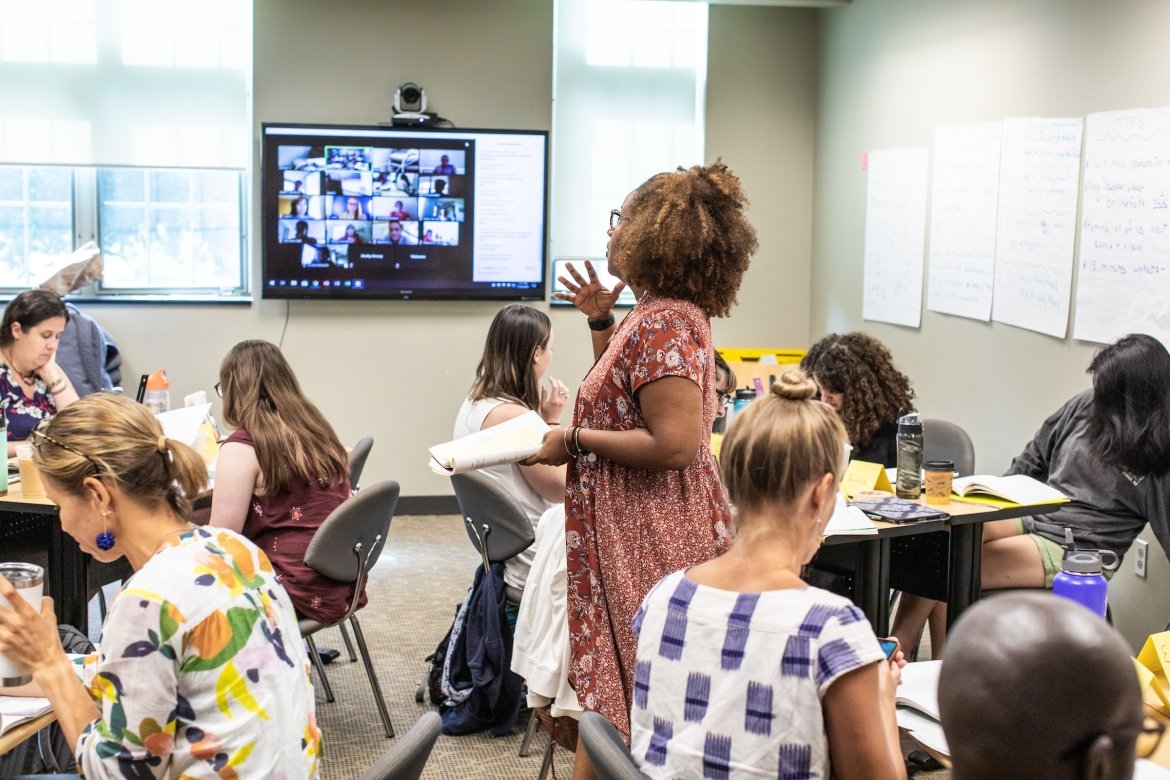 Winners of the Grinspoon Foundation's Excellence in Teaching Award receive a $10,000 scholarship to Mount Holyoke College's graduate programs.
Francesca Fydenkevez, a first grade teacher at Woodland School in Southwick, Massachusetts, has taken on leadership roles nearly from the start of her five-year teaching career, including revitalizing her district's math curriculum. 
Because her district has a strong partnership with Mount Holyoke College's Math Leadership Programs, Fydenkevez has collaborated with professors at the College, developing new ways to shift student thinking about math — work that she says has been incredibly valuable, producing real benefits in the classroom.
So when she received the Pioneer Valley Excellence in Teaching Award in the spring of 2019, Fydenkevez jumped at the chance to take advantage of one of its many benefits: a $10,000 scholarship to Mount Holyoke's Professional and Graduate Education division. She's using it for the Master of Arts in Teaching Mathematics program and expects to graduate in 2021.
"This program has already given me new tools to provide richer math experiences for my students," Fydenkevez said.
The award, given by the Harold Grinspoon Foundation in partnership with the Irene E. & George A. Davis Foundation, and in partnership with MassMutual until 2019, has honored more than 2,000 teachers in the Hampden, Hampshire and Franklin counties since its inception in 2003, said Sue Kline, director of the Excellence in Teaching Award program.
As the spouse of a teacher and with a lifelong love of education, founder Harold Grinspoon — a resident of the Pioneer Valley — launched the award to honor everyday classroom teachers who go above and beyond, Kline said.
"These are well-deserving individuals who deserve recognition for the tremendous difference they make in children's lives."
The award comes with a variety of gifts, including a cash prize, tickets to an award banquet and a private gala reception, and memberships at the region's YMCAs and the Springfield Jewish Community Center.
But the gift of tuition for graduate programs at Mount Holyoke and other participating colleges and universities often comes as an unexpected surprise for recipients, and allows them to achieve dreams they otherwise might not have been able to afford.
For example, said spring 2019 recipient Michael Lawrence-Riddell, receiving the scholarship has allowed him to pursue an aspiration he's been mulling over for years. Lawrence-Riddell said he became a teacher nearly 20 years ago partly as a platform to help eradicate systemic racism and racial violence. 
When he received the award, he was in his first year of teaching American history at Amherst Regional Middle School, a class with strong potential for reshaping how race is viewed as part of the country's broader landscape. Yet, he said, no multimedia tools exist with this specific goal in mind.
His scholarship, along with an additional fellowship in entrepreneurship in education from Mount Holyoke, allowed him to take a leave of absence so that he could earn his Masters of Arts in Teaching, Teacher Leadership. The program is giving him the tools and connections to develop a digital humanities resource for American history teachers that will encourage educators and students to think critically about the role of race and institutional racism.
"It's the kick in the pants I needed to do this thing that's pretty huge and risky," Lawrence-Riddell said. "The program has also given me access to this phenomenal community of forward-thinking, progressive, accomplished and experienced educators who are helping me move my ideas forward."
Although Lawrence-Riddell is taking time away from the classroom to achieve his goals, the scholarship also provides a feasible way for full-time teachers to continue to work while pursuing a graduate degree.
Spring 2018 award recipient Emily Shimansky is enrolled in the same teacher leadership program. A former special education teacher at Green Meadows Elementary School in Hampden who now serves as her school's math interventionist, Shimansky said she has the typical challenges of a working parent: With a full-time teaching career and two small children at home, time is in short supply. But the scholarship has made it possible for her to pursue a second master's degree while keeping her commitments to work and family life.
The two-year teacher leadership program involves only a single academic course per fall and spring semesters, which takes place in the evenings and can be accessed remotely — a particular asset to Shimansky, who lives in northern Connecticut — and three week-long summer intensive courses in July. On track to graduate in spring 2020, she's currently working on a capstone project that brings together resources on best practices for teacher mentors that could eventually become a guide for her district and beyond.
"To be recognized by this award is very humbling," she said, "'Leading without leaving' is a phrase that we often use in the program. This scholarship is allowing me and my fellow award recipients at Mount Holyoke to ignite our leadership potential in the classroom while staying authentic to our craft."