Experiencing the living classroom
Experiencing the living classroom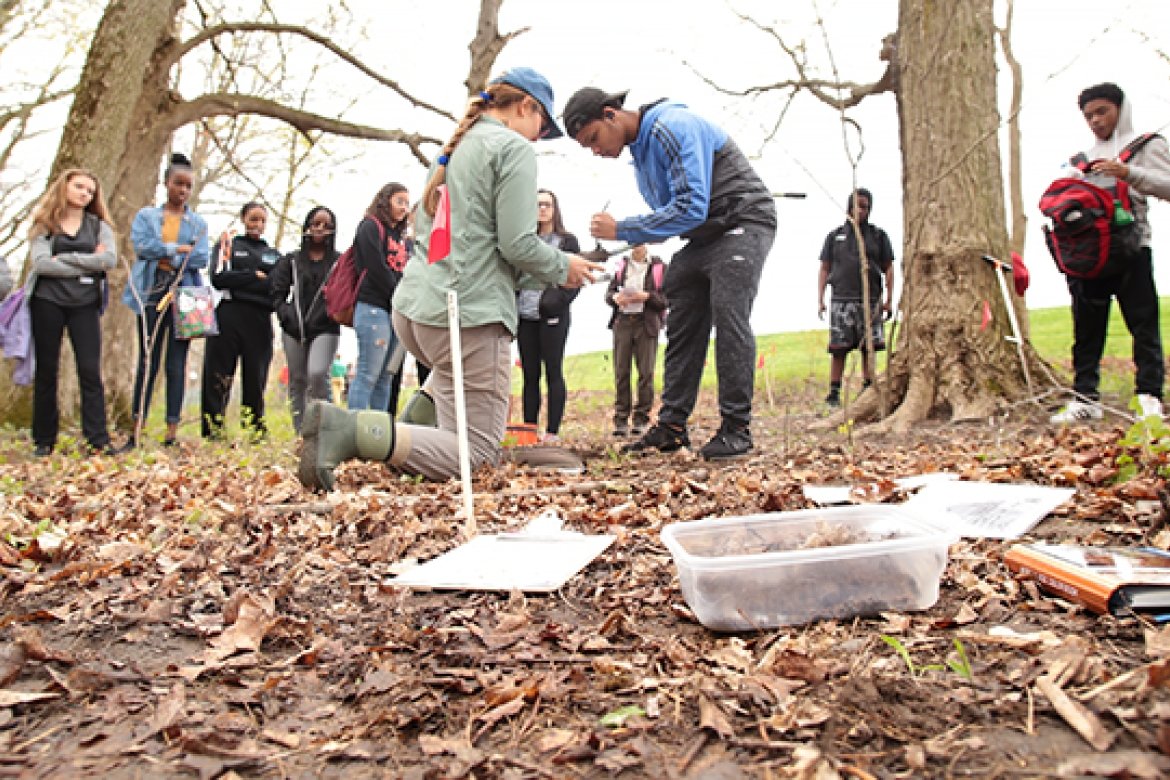 More than 100 high school students spent the day at Mount Holyoke's restoration ecology site, learning about the environment from the ground up.
By Keely Savoie
Kate Ballantine, assistant professor of environmental studies at Mount Holyoke College, surveyed the group of ninth graders clustered around her in the woods. She held aloft a clear bin with a handful of soil in it, explaining the differences in soil textures.
"Who wants to feel this and tell me whether this is a sandy, silty or clay soil?" she asked.
The students nearest her recoiled at the suggestion, but from behind, one volunteered with relish and bravado.
The students were from the Springfield Renaissance School, a partner with the Restoration Ecology Program under a grant funded by the National Fish and Wildlife Foundation's Five Star and Urban Waters Restoration Program. The high school is adjacent to Springfield's Abbey Brook Conservation Area, which is undergoing its own restoration. They were there to participate in a day-long hands-on workshop to gain a better understanding of restoration ecology.
On a given day, the Restoration Ecology Program site, known as Project Stream may host a dozen or more students and professors, who, in addition to continuing the work of restoring the site, also use it for research and teaching. This day there were over 100 visitors, mostly students.
Project Stream takes its name from a tributary that once sluiced through badly eroded banks choked with invasive vegetation in the woods, feeding directly into Upper Lake on Mount Holyoke's campus. But after four years of study, planning and construction, the water now gently meanders through a picturesque plot of woodland, surrounded by a boardwalk that enables anyone to access the site. The site serves as a living classroom and is a way for the  program to expand its impact by sharing its work with the world.
For Renaissance science teacher Casey Fletcher and her class, the day was a watershed experience.
"Our next class was spent dreaming up big plans for Abbey Brook," Fletcher said. "Our students were super-excited to envision possibilities, including everything from creating a student cleanup squad and monitoring team for Abbey Brook, to removing invasive species and installing cameras to document wildlife and changes at the site, to creating outreach opportunities through signage."
Ballantine, who founded and directs Mount Holyoke's Restoration Ecology Program, oversaw the day's activities along with Timothy Farnham, chair and associate professor of environmental studies, and a cadre of Mount Holyoke students and staff. They were joined by U.S. Fish and Wildlife Service personnel as well as science teachers from Renaissance.
It was cool and overcast, ideal for spending long hours outside. The class broke into groups of 12 to 15 students, rotating through stations where they learned about and practiced everything from soil analysis to atmospheric gas sampling.
Of course, new experiences — touching the soil, for instance — aren't always comfortable. But by the end of the day, the students were all enthusiastically working dark earth through their fingers to evaluate its color and texture.
"It's one of the most satisfying things about this work," Ballantine said. "Watching students go from feeling completely apart from our ecosystem to seeing them engage with it actively and curiously."
The day was more than an opportunity connect the Springfield students to restoration ecology and the Abbey Brook project: It was also a chance to discuss the future of the students themselves.
During their lunch break, they discussed common myths and misunderstandings about college with staff from Mount Holyoke's Office of Admission.
"We thought it'd be useful to get them thinking about college, because for some this was their first visit to a college campus," said Ballantine.
After the afternoon session, students received brochures for the Restoration Ecology Summer Scholars Program, a free week-long program for rising 10th, 11th, and 12th grade girls. This year the program is funded by PeoplesBank and includes Earn While You Learn stipends for students who otherwise might not be able to afford to take time off from work during the summer.
"A key piece of restoration ecology is spreading the word and sharing what we learn from doing restoration projects and researching restored sites," Ballantine said. "We hope to do more exchanges with classrooms from neighboring areas. Visiting their campuses and sharing our restoration site gives everyone a chance to practice our work and experience new places and activities."
Explore your world. Learn more.