Joint performance brings a twist to tradition
Joint performance brings a twist to tradition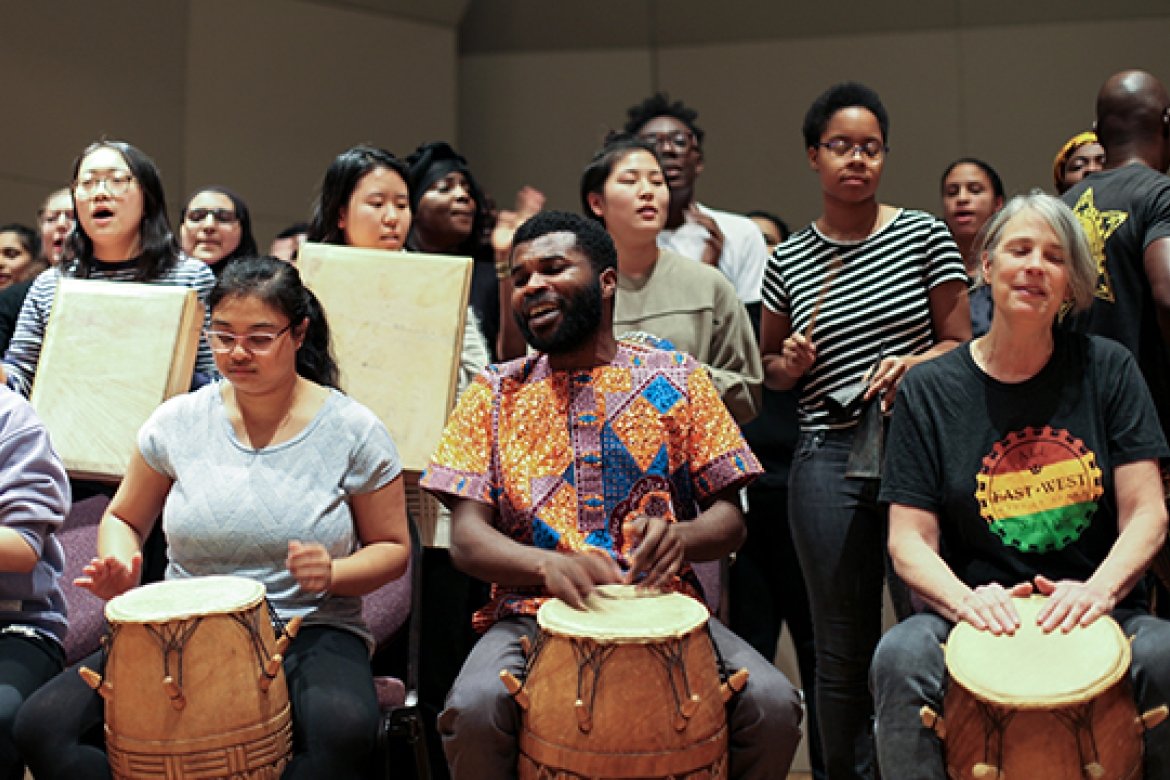 Classes from Mount Holyoke and the Five College West African Music Ensemble joyfully performed together, featuring drums, dance and music.
By Keely Sexton
It was standing-room-only at the McCulloch Auditorium in Pratt Hall, as the audience packed in for an evening concert of West African music, dance and storytelling. 
The performers danced in from the back of the audience, singing, clapping and hollering their story, excerpted scenes from "The Marriage of Anansewa," a play by the late Ghanaian playwright Efua Sutherland. 
The performance itself, titled "Toame!," (meaning "in the circle") was a culmination of the collaboration between Visiting Lecturer in Theatre Arts Michael Ofori and Faith Conant, director of the Five College West African Music Ensemble.
After months of talking, they became formal collaborators in the fall of 2019. Ofori's class focused on West African performance and Conant's on West African dance-drumming, so they arranged an exchange: As the end of the semester approached, they joined forces and classes for a final performance, with guest artists dancers Nani Agbeli and Koblavi Dogah, and world-famous talking drum musician Mohammed Alidu.
Altogether, more than 40 guest artists, students and professors sang, danced and acted out the story of Ananse the spider, who promises his daughter in marriage to four local chiefs in an effort to enrich himself through their dowries. When all four accept, he has to scheme with his reluctant daughter in order to disentangle himself from the tangled web of his own making.
"These students engaged with a lot of information but what was even more impressive was their ability not just to retain but to be able to share all of the semester's information in a spirited performance," said Ofori.
The spoken scenes were punctuated with songs, drumming and dances from the Ewe people from Ghana, Togo and Benin; the Dagomba people of northern Ghana; and the Ga people along the Ghanaian coast. Onstage, performers used Ewe drums, but most of the performance took place on the floor in front of the audience, creating an intimate and infectious energy. 
At the end of the evening, the troupe invited the audience to sing and dance in a final interactive performance.
"Even as someone who had worked with the students throughout the semester, it was extremely entertaining and empowering watching how everything came together," said Ofori. "It was a testament to how beneficial these collaborations can be for our students and the community."