In person once again, Mount Holyoke College's 185th Commencement focused on resiliency, justice and joy.
As soon-to-be Mount Holyoke alums gathered in the wings, friends and families who came to support them filed into the Kendall Sports & Dance Complex bearing signs and well-wishes. Students marched in to take their seats, mortarboards bedecked with pink hearts, roses, and a few that read "Hi mom and dad!" They wore stoles and scarves, cords and sashes denoting their special accomplishments and affinities.
Neither the masks nor the heat dampened the excitement of the occasion, which was heightened in the wake of years disrupted by COVID-19. Faculty in regalia took their seats and speakers and honorands assembled on stage. 
Mount Holyoke College's one hundred and eighty-fifth Commencement had begun,  held on May 22, 2022.
It was a bookend occasion for the class of 2022, who saw President Stephens' inauguration their first year and came to graduate at her final Commencement as president this year. This class had their college experience interrupted by the global COVID-19 pandemic and learned alongside their professors and peers how to study remotely and go to class from their bedrooms, living rooms and kitchens around the world. 
More than 570 class of 2022 seniors and 60 graduate students received their degrees at the ceremony that marked not only the momentous rite of passage, but the resumption of the in-person Commencement ceremony that had been on hold and reimagined since the pandemic scuttled in-person Commencement in 2020.
The class of 2020 will celebrate their delayed graduation at a ceremony on May 29. 
After the seniors and faculty filed into the Field House, Kijua Sanders-McMurtry opened the ceremony with a land acknowledgement, remembering the people who cared for the land that Mount Holyoke stands on.
She remembered joining the class at their Commencement, only weeks after she herself had joined the community as the vice president for equity and inclusion. 
Calling out the graduates, she named Frances Perkins scholars, transfer students, graduate students and, of course, the undergraduate class of 2022, who are symbolized by the red pegasi. 
She asked for a moment of silence for the victims of the recent shootings in Buffalo, New York, and Laguna Woods, California.
"Today is a celebration. And we celebrate even in times of despair. We do so as an act of faith," she said. "Congratulations! We are so proud of each and every one of you."
Following Sanders-McMurtry's land acknowledgement, Karena Strella '90 called the Commencement to order, congratulating the graduating class and welcoming them to Mount Holyoke's alum network of nearly 40,000 "quirky, extremely talented and ever-welcoming" individuals who are actively working to change the world for the better.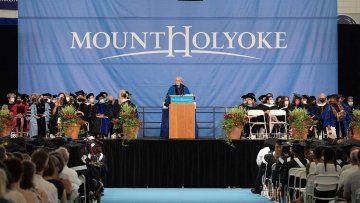 President Sonya Stephens then took the podium and addressed the graduating class, who were first-year students when she was inaugurated as Mount Holyoke's nineteenth president in 2018, and are the last class to have her preside over their Commencement.
Quoting Marcel Proust, who famously wrote on the nature of time and memory, Stephens reflected on time's power to define and redefine experiences.
"Each of you has embarked upon a journey of self-discovery and of sensemaking at Mount Holyoke, often through the kaleidoscopic perspectives of different courses and approaches," she said. "Time here is of another order," she continued. "Such is the joy of a liberal arts education.
"Congratulations, Class of 2022. Wherever the winding path, the long vistas, and the forward motion may take you next, I wish you lives of continuing inquiry and meaningful pursuit, and opportunities of great purpose and transformation." 
Senior speaker Nicole Devon Haswell FP'22, double major in psychology and sociology,  received huge applause when she took the podium.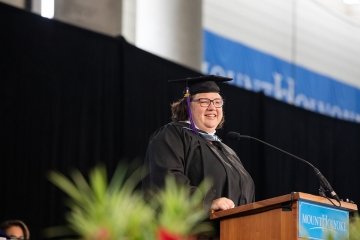 "From fearing to fearless, from excited to exhausted, from naïve to educated: this has been my Mount Holyoke journey," she said, revealing that her presence on stage was a surprise to family and friends.
"This is a representation of the fearlessness that I have cultivated here at Mount Holyoke," she said, wiping a tear.  
She spoke of the challenges the class faced but also the unexpected moments of tenderness and unity she witnessed as a result, specifically, the impromptu Laurel Parade organized by the seniors in 2020, who had to leave campus unexpectedly due to the COVID-19 pandemic.
"This was my very first experience of traditions at Mount Holyoke," she said, recalling faculty running in their regalia, doctoral gowns, tassels and hoods billowing, who came to support the class. "In that moment …  I fully understood that I was attending a school full of educators and leadership who refused to let the work of their students be forgotten, who refused to give up on tradition, and who showed up and continued to support us all despite the uncertainty that they too were feeling."
As a transfer student, Haswelll was seeking community, "because a great education is one thing, but a great education while being supported by an even greater community is everything," she said. 
"I made the right choice coming MoHome," she said. 
She concluded her remarks with a quote from another alum, Kavita Ramdas '85, changing the word "women" to "individuals" to represent the whole of Mount Holyoke's gender-diverse community. "We need individuals that are so strong they can be gentle, so educated they can be humble, so fierce they can be compassionate, so passionate they can be rational and so disciplined they can be free." 
"Class of 2002, we are leaving here educated, humble, rational and disciplined. And therefore free," Haswell said. "Class of 2022, we will always be MoHome — and now we are free."
With that, interim Dean of Faculty and Vice President for Academic Affairs Dorothy E. Mosby introduced the honorary degree recipients: Natalie G. Diaz, Katherine Butler Jones '57, Susannah Margaret Sirkin '76 and Ocean Vuong.
Diaz, author of the Pulitzer-winning "Postcolonial Love Poem" and known for her work in promoting equity in housing and education as well as in language preservation and recovery, was awarded a doctor of letters degree.
"It is my luck to be here alongside you all in this great turning and celebration of Mount Holyoke's graduating class of 2022," she said. "I am alongside you tonight as someone who loves language … I am here tonight alongside you in gratitude, knowing you have been dreaming and soon will be making a world we deserve."
"Your language will help shape your actions and your actions will tremble the world in ways that turn and turn and wake up the seeds inside you as you bloom the world we've all been waiting for."
Stephens then conferred the degree of doctor of humane letters on Katherine Butler Jones '57, who recalled a past speech she had given to Mount Holyoke students.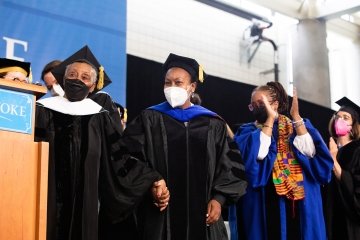 "Many years ago I spoke at a Convocation and reminded students they are heirs to Mary Lyon's radical idea that women had a right to an excellent college education on their own terms," Jones said. "Mount Holyoke women do not see boundaries or barriers. They see opportunities. And seize them."
Jones told the class that she was the only Black student in her graduating class of 1957. "At times, I was lonely," she confessed. "Your generation has prospered from the rich racial and ethnic diversity now found here.
"You are charged to leave these hallowed grounds and soar," she continued — but there was no question in her mandate. "Indeed you will," Jones finished. 
When Susannah Sirkin '76 came to the podium to receive the degree of doctor of humane letters, she was greeted with thunderous applause. She spoke of the many challenges facing the new graduates: 
"The urgency of the climate crisis, a great racial reckoning, autocracies ascendant, refugees rebuffed at the borders, the pandemic which has revealed gross health inequities, Russia's atrocities in Ukraine, and now, just as you graduate, the impending reversal of reproductive rights in the US," she listed. "We celebrated the Roe decision my freshman year here, and now 50 years later, we are gearing up to protect our bodies and the doctors and nurses who care for us.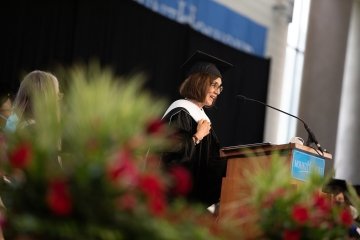 "While fixing this broken world doesn't have to be your life's work, our values as Mount Holyoke grads call on each one of us to join the struggle," Sirkin said. She told graduates to fight falsehoods with facts, to keep their moral compasses and to be humble and appreciate the world in order to save it. And, perhaps most importantly, to find joy:
"Almost 50 years ago, [my] friends and I rebelliously 're-named' Pearson's Annex … after the notorious anarchist Emma Goldman [who was] a fierce advocate for workers' and reproductive rights," she said. "To this day, I live by one of her quotes that we pasted on our kitchen wall. 'If I can't dance, I don't want to be part of your revolution.'" 
"In the spirit of bread and roses, keep marching, marching, but let's share in life's glories," she reminded the graduates. "Get out there and dance!" 
Finally, award-winning poet and MacArthur "Genius" Grant recipient Ocean Vuong was given an honorary doctor of letters degree and spoke of the nature of time and memory and becoming.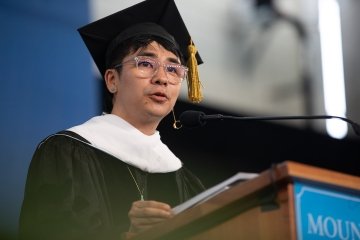 "We are here on earth for but a short time, our species like the stratified rock that has existed here for millennia on the cliffs of Mount Tom … but only one layer at a time allows for grass, for life, to grow. That thinnest layer on top. That is where we are," he said. "[T]o live well means to prepare their soil — and that preparation demands discernment, capacious thinking, compassion, and not least of all, courage."
Vuong told the graduates that the moment of Commencement is not one of having arrived, having become, but one of continued becoming, of curiosity and openness, a way.
"It is not the star on the map, but a bridge — one where I meet you with the hopes that the bridge will extend across your entire life," he said. "For we, if we are lucky, are always on our way. Well, then, be on your way. Be forever, impossibly, on your way."
Written By

Keely Sexton
Published