Leaving a legacy of global change.
Leaving a legacy of global change.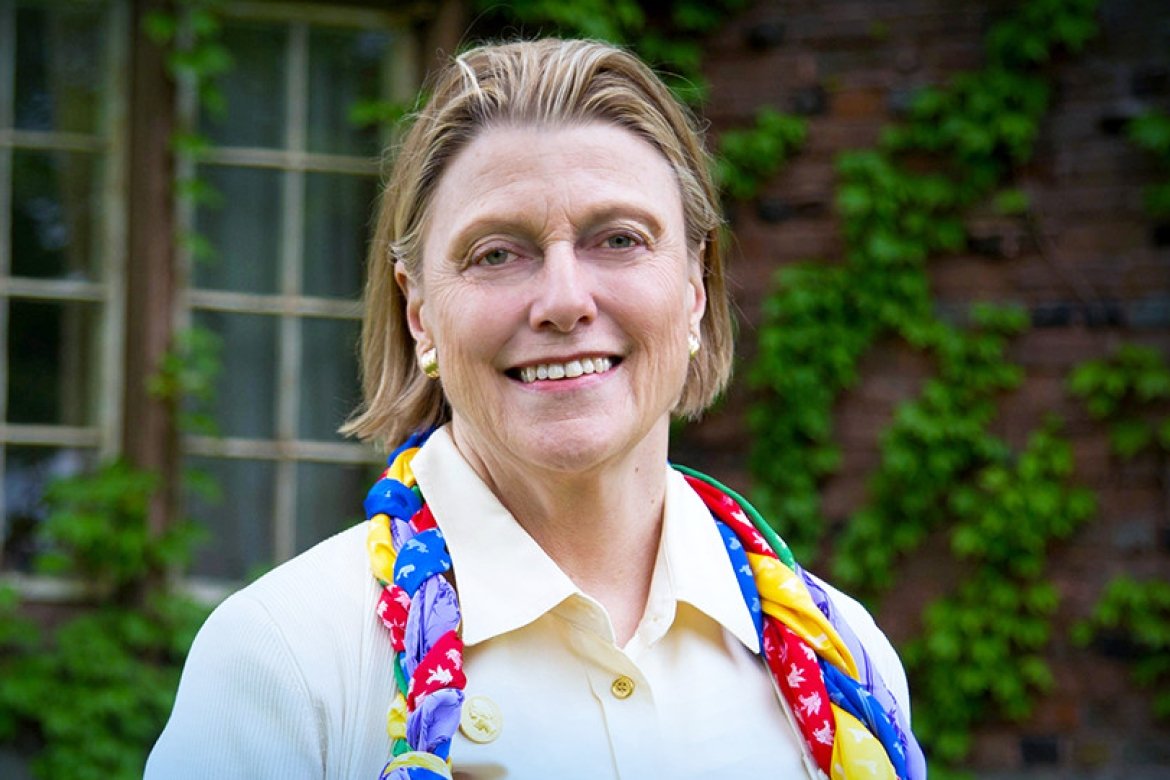 As she prepares to retire from her volunteer service to Mount Holyoke, Mary Graham Davis '65 reflects on the College's commitment to "stay relevant" amid global change.
The world was on the verge of great change when Mary Graham Davis and her class graduated from Mount Holyoke College in 1965. The first U.S. troops were deployed in the Vietnam War that year. Martin Luther King Jr. led the March from Selma to Montgomery, Alabama, in support of voting rights for blacks. And the women's liberation movement was gaining momentum.
"We were on the cusp of so many things, and for the first time, many of us envisioned our future lives with careers," recalled Davis, who studied political science at the College. "My experience at Mount Holyoke was extraordinary from an educational standpoint and from the perspective of how the College prepares women to enter the workforce, go to graduate school, and in general achieve their best potential."
Even as Davis prepared to pursue her master's at Tufts University's Fletcher School of Law and Diplomacy, she knew she wanted to stay connected to Mount Holyoke – and to give back so that others would be afforded the kinds of opportunities she had. Fifty years later, the former international banking executive and current president of Davis Consulting Group LLC has demonstrated exceptional leadership to her alma mater, as a volunteer for her class since the day of her graduation, as a former president of the Alumnae Association and most recently as chair of the Mount Holyoke College Board of Trustees.
Davis will retire from her official duties as board chair on July 1, completing 19 consecutive years of volunteer service as a trustee. Energy executive and consultant Barbara Baumann '77 has been named the next chair.
Baumann described Davis as "tireless" and "unfailingly innovative" and said she is honored to continue the work led by Davis.
"Mary and I have served Mount Holyoke in a variety of ways over the last two decades -- on the board of the Alumnae Association, on the most recent capital campaign, on the presidential search committee, and as fellow trustees," Baumann said. "Mary asked important questions, sought out different viewpoints, and developed creative solutions for every project she tackled. Mary leaves the board, as well as all aspects of Mount Holyoke, much, much stronger for her efforts."
Mount Holyoke President Lynn Pasquerella also said it has been an honor and a privilege to lead with Davis.
"She has played a leadership role at the national level, outlining best practices in governance through her work with the Association of Governing Boards of Universities and Colleges (AGB). The hallmarks of her leadership as board chair, and previously as the president of the Alumnae Association, include a commitment to women's education, liberal education, and academic excellence," Pasquerella said. "Under her leadership, Mount Holyoke has become stronger financially, gained increased visibility, and demonstrated a dedication to access and affordability through providing paid internships for each of our students -- an initiative she championed with great enthusiasm."
After working in the banking industry as an executive for many years, Davis founded her management consulting business in 1996 to help corporations, private companies and nonprofits with strategic implementation and organizational design. She was named a College trustee in 1994 and served two terms before becoming president of the Alumnae Association. She remained on the board in that role for three years, then rejoined as a regular member for a year before launching a five-year term as chair in 2010.
During her tenure, Davis served on committees considering finance, investments, fundraising, membership and campaigns and was chair of the Career Support Task Force. She was part of the search committee that selected President Pasquerella and of the Inauguration Committee for the previous president, Joanne Creighton. Davis also has been reunion chair and class agent for the class of 1965, which recently shattered all previous records with a 96 percent participation level of alumnae giving and $2.34 million raised for their 50th reunion. | See related news story.
In 1990, the Alumnae Association bestowed on Davis the Medal of Honor for long-term service and leadership in promoting the Alumnae Association and the College. This year, the Alumnae Association created a new award in Davis's name and honored her as the first recipient. The Mary Graham Davis Leadership Award will continue to honor an alumna "who has served both the College and the Alumnae Association in order to advance the mutual interest of both through visionary thinking and a passion for collaboration."
During a recent ceremony honoring Davis, fellow board member and friend Jeanne Amster '77 described Davis's contributions to the College as being as significant as those of two other prominent Mount Holyoke leaders: founder Mary Lyon, a pioneer in women's education, and Mary Woolley, the College president from 1901 to 1937 and a thought leader in academics and world peace.
"As I think about Mary (Davis's) prodigious service to Mount Holyoke, it occurs to me that each century of Mount Holyoke history has produced a distinctive Mary," Amster said. "This current Mary, Mary Davis—is always our chosen leader from her class to the alumnae to the board, always our team captain and team player, and always our generous friend."
As board chair, Davis often repeated the mantra that Mount Holyoke must "stay relevant" in the midst of changing times. She is particularly proud of the board's work to ensure that Mount Holyoke remains a women's college, to bring the College to its optimal size, to develop the alumnae network, and to develop career services as a vital part of a liberal arts education.
Davis noted the importance of developing a vital online alumnae network to promote career and mentoring connections between students and alumnae.
"This is now a vital part of The Lynk experience, not just for job opportunities and internships but sharing career information" Davis said. "The work of the Career Support Task Force in the 1990s was the thread that has carried through with promoting The Lynk. We have been very focused on career training and translating the liberal arts education into the world of work."
As she prepares to turn over the reins, Davis reflected on the importance of educating students and alumnae about the need to sustain the College for years to come.
"The most important thing is for Mount Holyoke to stay relevant and to stay globally relevant," Davis said. "This extends to helping emerging women's colleges around the world. Over my 19 years on the board, we have become more global and more diverse in all ways."