Making physics fun
Making physics fun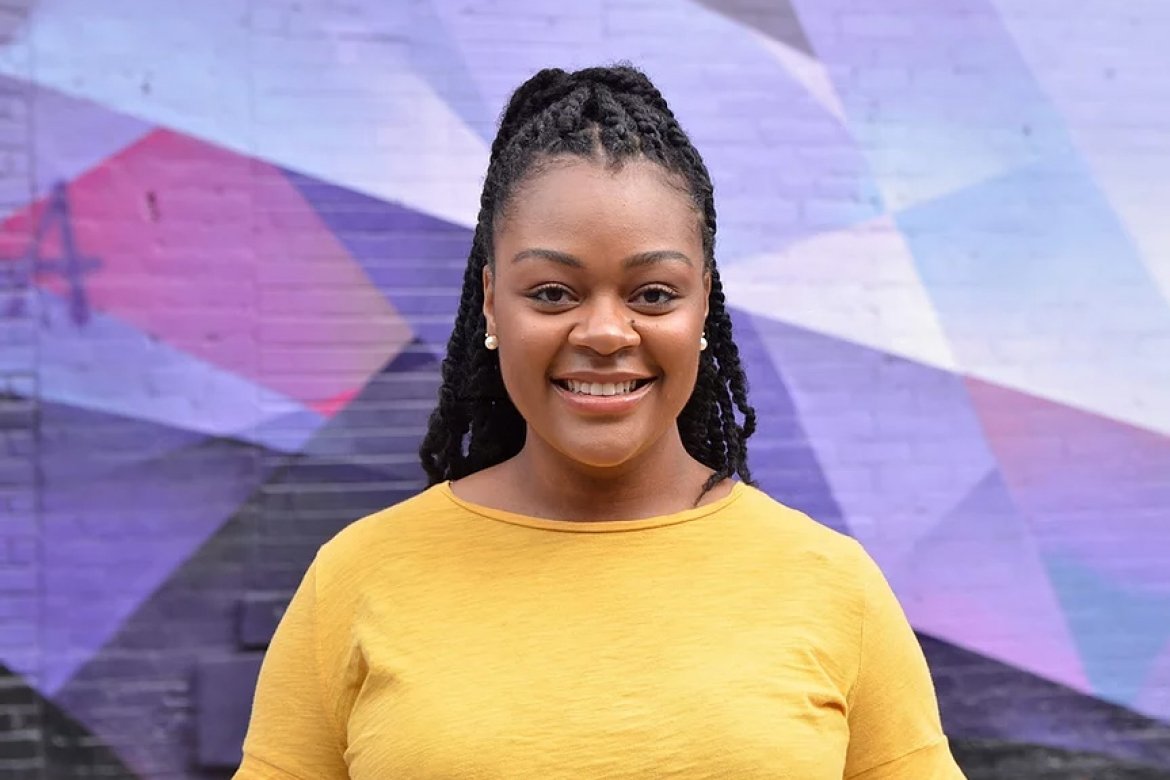 Mount Holyoke alum Tamia Williams '18 combines her love of science and art to teach others how to enjoy physics.
Tamia Williams '18 was first introduced to physics in high school. "I was looking at all the classes I could take and I remember physics sticking out. I wanted to learn more," she said. Her first physics class didn't come until her junior year, but after a few lessons, she was hooked and knew she wanted to study the subject deeper in college.
When she arrived at Mount Holyoke College in 2014, her advisor was supportive of her pursuing the subject. "I remember her saying 'We need more scientists and physicists like you!' So I thought 'Well, okay, if you need me, I'll do it,'" she said, chuckling at the thought. 
According to the American Physical Society, in 2018, the year Williams graduated, only 3%of people who graduated with a bachelor's degree in physics were Black — and she was one of them. Williams' parents are from the Caribbean and she was born and raised in New York City. She is the first in her family to pursue a physics degree.
Studying physics, while rewarding, was onerous. The work was difficult and she was one of the few Black women in her major. "It was one of the more challenging things I'd encountered," she said. "I spent a lot of time in the physics lounge."
Then, during the summer before her senior year, she began to work on her thesis and think about what life after Mount Holyoke could look like. "I wanted to make physics more relatable and equitable, but also wanted to use my performing arts background," she said. 
Williams had always been drawn to the arts. "I've always been an artist. I painted and crocheted, danced as a kid. I've just always been really artistically inclined." She pursued a double major in theater arts, which quickly became a welcome escape from science labs and quantitative work.
"When I got to Mount Holyoke, theater became a coping mechanism. It allowed me to make art, challenge myself in creative ways, be whoever I wanted to be," she said. It was important to her that she found a way to merge her two passions for her senior thesis. She decided to interview Black physicists from all over the world about what led them to physics as well as how, and if, their interest in the subject intersected with performing arts. 
Through more than a dozen interviews, she found a community — a group of Black scientists who had similar and differing experiences to hers. Suddenly, her chosen field of study didn't feel so small.
Today, Williams is a middle school science teacher at a magnet school in the Bronx. She's taken what she gleaned from her thesis at Mount Holyoke and applied it to her lesson plans to get her students, who are mostly students of color, excited about science. She says making it relatable and fun has been key.
"It's not something we see in our communities. When you go to family gatherings, no one is talking about physics theory. We're talking about pop culture and things that are dynamic to who we are," Williams said. "The vernacular in academic culture doesn't mirror the words we use in the Black community, so finding ways to translate that was something that needed to be done to get young people excited about science."
For Williams, the best way to do that was through art. "In the Black community, you probably grew up doing some type of art, whether it was singing in church choir, or dancing," she said. "I knew my students could relate to that in some way."
Her lessons show students how physics can affect facets of performing arts, such as the way a ballerina moves. She also wants her students to understand that anyone can be a scientist. Recently, she asked her students to describe what a scientist looks like. Many of them named the Cartoon Network's Dexter, from "Dexter's Laboratory." Some named Bill Nye the Science Guy. Her goal is to show her students and others that science isn't just for a certain type of person.
"I always hope I can inspire someone to take up science and make it their own," Williams said. "We have to stop thinking of science as this technical thing. It's a space where we're allowed to be creative and make it fun, accessible and equitable for everyone."