MHC leaps into 21st-century maker culture
MHC leaps into 21st-century maker culture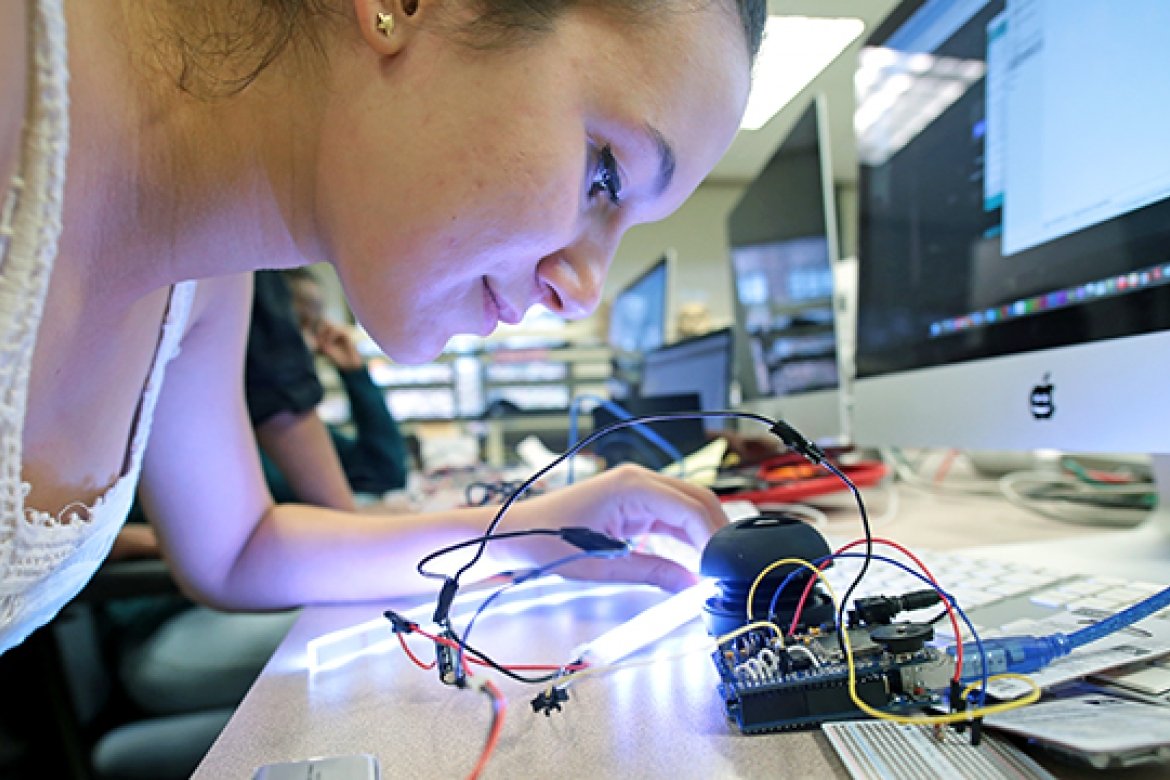 Thanks a generous grant, MHC's new MEDIAL Project is integrating arts and technology and giving students resources to create, exhibit and perform.
By Sasha Nyary 
A $500,000 grant from the Sherman Fairchild Foundation will launch Mount Holyoke College's MEDIAL Project, a significant new initiative at the intersection of arts and technology. "MEDIAL" stands for "MHC Empowering Discovery, Innovation and Artistic Learning." 
The grant will be applied largely to upgrading media and film production, audio and sound production facilities, including a new digital music lab, and substantial upgrades to the College's Makerspace. 
"This grant is a wonderful illustration of the liberal arts in the 21st century," said Jon Western, vice president for academic affairs and dean of faculty, who noted that making, experiencing and teaching art in the 21st century is increasingly technological and collaborative. 
The funds support expanding artistic spaces where students can create, exhibit and perform art that incorporates a mix of disciplines and technologies, as well as creating new courses and reformulating existing ones. These improvements will significantly elevate and sustain a powerful maker culture at Mount Holyoke — one of the most important goals in The Plan for Mount Holyoke 2021, the College's strategic plan — and help transform teaching and learning across the curriculum. 
"This grant is the result of the extensive collaboration and work of nearly 20 faculty and staff, one that increases the opportunity for our students to develop skills, knowledge and creative experiences in new and innovative fields," Western said. 
The project is already underway, with renovations to the music department's Pratt Hall that include a 14-seat composition and digital music lab complete with musical keyboards and computers. A recording studio and composition lab will be constructed to give students more space to record and mix music and other sound. 
This first phase, the Pratt Hall renovation, is being overseen by Ng Tian Hui, orchestra director and assistant professor of music, and one of the MEDIAL Project's three faculty co-directors. 
Another co-director, Michael Davis, chair of architectural studies and professor of art history, is part of the committee working on the relocation of the Makerspace, currently housed in the Art Building, to Prospect Hall. The move is scheduled for January 2019, and will bring with it an infusion of sophisticated new equipment. 
Robin Blaetz, professor of film studies, is the project's third co-director. She will oversee the creation of a production studio for interviewing, filming and presenting in the Media Lab, along with a sound booth and a high-end video production lab. The Mount Holyoke College Art Museum will also get a tech reboot, with an exhibition space and iPads for patrons to view interactive art work on display. 
To facilitate the grant's broad interdisciplinary nature, the three co-directors are working in concert with 15 additional faculty and staff collaborators from across campus in the arts, sciences, Art Museum, Makerspace, facilities and Library and Informational Technology, or LITS. 
The project manager, Nick Baker, a LITS liaison who helps faculty use and integrate technology and library resources in their teaching, notes that the grant's goal is to create robust and flexible spaces for students today — and in the future. 
"The MEDIAL Project blends arts and technology in an extraordinary way, and Mount Holyoke is uniquely positioned to create these blended spaces," Baker said. "The level of creativity here that grows out of our students' diverse backgrounds and interests means that what they're generating is incredibly exciting. Given the global challenges we're facing, we need more outside of the box, design-focused creative thinking. Mount Holyoke is the perfect place to do that."
Think outside the box. Visit.