Mindy McWilliams Lewis '75, P'05, 1954–2019
Mindy McWilliams Lewis '75, P'05, 1954–2019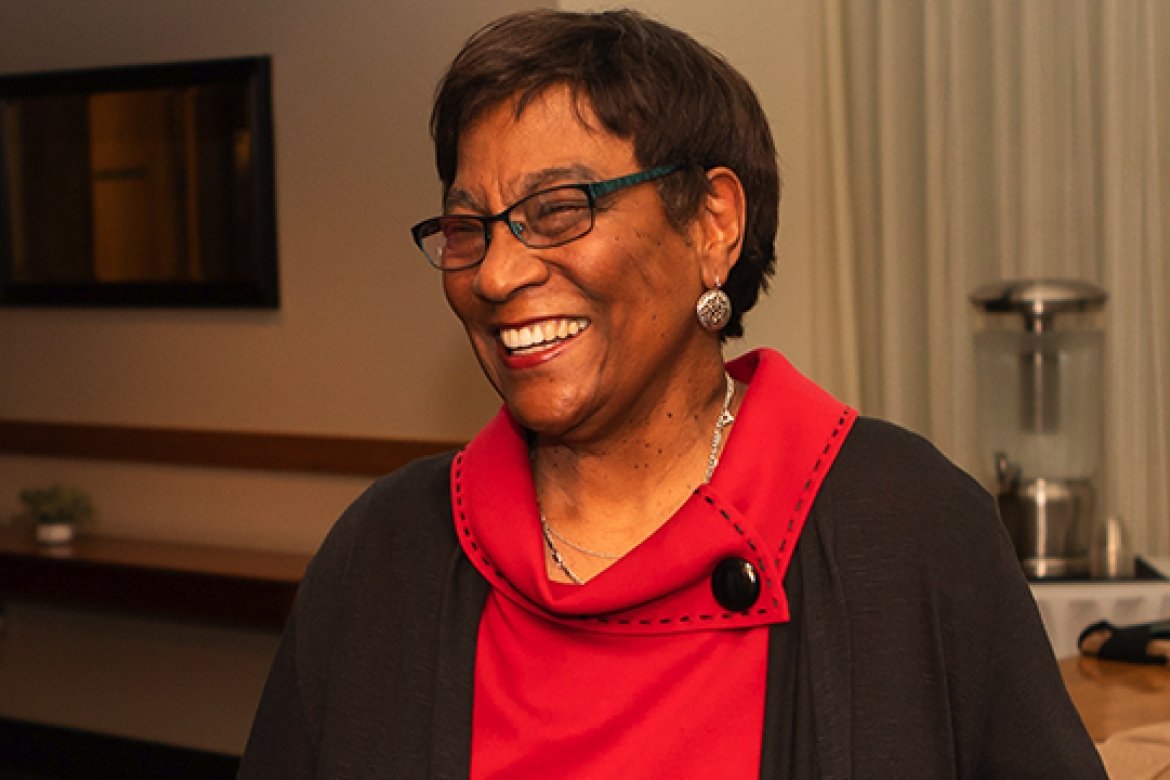 Mindy McWilliams Lewis '75, P'05, chair-elect of the Board of Trustees at Mount Holyoke College, has died at age 65.
By Sasha Nyary
"You find the time to do the things that matter most," said Mindy McWilliams Lewis '75, P'05. "I made the decision early in life that I wouldn't do something because I had to, but because it was important to me."
Mount Holyoke College was deeply important to Lewis. She was the chair-elect of the Board of Trustees, a position she was to assume on July 1 and which would have been the capstone in a life of service to the College. Lewis died on June 9 at Lee Memorial Hospital in Fort Myers, Florida. She was 65.
Her passing is a terrible loss to everyone who knew her and every community she touched, said President Sonya Stephens.
"We have lost a trusted and visionary leader, a loyal alumna and a dear friend," said Stephens. "Mindy was a creative thinker who was as engaging as she was engaged. Her commitment to diversity informed her inclusive and adaptive leadership style and touched everyone she met. She was both visionary and pragmatic, and she brought a sense of humor and fun to our work that infused it with joy."
Other recent roles Lewis held at the College included serving two terms as a member of the Board of Trustees and as the Board's vice-chair in 2016 and 2017.
"Mindy had a remarkable ease about her," said Board chair Barbara M. Baumann '77, who worked closely with Lewis for many years. "She was self-confident without a trace of arrogance, imminently approachable and quick to laugh. 'I have no hobbies,' she told me once. 'Mount Holyoke is my hobby.' Her loyalty to the College knew no bounds. We are all devastated."
"A strong leader with a soft touch"
Lewis, who was a member of the Indianapolis chapter of the Alumnae Association, served on numerous committees after graduating from Mount Holyoke. On the $300 million campaign that ended in 2013, she co-chaired the Legacy of Diversity Committee with Chau Ly '97. She was also deeply involved with the Black Alumnae and the Alumnae/Students of Color conferences.
For her contributions, she received the Alumnae Association's highest honors, the Mary Lyon Award and the Medal of Honor. The citation for her 1989 Mary Lyon Award noted her "particular brilliance [in] identifying groups that can and should be brought together and motivating and facilitating their interaction."
Her Medal of Honor citation in 2000 read, in part: "You are a perfect example of what a liberal arts graduate can do: anything she sets her mind to. Ever since graduation, you have exhibited purposeful involvement and creative leadership in several public and private institutions with which you have been affiliated."
Her qualities of leadership were referred to again and again by those who had known Lewis and worked with her.
"She was a strong leader with a soft touch," wrote Yakut Akman '80, who also served on the Legacy of Diversity Committee.
"She was such a glorious example of all that Mount Holyoke alumnae can aspire to be," wrote Susan Bateson '76. "Mindy was a wonderful Board colleague — respectful of others' views, insightful, challenging, collaborative and creative in her thinking."
"She could simultaneously appreciate accomplishment and strive for further improvement," wrote Janet Falik Aserkoff '65.
"She always saw solutions, not problems," said Rhynette Northcross Hurd '71. "She never took no for an answer, and that was OK because she was generous with her own time, her thoughtful advice and with all of her resources. Her vision of us inspired us all to be better than we ever thought we could be."
Hurd and Lewis first met in Detroit when they were each waiting for connecting flights. "She was coming from Mount Holyoke, and I was on my way there," Hurd said. "That day was the beginning of a cherished friendship. Mindy's generous spirit, no-nonsense approach and wit were reflected in the sparkle in her eyes and her captivating smile as she talked about her family and our beloved alma mater. I miss her dearly."
"Measure up and make your own way"
According to Lewis, her years at Mount Holyoke were "truly developmental as well as transformative." Here she learned to "think critically and thoughtfully," gaining inspiration and vision from the College's "many talented women and illustrious alumnae," which, of course, came to include her.
"Mount Holyoke reinforces the basic values of responsibility, leadership and commitment," she wrote in a 1987 College publication. "So when you go out into the real world … you can measure up and make your own way."
Lewis also credited what she referred to as Mount Holyoke's "supportive space," which, she said, helped "sharpen my appreciation for community and identity as a woman and person of color, along with the rock-solid confidence to pursue my personal aspirations both professionally and socially."
Professionally, those aspirations meant working in communications and philanthropy. After earning a B.A. in theater — a subject that she said taught her many lessons in leadership and collaboration — from Mount Holyoke, Lewis earned a master's degree in communications from Syracuse University. She spent much of her subsequent career holding several roles at the Cummins Foundation, which provides grants around the world to nonprofit partners in the communities where its employees live and work, including that of associate director. 
Growing up in Memphis, Tennessee, Lewis developed a lifelong commitment to community service that extended beyond her beloved alma mater. She sat on the boards of national organizations and was appointed to a state commission. She raised her family in Columbus, Indiana, where her roles included serving as a mayoral appointee on the town's health board and a deacon of her church. She was also the first African American to be elected to her local school board, where she served for 10 years, ultimately becoming the president. 
In all her work, she "embodied diversity and inclusion," Baumann said. "She constantly reminded us to consider the voices and viewpoints of those not present, to think how we could further widen our apertures." 
"We will honor Mindy's memory and her passionate commitment to Mount Holyoke in ways that pay tribute to her life and hopes for the future," said Stephens. "Our thoughts are with her own family, who so graciously shared her with us, as together we mourn her passing." 
Lewis leaves her husband, John, daughters Alexis Trocki '05 and Jessica Jones Lewis, and their spouses and children. A celebration of her life will be announced at a later date.