A moment with: David Sanford
A moment with: David Sanford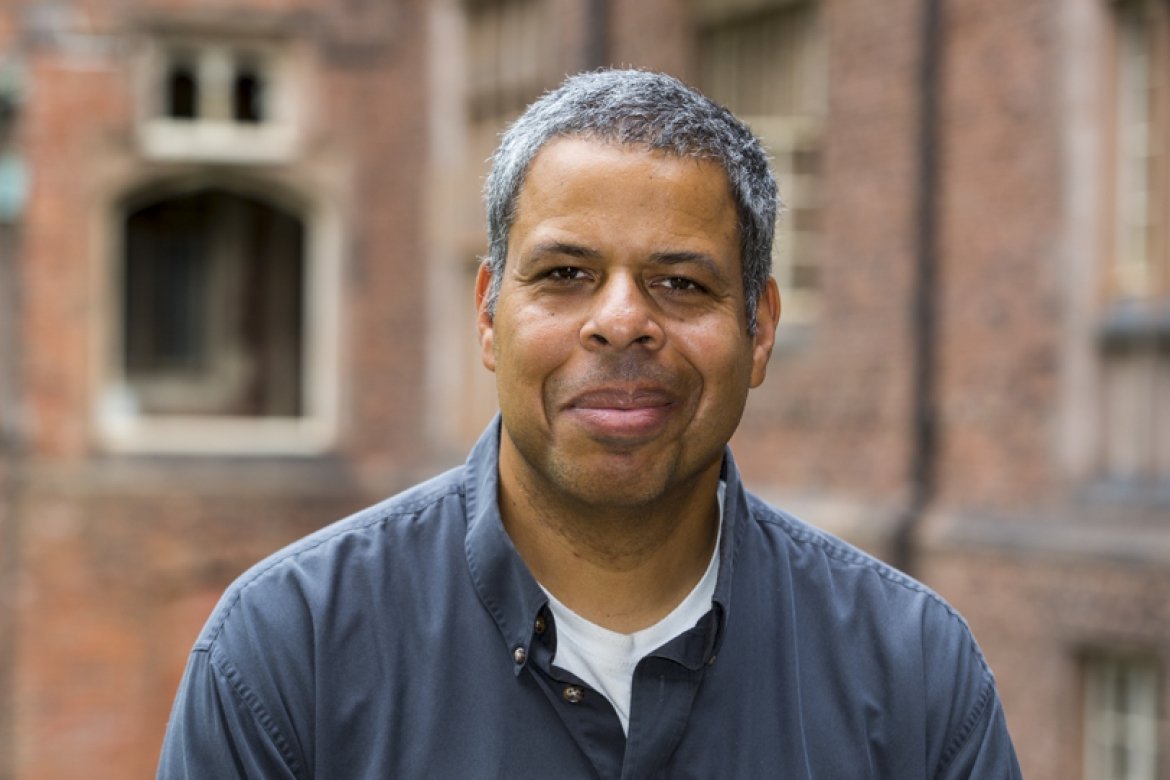 Mount Holyoke College's David Sanford, professor of music, was recently honored by the American Academy of Arts and Letters.
By Ijeoma Nwatu
"Big band music was the first thing I heard that made me want to be a musician," said David Sanford. 
Sanford, Elizabeth T. Kennan Professor of Music at Mount Holyoke College, has had an ongoing affair with big band music since he was a teenager in Colorado Springs, Colorado. It began when his older brother urged him to stop by his jazz band rehearsal one day after school. 
That experience, as Sanford describes it, was "life-changing." The junior high school's band director, a demanding African American named William McMosley, also impressed him. In addition to the exposure he got from school, Sanford's local library gave him access to recordings of some of the jazz greats, including Miles Davis' seminal album, "Birth of Cool," and early recordings of Dizzy Gillespie.
Sanford's love for big band music led to a wider interest in other musical genres. He completed his undergraduate music studies at the University of Northern Colorado and a master's degree in theory and composition from the New England Conservatory of Music. He earned post-graduate degrees, including a Ph.D. from Princeton University, with the goal of composing and teaching music. Throughout his academic career, Sanford has remained actively involved in singing and he continues to play the trombone. 
Sanford arrived at Mount Holyoke College in 1998, following the completion of his doctoral studies. "There were a lot of jobs when I finished my dissertation and I applied to all of them," he said. "I started out as a temp working in payroll at a large firm. Eventually, I got shortlisted at Mount Holyoke, and when I came to visit I met faculty members such as Louise Litterick, Melinda Spratlan, Larry Schipull and Allen Bonde, from whom I knew I could learn a lot."  
Sanford loved the idea of working and living in Massachusetts. He knew little of Mount Holyoke at the time. "It was a little terrifying because I was used to conservatory and public school approaches in large classrooms and so forth. I had to relearn the education process," he said. "What goes on tests? What are the priorities? Being at Mount Holyoke has been a very good fit for me. I try to give back as much as I can." 
He has. Over two decades, Sanford has served on committees, chaired the music department for three years, sung and played in the Jazz Ensembles, and played in the Mount Holyoke Symphony Orchestra. "I used to do more, but having our kids in 2005 and 2007 has curtailed my performing activities a bit," he said."I try to hear as many ensembles as I can. I'm an avid concert goer. That's one of the aspects of the College that I've always liked." 
In an age of Zoom calls and meetings, how does a musician rehearse with others when they cannot be in the same space? Are there benefits to practicing music virtually? These are the types of questions Sanford has had to contemplate. 
"I'm surprised at how effective Zoom has been — or maybe more just how patient and adaptable our students have been," Sanford said. "I've certainly been able to 'visit' a number of classes and campuses in the past few months and discuss music. The streaming services have also been good for viewing films. 
"The lack of musical synchronization on Zoom is a drawback — I'm not doing performances with it. Our performance faculty have done outstanding work getting around those drawbacks to compile some impressive performances. But it's not something where you have the possibility of launching into a spontaneous rendition of a tune with a piano," he said. "On the whole, though, the pros outweigh the cons for me." 
Sanford has advice for current students and young professionals contemplating a music career. "Perseverance is key, just because there are always a lot of qualified people pursuing what you're pursuing. Also, styles change, markets change and media changes, so being malleable and flexible about career ideas is a must," he said. "The field and approaches to composition alone have changed drastically in the decades since I was studying as an undergraduate. Keep an open mind." 
Sanford has taught many students and therefore he has plenty of stories. "I had [gospel singer] Michelle Brooks-Thompson '06 as a student and of course everyone at the College knows what an outstanding singer she is," he said.  "I was living in Cambridge, on leave for the 2013-14 year, and an old friend of mine and I went to the second Red Sox game of the playoffs at Fenway Park. I arrived late and walked around the first base side of the outside of the stadium toward the gates, and I saw two women with two small twin girls. I recognized the twins from when Michelle was on NBC's "The Voice" and I said, 'Michelle?' and she said, 'Dave?' I immediately asked, 'Did you just sing the national anthem for this Red Sox game?' And she of course said, 'Yes, I just did.'" 
Even with a hectic class schedule and family life, Sanford still finds time to lead his big band, Pittsburgh Collective, and create acclaimed albums, including "Black Noise," which The New York Times named as one of its 25 Best Classical Music Tracks of 2019. 
"'Black Noise' came about as a piece that I had thought about for quite some time. My initial thought was that I would love to do it with my big band, but I was commissioned by the Boston Modern Orchestra Project and Gil Rose to compose a piece, and it started to take more shape and detail as an orchestral work," Sanford said. 
The original title was in German but was later changed to "Black Noise," a nod to Tricia Rose's book of the same title, about rap music and Black culture, though the composition is unrelated. 
"The idea behind it was about detail, voices, all heard at the same time. If you have a lot of detail in music, a lot of the background is usually kind of static," he said. "It can be important information, but it's often like background characters in a TV show. I tried to make a piece with a lot of different voices."
Sanford will have the opportunity to make more music, thanks to the American Academy of Arts and Letters. The New York-based society recently awarded Sanford with a $10,000 Arts and Letters Award in Music. This honor recognizes "outstanding artistic achievement and acknowledges composers who have arrived at their own voice." Recipients will each receive an additional $10,000 to record their work, which will be featured in a concert at the Academy in 2022.