Mount Holyoke donates protective equipment
Mount Holyoke donates protective equipment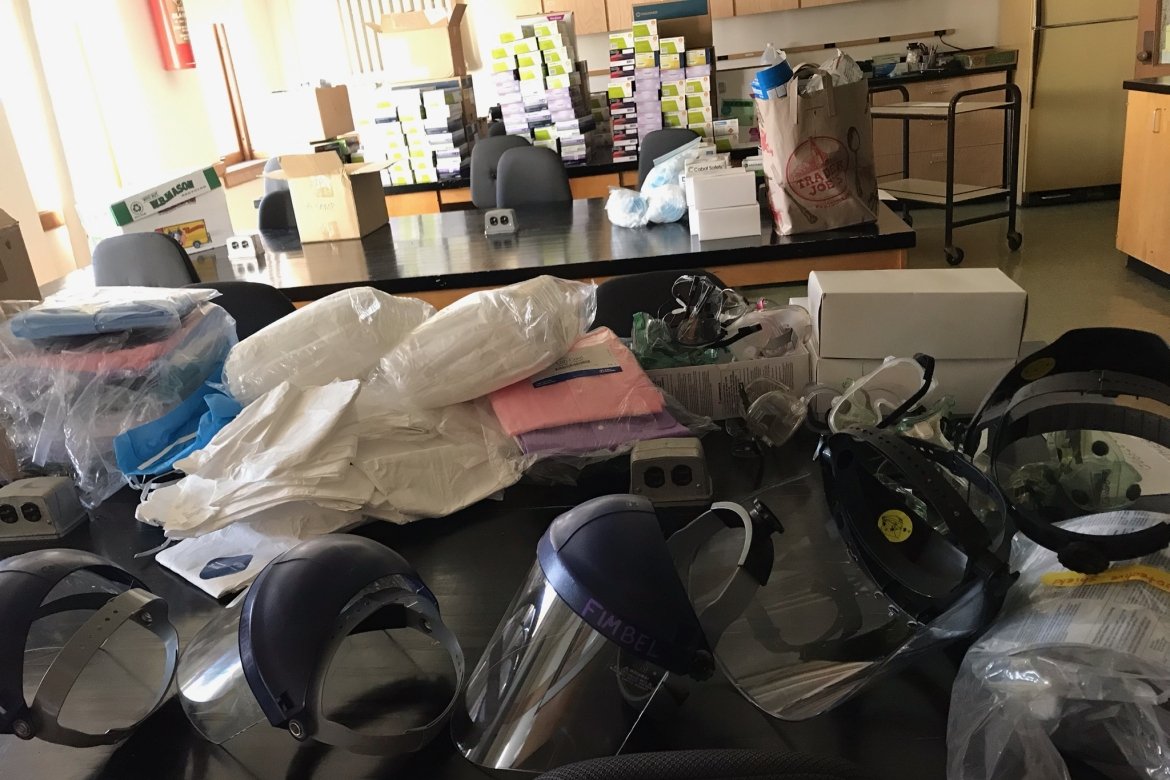 The College's gloves, surgical masks, N95 respirators, lab coats and eye protection will be dispersed as needed to hospitals statewide.
Joining the groundswell of support by Massachusetts colleges and universities for the state's hospitals, health care workers and first responders, Mount Holyoke College is donating personal protective equipment to aid efforts against the COVID-19 pandemic.
On Wednesday, members of the Mount Holyoke community presented representatives from the Massachusetts Emergency Management Agency with 248 boxes of protective gloves, 750 surgical masks, 750 N95 respirators, nearly 100 lab coats, as well as more than 50 pieces of eye protection, including goggles, safety glasses and face shields. 
These materials were gathered from the College's science labs, dining facilities, art studios, the Fimbel Maker & Innovation Lab, and Health Services. The supplies will be allocated through a statewide effort to best meet current needs.
"Extraordinary times call for everyone to step up and work together to accomplish a common goal," said Karen Engell, director of Health Services at the College. "The entire Mount Holyoke community will work shoulder-to-shoulder with our neighbors, with our colleagues in health care and first responders, with other colleges and universities, and with leaders throughout the commonwealth to address the current crisis."
Associate Dean of Faculty Gary Gillis praised faculty and staff for their efforts. 
"They came together at a moment's notice to consolidate and donate their personal protection equipment," he said. "People jumped at the opportunity to help out, and we are all happy we could do something meaningful at this moment. State leaders should be commended for mobilizing colleges and universities to contribute to this effort."
Over recent days, members of Public Safety and Service and other College employees have gathered the materials for transfer to the commonwealth.
According to Interim Public Safety and Service Chief Raymond LaBarre, being able to support workers on the leading edge of the public health emergency resonates strongly.
"Our officers work closely with health care professionals and first responders throughout the community," LaBarre said. "Keeping them safe is something we are hard-wired to want to do."
The materials were picked up on March 25 at Clapp Laboratory by members of the Massachusetts National Guard working with the Massachusetts Emergency Management Agency.
In addition to personal protection equipment, the agency is also seeking ventilators, cots and other equipment to support hospitals and labs.
Throughout Massachusetts, colleges and universities are answering the call for medical, safety and lab equipment at a time when most students have departed campus to wait out the pandemic.
These donations are particularly important at a time when hospitals, emergency and health care workers, first responders and others are seeing a tremendous need for supplies as the crisis expands at an alarming rate in parts of Massachusetts, across the country and globally. In recent days, the lack of protective gear and other supplies has posed severe challenges to Massachusetts hospitals.
Locally, Baystate Health, Cooley Dickinson Health Care and other area hospitals have put out public calls for assistance. Baystate must delay opening a crucial testing center in Holyoke due to lack of supplies and safety equipment. That center, when up and running, will allow much quicker processing of COVID-19 tests.
Through the coronavirus crisis, the College will continue working with state and local officials to find ways to provide support. To this end, Mount Holyoke is participating in ongoing discussions with public safety and elected officials to maximize opportunities for collaboration.
Richard Doherty, president of the Association of Independent Colleges and Universities in Massachusetts, hailed the response by higher education.
"It is heartening to see how Mount Holyoke College and colleges and universities throughout Massachusetts have banded together to deliver essential personal protective equipment to those on the front lines," Doherty said. "Hospitals and health care providers are our partners in the nonprofit community and we will continue to do all that we can to support them as they work to support all of the commonwealth."