Mount Holyoke goes smoke and tobacco free
Mount Holyoke goes smoke and tobacco free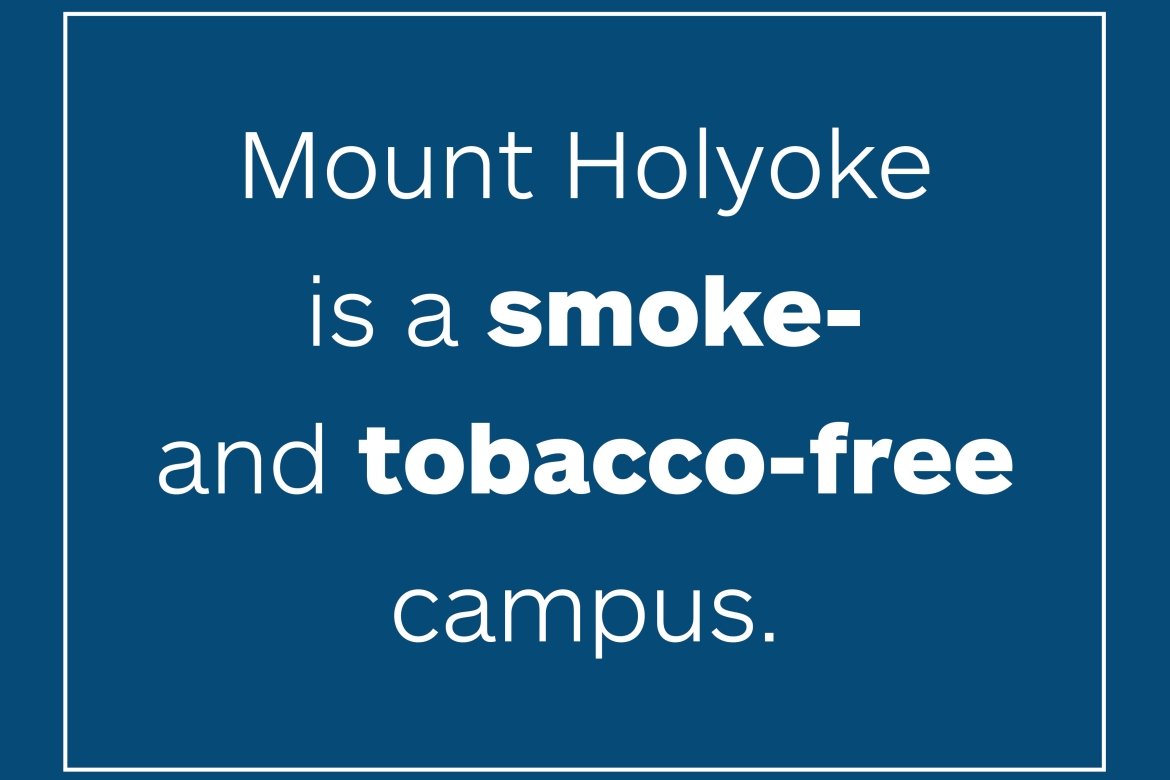 The new smoke and tobacco-free campus policy at Mount Holyoke College goes into effect in August 2020.
Mount Holyoke is going smoke and tobacco free.
The new smoke- and tobacco-free campus policy, initially announced in February 2019 by President Sonya Stephens, is the result of comprehensive review, refinement and study by a committee comprising cross-campus representation. The policy goes into effect on August 22, 2020.
"I think this is an important step forward in terms of encouraging well-being and protecting the health of our students and our community from smoking and tobacco use," said Rachel Alldis, associate dean of students and director of residential life, who was one of the leaders of review and development of the new approach. "Mount Holyoke's new policy is consistent with anti-smoking and tobacco usage efforts being put in place on campuses across the nation."
The policy will apply to all members of the College community — students, faculty and staff — as well as visitors. While the policy will govern activities on campus, it will not apply off-campus or to properties owned but not managed by the College, including the Village Commons.
Discussions about going smoke and tobacco free originated with the Student Government Association, Alldis noted, and moved then to review by a committee, the Smoke-Free Campus Council (SFCC), which includes a cross-section of community members. The policy has been reviewed and approved by College leadership.
"Our focus mainly lies in creating a healthy campus environment for everyone, relying on voluntary compliance and community accountability, and will present opportunities to educate campus members about smoke and tobacco-related issues and the benefits of being in a smoke- and tobacco-free campus," said Ahlaam Abbasi '22, a computer science major who serves on the SFCC. "For this, we'll have events and resources like Be Well and resources for staff and faculty. As an international student from Pakistan who's had many relatives be affected by smoking because of a lack of awareness, I really think this is a great step towards awareness that everyone should benefit from."
Be Well will have a number of resources available for students trying to quit tobacco or nicotine. "Be Well is currently revising its webpage to include accessible information for students highlighting the number of campus and online resources that are available for someone who uses tobacco/nicotine related products and who might be thinking about reducing their use and/or are ready to simply quit," Jennifer Balut, interim director of the Be Well program, said in an email message. "Be Well has been working with the Peer Health Educators to increase harm reduction education regarding tobacco related products in an effort to support students in making informed choices when it comes to such products.  Furthermore, Be Well will coordinate efforts with College Health Services to put together more Quit Kits for students, which will be available at the Health Center, Be Well and various locations on campus for students to pick them up."
As part of the SFCC's work, the campus community was surveyed, yielding results that indicated 55% of respondents favored a smoke-free campus. Sixteen percent were undecided and only 29% said they were against a smoke-free campus. The survey also indicated that while only 10% of the campus community identified as smokers, more than a quarter of the students who smoked started after arrival on campus. The total response for the March 2018 survey was 968; well over one-half of the respondents were students.
Interestingly, while concerns about public health and the environment were the foremost concerns among respondents, most survey-takers favored a smoke-free over a tobacco-free campus. However, the College has decided to move in a more expansive direction in support of initiatives such as the Be Well health program, encouraging a healthier campus community.
The new policy will be supported by a public awareness and education campaign, as well by assistance with smoking cessation. Supporting development and implementation of these efforts is a $20,000 grant from the Truth Initiative, a leading national smoke-free advocacy organization.