Mount Holyoke mourns the loss of Kavita Datla
Mount Holyoke mourns the loss of Kavita Datla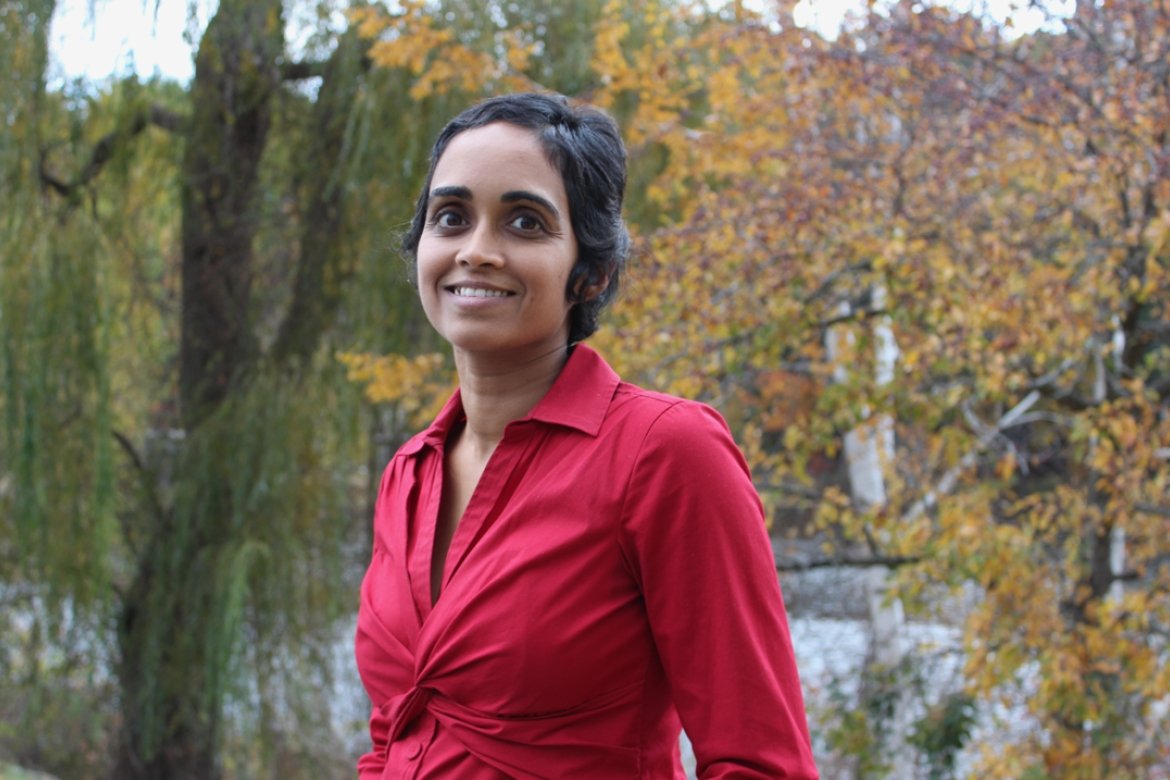 Kavita Datla, an expert in modern South Asian history and an exceptional scholar, teacher, colleague and mentor, has died.
Updated Nov. 29, 12 p.m.: "A Celebration of the Life and Work of Kavita Saraswathi Datla, 1975-2017" is scheduled for Saturday, Dec. 2, 2017, from 1–4 p.m., in Dwight 101 and includes discussions of Datla's scholarship as well as personal tributes, followed by a reception from 4-6:30 p.m.
By Sasha Nyary
Kavita Datla, associate professor of history and a member of the Asian Studies and Critical Social Thought programs and the Department of International Relations at Mount Holyoke College, has died after a long illness.
Datla, who had been battling a rare form of cancer for three years, passed away peacefully on July 22, surrounded by her family.
"Professor Datla was an exceptional scholar and teacher, a wonderful colleague and mentor," said Acting President Sonya Stephens and Dean of Faculty Jon Western in an announcement to the College.
"We are deeply saddened by this loss to our community, and our thoughts and deepest sympathy are with her family, her friends and all at Mount Holyoke," Stephens and Western said. "Kavita will be greatly missed, and remembered with admiration and affection."
The College plans a service in the fall to celebrate Datla's life and scholarship and will post details as they become available.
Datla, who came to Mount Holyoke in 2006, was an accomplished scholar. Her research interests included the political, social and cultural history of modern South Asia. Her book, "The Language of Secular Islam: Urdu Nationalism and Colonial India," was described by Syed Akbar Hyder at the University of Texas at Austin as a "brilliantly innovative book that offers provocative insights into South Asian history, the workings of colonialism, and the interface of linguistic and religious identities in India's premier princely state of Hyderabad."
Her colleagues on the Mount Holyoke faculty as well as across her field deeply respected her.
"Those of us who shared the third floor of Skinner with her will never forget the joy we felt when her big, wonderful laughter filled the hall," said Mary Renda, the chair of the history department.  "Kavita's generous spirit, light touch and incisive mind will be deeply missed. She brought out the best in those around her, students and colleagues alike."
Datla exemplified an "unwavering integrity" in every aspect of her life, said Amina Steinfels, the chair of the religion department.
"In herself and in others, Kavita gave no quarter to sloppy thinking, compromised ethics, shoddy workmanship and false sentiment," she said. "She was inspiring, intimidating and, occasionally, infuriating. She was my friend and I will miss her for the rest of my life."
A beloved teacher, Datla was a recipient of the 2016 Mount Holyoke College Faculty Teaching Award, which cited her "transformative work with students." She was described by her students as "wonderful," "incredible," "passionate" and "perfect." Her lectures were deemed "enrapturing," her class discussions "fantastic."
"Students, whether majors or those who take only a single history course, find her brilliant and demanding in the best possible way," the award citation read. "Kavita asks them to think about history in ways that they have not before and in ways that make them love her and also the disciplinary form to which they have committed for the course."
Those inspired students include Trishna Rana '10, who said she was heartbroken to hear of her mentor's passing.
"Kavita was a huge influence on my academic life and on my South Asian feminism," said Rana, who recently received a master's degree in international relations from the University of Denver. "She was warm, kind, gentle. A brilliant teacher, she was well-loved by students and faculty and always greeted us with a big smile. There was something deeply comforting about seeing a woman who looked like me standing in front of a classroom."
Datla touched students across campus. In addition to her introductory courses on modern South Asia and the British Empire, she also taught courses on gender, religion and politics, nationalism and the Indian Ocean World. Her many affiliations with academic departments and programs spoke to the breadth and interdisciplinary nature of her research and interests.
Datla is survived by her parents, Sita and Raju, and brothers, Vishnu and Bobby.