Mountain Day: The traditions within the tradition
Mountain Day: The traditions within the tradition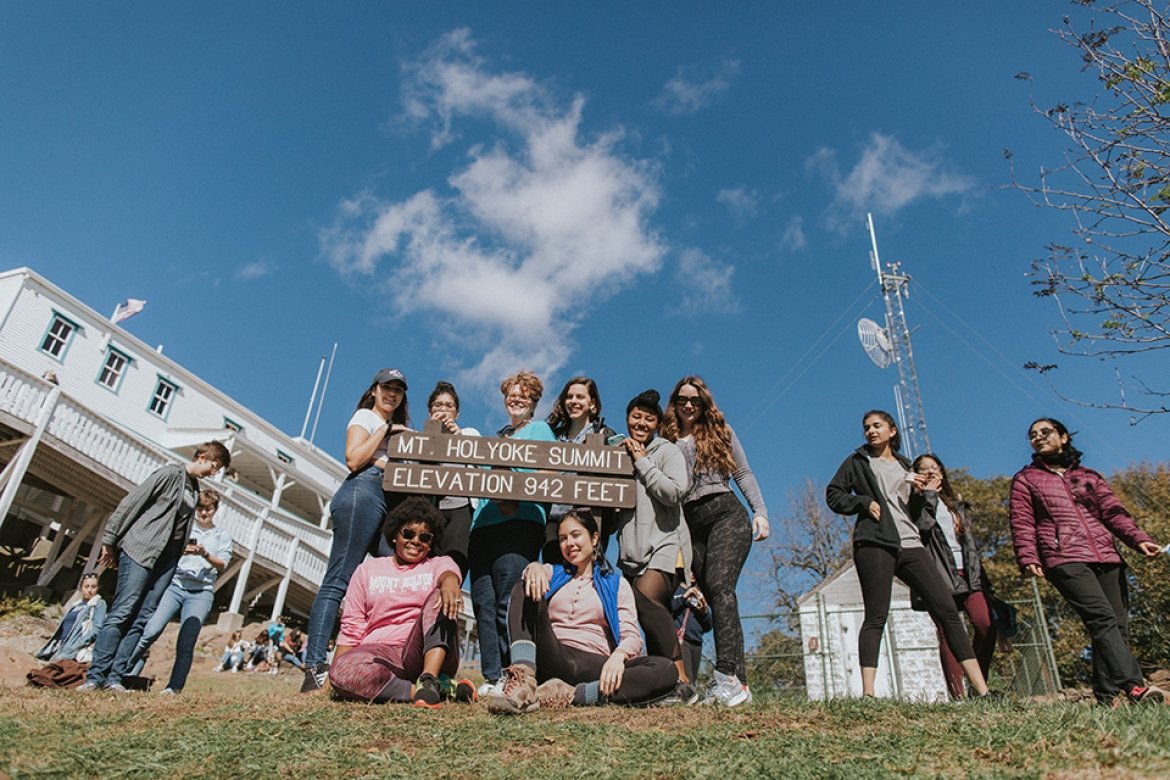 Nestled inside Mountain Day, like so many Russian Matryoshka stacking dolls, are the traditions within the tradition.
Mountain Day is a celebration of the College's first and arguably most cherished tradition. And nestled inside that tradition, like so many Russian matryoshka stacking dolls, are the traditions within the tradition. The experiences shared here are from Mountain Day 2018.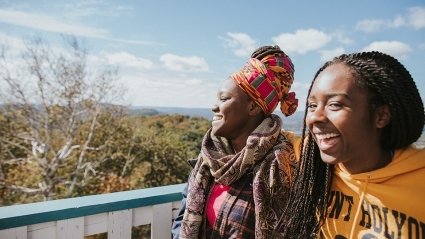 Who's your (hiking) buddy?
Groups of students — student organizations, sports teams, roommates — and, yes, professors and staff have a tradition of hiking together. Represented at the summit this year were a dozen or more members of the equestrian team in their jackets. Also spotted were field hockey, soccer, crew and rugby team members in their sweatshirts. Two members of the outing club ran the Notch Trail from route 116, a little over four miles away, and seven peaks, the Seven Sisters, naturally.
------------------------
Do you remember your first Mountain Day? First-year students hold a special place in the Mountain Day canon. Clara Callahan (interested in theater and art history), Gabbi Perry (interested in environmental science) and Megha Shashidhar (interested in everything) have been looking forward to their first Mountain Day for weeks.
"I was looking forward to the hike, the view, the chance to do something different," said Callahan. "The traditions in general are a selling point about the College. I missed hearing the bell but I checked my email. I was really hoping it would be today."
------------------------
Many students make the event an annual ritual and the bittersweet prospect of moving on is somewhat lessened by the fact that Mountain Day never dies for an alum; they just take it with them. Around the globe, 123 different groups of alums were officially celebrating the day wherever they were by eating ice cream at 18:37 military time, the year Mount Holyoke was founded.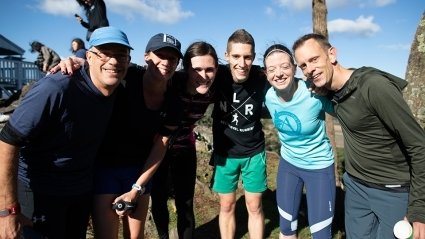 ------------------------
A half dozen staff ran up for the second year, some all the way to and from the campus gates: Sven Aas (LITS), Devon Smith (LITS), Polly Prewitt-Freilino (Institutional Research), Chris Kibler (cross country coach), Liz Lierman (Center for Career Development) and Keith Michel (Development).
------------------------
In another new tradition, many faculty meet at the home of Kate Ballantine (environmental studies) on the edge of Skinner State Park and hike together. Professors spotted atop Mt. Holyoke this year included Jason Andras (biology), Sue Barry (emerita professor of biology), Katie Berry (biochemistry), Kyle Broaders (chemistry), Naomi Darling (architecture), Ken Colodner (neuroscience) and his daughter, Chris Mitchell (politics), Dianna McMenamin (fencing coach), Mark McMenamin (geology) and Spencer Smith (physics).
"My older sister is a MoHo and she texted me first thing this morning and said, 'It's finally Mountain Day!'" said Hannah Goodwin (film studies).
------------------------
Kijua Sanders-McMurtry (vice president for equity and inclusion and chief diversity officer), beamed as she descended the steps of the Summit House on her first Mountain Day. "I would like to jump and down, but I don't want to freak anyone out!" she said, and was immediately engulfed by well-wishing students.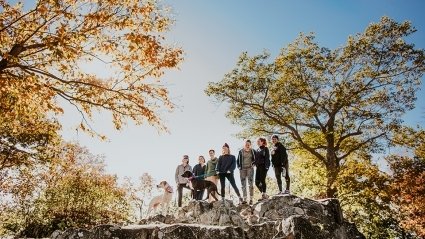 Mountain Day music
Everyone knows that the music you hike to is crucial. Just ask first-year students Sophie Clingon (maybe education, psychology and dance), Hareem Khan (economics, math and global business), Nayantara Das (math and philosophy), and Anoushka Sengupta (computer science and economics). They were standing on the boulders just east of the tattoo table, enjoying the sun. 
"We played music all the way here," Das said. "It was so much fun. It's a beautiful day. I've been looking forward to this for ages, and it's finally here. My roommate was screaming, 'It's Mountain Day!' I had a feeling."
Clingon said, "My CA played 'The Climb' by Miley Cyrus to wake us up."
"It's the cliiiimb!" they chorused.
"More than anything, the best part is the journey here," said Khan. "We played Bollywood — two of us are Indian and one is from Pakistan — and Katie Perry as well and a lot of Imagine Dragons. It's good hiking music, high-energy music."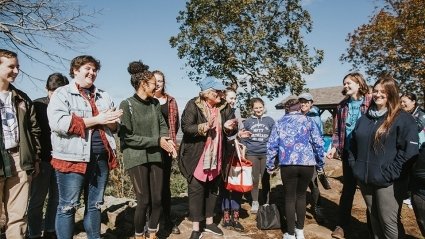 ------------------------
This year the annual presidential group sing of the "Alma Mater" featured members of the Mount Holyoke Glee Club, Relyn Myrthil '19 (music, art history), Hanna Danziger '19 (psychology, music), Healey Suto '19 (music, art history) and Madison Walters '19 (architectural studies). Sonya Stephens, new tattoos on both her cheeks, sang with them, as is traditional, in her first Mountain Day as the official College president.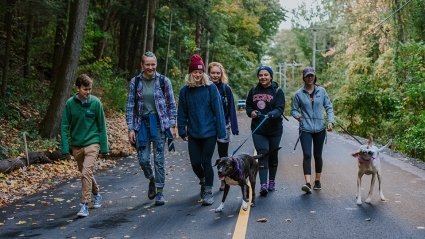 Overheard at the start of the Halfway Trail: A group of students belting out, "Whoaaa, we're halfway the-e-e-ere!"— Bon Jovi's "Livin' on a Prayer," of course.
One group carried a portable speaker to encourage hikers up the steepest section with ABBA's "Dancing Queen." The participants, including Rachel Yousman '19 (gender studies), Sam Haddad '19 (art history and history), Zohar Berman '20 (Middle Eastern studies, politics), Maggie Micklo '21 (politics, Miklo is her "unofficial little," Haddad said), Maya Reinstein '21 (Spanish and computer science) and Sam Neally '19 (environmental studies and Spanish) switched to singing the "Anti-Alma Mater" (don't ask) once they reached the top. "I think it's from the '70s," one said.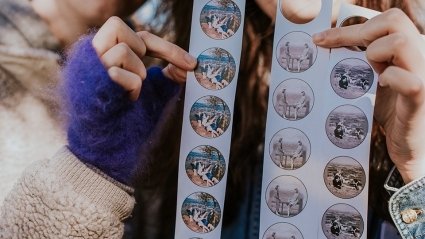 The traditional bestowing of the tattoo and the button
The line for the button-making, offered by archivists Debbie Richards and Leslie Fields on behalf of Archives and Special Collections, started before the tables were set up, just down the hill from the Summit House. This year they offered a half dozen options, including Jorge the goose on a bike, "never fear/climb," "I climbed Mount Holyoke," and archival photos. A life-size cardboard cutout of Mount Holyoke founder, Mary Lyon, stood nearby, as students clustered around for selfies (another Mountain Day tradition).
------------------------
The annual Mountain Day tattoos giveaway is sponsored by the Alumnae Association. This year's versions were designed by Millie Rossman-Kidd (creative director); and featured a copper beech leaf, in all gold, and a green-and-red sprig of mountain laurel. The staff estimated they would give away upward of 1,000 tattoos.
------------------------
Overheard at the tattoo table: A group of students, shoulders bared, saying, "Shoulder out. Tattoo on. Cold, yes! So shiny!"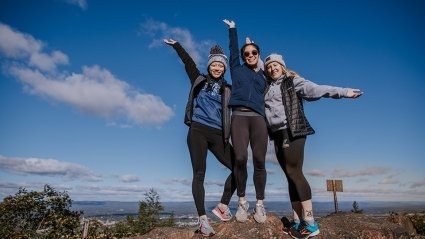 The tradition of tradition
Kate Roumeliotis '21 (neuroscience) liked starting the day with Mountain Day. "I have a lot of work to do, so I started the day early. We were on the first bus. We were on the first bus last year too. We start the day with Mountain Day."
She was standing on the grass just below the Summit House with Charlotte Roach '21 (environmental science), who loved it all. "I love the trees, I love the plants, I love the view, I love hiking," she said. "I don't get to hike enough but I hike as often as I can. I love Mount Holyoke traditions. My mom is an alum. Mountain Day is such a beloved thing we all do. It's a big part of why Mount Holyoke is so great. We celebrate Mount Holyoke together. We talk about it beforehand. We've been talking about it for weeks. It's one day when the entire College is on the same page."
Mountain Day forever!
Next year in South Hadley. Visit.