No. 1 campus for making an impact
No. 1 campus for making an impact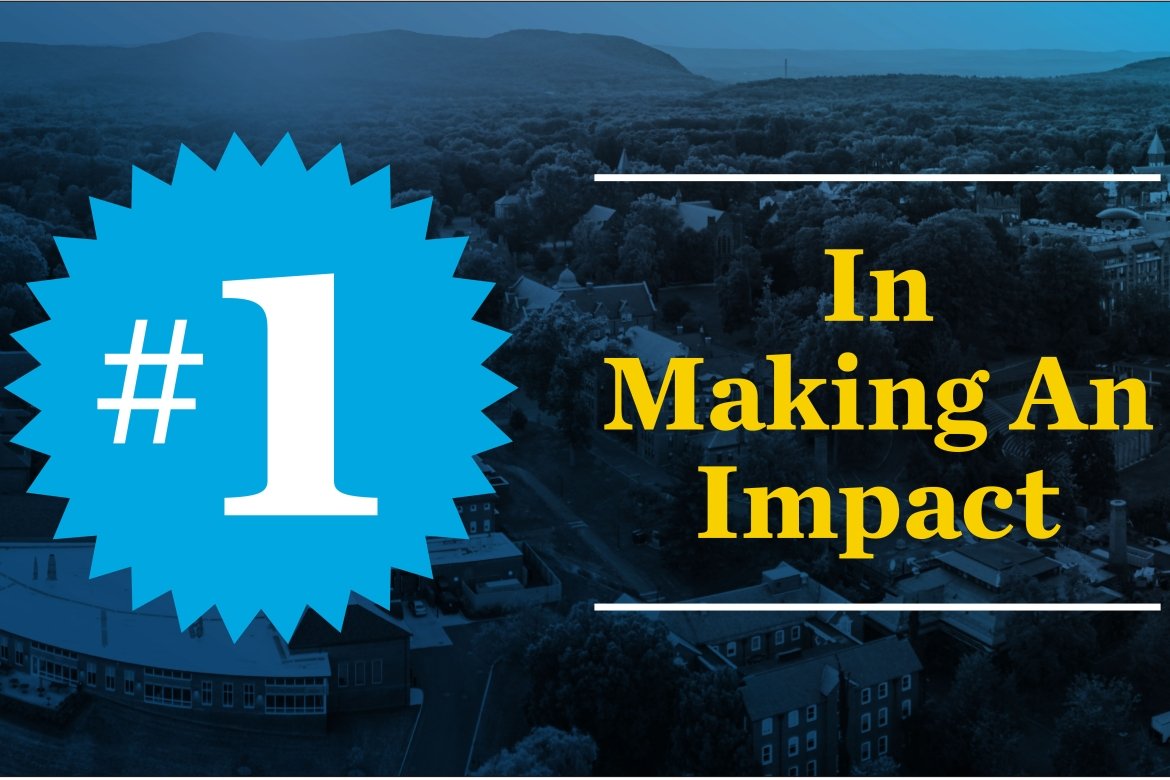 The Princeton Review ranked Mount Holyoke No. 1 for "Best Schools for Making an Impact" and No. 10 for "Best Alumni Networks."
Mount Holyoke College is the top-rated private college in the country for students looking to make a difference and be engaged, according to The Princeton Review. 
In its online guide "Best Value Colleges for 2021," posted April 20, Mount Holyoke College was ranked No. 1 for "Best Schools for Making an Impact" among private institutions. 
The list was compiled based on student ratings and responses to survey questions covering community service opportunities at their school, student government, sustainability efforts and on-campus student engagement. The company also took into account PayScale.com's percentage of alums from each school that reported having "high-job meaning."
The publication also ranked Mount Holyoke as No. 10 of private colleges and universities for "Best Alumni Networks." The list is based on student ratings of alum activity and visibility on campus.
"It is, as always, a tribute to the transformative work that happens at Mount Holyoke to be one of just 200 institutions selected by The Princeton Review's Best Values Colleges," said President Sonya Stephens. "It is especially affirming to see our students' dedication to reshaping communities around the world reflected in our ranking as first among private institutions for Making an Impact, as well as to see The Princeton Review's recognition of our extraordinary alum network. We know what a difference our students and our 39,000 alums worldwide make, and we are so pleased to see their contributions to this community and to society recognized in this way."
While making an impact and connecting with a robust alum network, Mount Holyoke students also work with the No. 1 faculty in the country. Mount Holyoke College faculty are ranked No. 1 for "Professors Get High Marks" in the current issue of The Princeton Review's "The Best 386 Colleges."  
"Professors at Mount Holyoke are 'wonderful scholars and wonderful people' who are 'caring and receptive to concerns' and 'incredibly accessible and helpful in and out of office hours,'" The Princeton Review said, quoting student surveys. "Courses offer 'hands-on lab experience, real-world scenarios outside of the classroom, and creative teaching exercises,' and when not on field visits, students take part in 'a vibrant, excited classroom experience that inspires students to go above and beyond.'"
The Princeton Review chose its Best Value Colleges for 2021 based on data the company collected from its surveys of administrators at more than 650 colleges in 2019-20. The company also factored in data from its surveys of students attending the schools, as well as PayScale.com surveys of alumni of the schools about their starting and mid-career salaries and job satisfaction figures.
In all, The Princeton Review crunched more than 40 data points to tally return-on-investment ratings of the colleges that determined its ranking of the 200 schools for the 2021 project. Topics covered everything from academics, cost, and financial aid to graduation rates, student debt, alumni salaries and job satisfaction.
"The schools we name as our Best Value Colleges for 2021 comprise only just over 1% of the nation's four-year colleges," noted Robert Franek, The Princeton Review's editor-in-chief. "They are distinctive in their programs, size, region and type, yet they are similar in three areas. Every school we selected offers outstanding academics, generous financial aid and/or a relative low cost of attendance and stellar career services. We salute Mount Holyoke College for these exceptional offerings and recommend it highly to college applicants and parents."