Remote teaching with Noah Tuleja: compassion and connection
Remote teaching with Noah Tuleja: compassion and connection
Noah Tuleja, director of the Rooke Theatre and assistant professor of theater arts, has adapted two theater classes, Acting Three and Movement Arts, with 26 students in total, to an online environment. His passion for the art of theater and compassion for his students is evident when he talks about how he's changed his classes to meet his students where they are.
How have you modified your courses to be able to teach them online?
In a normal semester, both classes would have three major components. Acting Three started with Samuel Beckett and then we would have moved on to two other major absurdist playwrights. The movement class started with a big group project, then we would have moved on to other major movement practitioners. We were pretty much done with the first section when we left campus, so I just had to transition to a new way to approach the rest of it.
Each week they've had one or two assignments. They either look at a video, read a little bit about somebody or do a little bit of both of those things. And then I gave them kind of a list of things that they could pull from in their short responses. 
I offered them different options for responses: They could give me a tweet, a TikTok video, a haiku. They could do a marketing plug or a collage. I really wanted to inspire them to do something fun and give me enough information so that I knew they had done the assignment.
I really enjoy the haikus. I think they've been my favorite because the students have been able to get to the soul of what they were looking at in a very short condensed period of time.
What about their final projects?
For their final projects they have solos. I've given them monologues that they may work from if they want. They can use those monologues in total, they can chop them up, they can use just a line, or they can write their own based on the style of them. Their solos need to draw on some of the techniques that we've looked at. The final practitioner that we're looking at in Acting Three was Steven Berkoff, a playwright, actor and mime. He creates these plays that have all of those components and are very physical in a very specific way. I've asked them to perform one of his pieces or create a piece inspired by the way he works.
In the movement class, the last practitioner we're looking at is a Russian movement practitioner, Vsevolod Meyerhold, who created études based on a certain series of movements, such as throwing the stone or shooting the bow. Each student has to create their own étude based on some of the concepts in that approach.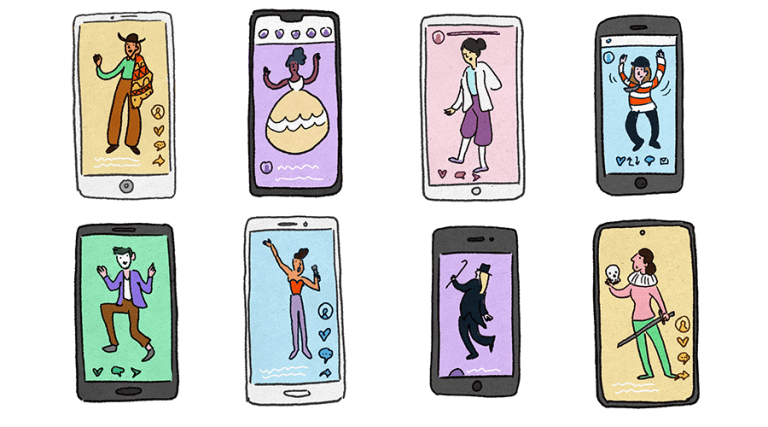 Theater is so grounded in the connection between performer and audience. How do you translate that to an online platform?
Although we no longer have the live performer/audience relationship, the work I've asked my classes to do inherently has the performer/audience relationships built into the assignments. It is one of the reasons I offered responses in the form of TikTok, Tweets, etc. All social media is created with an audience in mind.  
I didn't have any Zoom meetings planned for my classes, but I had a bunch of students from that Acting Three class asking if we can have a Zoom meeting, not so much for class, but just to be able to talk to each other. So I instituted optional weekly Zoom meetings for both classes. 
They really just want to say hello and talk about what they're doing and what they happen to be watching. 
The students don't necessarily need me specifically but I am a conduit so that they all have a reason to come together and see each other. I can't overemphasize how important that is to them — as important as whatever they're learning.
Have you learned anything about teaching online that you would continue when in-person classes resume?
I found that some of the short response assignments I gave have told me a lot more about what my students thought about something than any three- or four-page papers would ever tell me. I want to know what they think, what they really feel about the way a specific piece of theater touches them, giving them the opportunity to creatively express that in a way that forces them to be concise makes the response very focused. I know exactly what that person thinks about this work. I know exactly what that person thinks about this work, as opposed to [reading a longer essay] where I'm like, I thought I knew what this person thought about this work, but now they're just writing because they have to do it.