Shi '19 wins national science comms match
Shi '19 wins national science comms match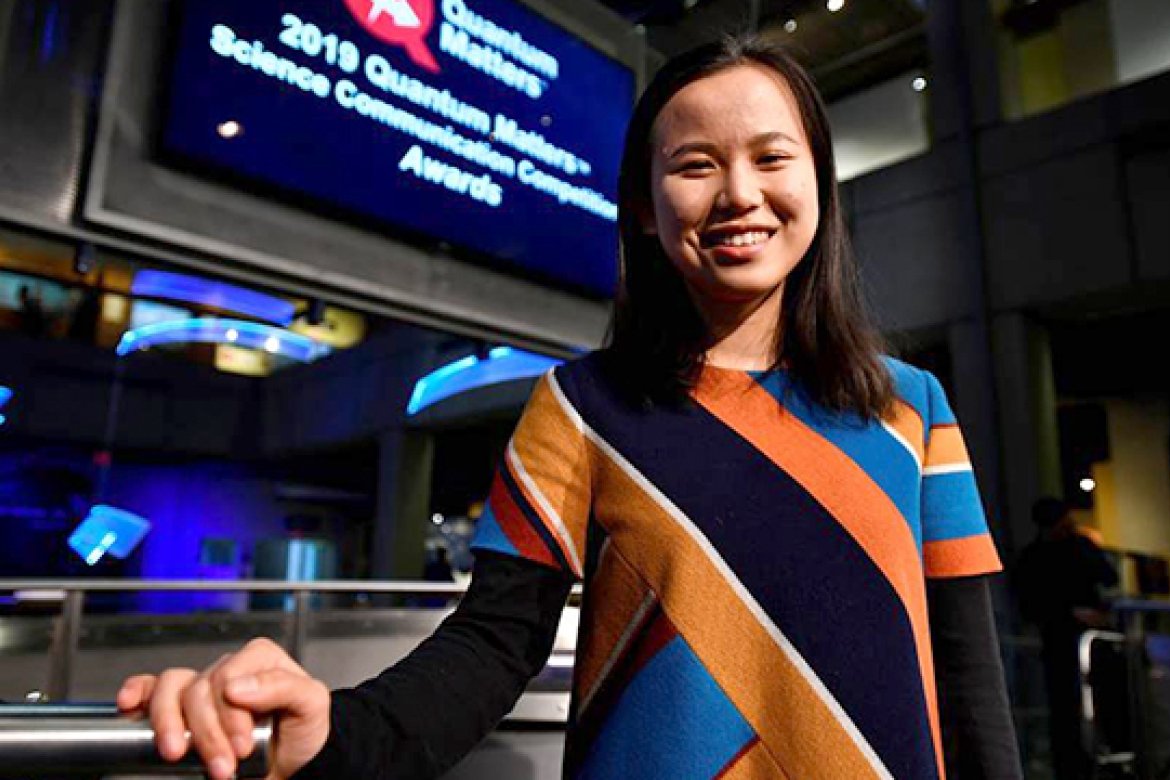 Mount Holyoke senior Sue Shi has won the 2019 National Quantum Matters Science Communication Competition.
The Museum of Science in Boston, Massachusetts, has announced that Sue Shi '19 has won the 2019 National Quantum Matters Science Communication Competition.
Shi and the other three finalists competed to present the most creative interpretations of quantum mechanical ideas before an audience of museum visitors and a panel of expert judges on April 6.
Shi, a physics major who is minoring in math, presented on "Quantum Dot Solar Panels."
The competition is in its second year, but this is the first year that submissions were accepted nationally and from Canada. It was supported by the National Science Foundation through Harvard University's Center for Integrated Quantum Materials.
Shi was the only undergraduate finalist for the competition. She presented along with other finalists Gideon Bass, lead scientist at Booz Allen Hamilton, Aditya Jain, Ph.D. candidate at the Institute for Quantum Computing at the University of Waterloo and Calvin Leung, doctoral candidate at MIT.
The competition was evaluated by professors from MIT and Harvard and a senior science writer from PBS.
Shi and Leung were chosen as the audience choice award winners by museum visitors, who texted their votes.
"Through the Quantum Matters competition, we invited researchers to help us explore new ways to inspire young people and share with broader audiences some of the excitement surrounding the current surge in quantum science and technology research," said Carol Lynn Alpert, director of strategic projects at the Museum of Science and codirector of the Center for Integrated Quantum Materials.
"Our four finalists developed unique and creative ways to explain complex quantum mechanical behaviors to a family audience through story, analogy and game-making, and they also showed why we should care about the work being done," she said.
The Museum of Science is one of the world's largest science centers. It introduces more than 1.4 million visitors a year to STEM (science, technology, engineering and math) through hands-on exhibits, programs and pre-K–12 curricula.