Spotlight on popular majors: Biochemistry
Spotlight on popular majors: Biochemistry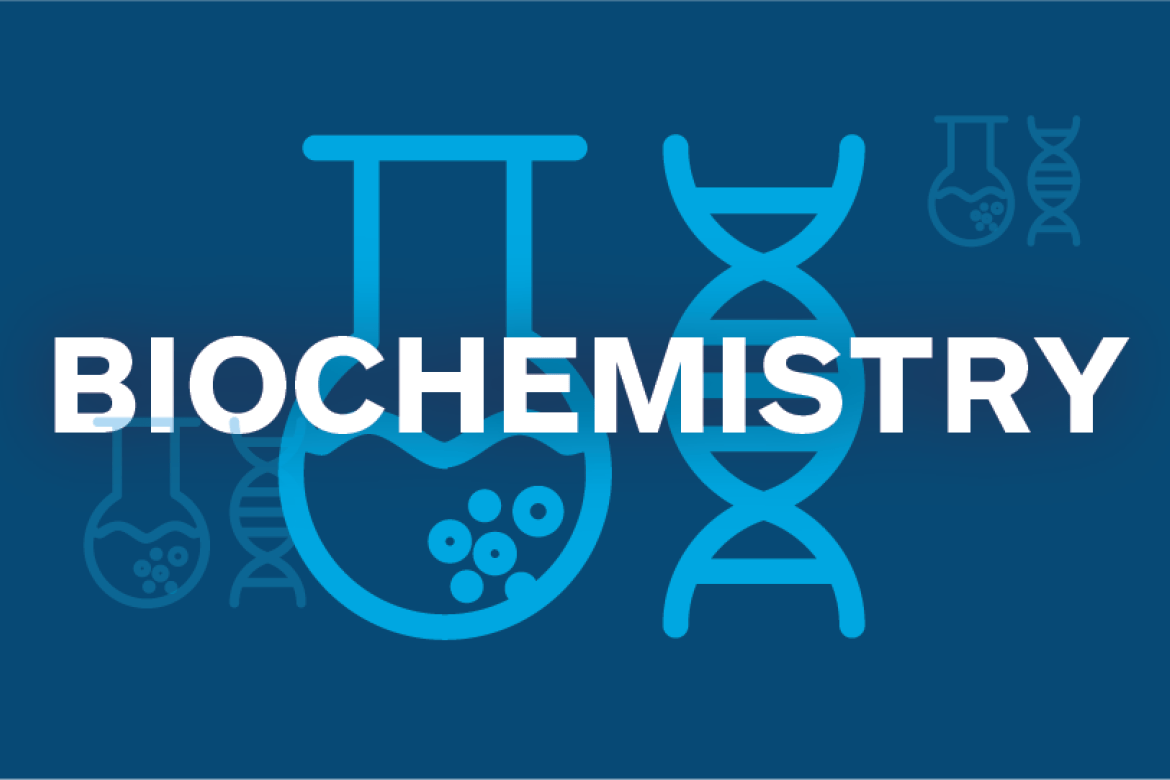 Explore a range of courses across the fields of biology and chemistry while developing a rigorous foundation in the concepts and skills of biochemistry.
Always had a deep interest in animals? Have you ever wondered about how different foods are metabolized or why some foods taste better than others? Ever wanted to create your own beauty line?
Veterinarian, food researcher, pharmacologist — even cosmetics developer are just some of the career paths that a biochemistry major can pursue.
Biochemistry sits at the intersection of biology and chemistry, two fields that are themselves enormously exciting, popular, and highly relevant to the current moment, says Jason Andras, an assistant professor who studies ecology, evolution and symbiosis.  
"Our students can explore a wide breadth of topical courses across biology and chemistry, while at the same developing a rigorous foundation in the particular concepts and skills of biochemistry that are emphasized in our core courses. Beyond our academic strengths, our faculty and students are welcoming and friendly, which helps cultivate a genuine sense of community within our program." 
Your core biochem courses will show you how to use a fluorescence microscopy to study the cytoskeleton of a eukaryotic cell, purify mutant enzymes to dissect the mechanism of protein folding, and use molecular genetic tools to identify and characterize RNA-binding proteins. 
In elective courses, you can isolate and characterize bacteria from Mount Holyoke's campus soil, measure how contraceptives modulate the immune response in the female genital tract, or design vaccines against a pathogen of your choosing.
"Mount Holyoke biochemistry students learn fundamental information in the biological and chemical sciences," says department co-chair Kathryn McMenimen. "But more importantly, our students learn how to integrate information across disciplines, collaborate and communicate in scientific research, and develop essential problem-solving skills that can be applied to any career a student intends to pursue."
At the heart of Mount Holyoke's biochemistry major is the student research experience, giving you the opportunity to explore and answer questions.
"Authentic research experiences and opportunities to present novel research findings are embedded in the curriculum of the major so that all students can participate," says Katie Berry, Clare Boothe Luce Assistant Professor of Biochemistry. "In addition, many majors join one of the interdisciplinary research labs of biochemistry and perform original research during the academic year and/or during summers." 
The College's Lynk initiative supports all biochemistry majors in doing a summer internship on campus or at a research university anywhere in the world. 
Many biochem students go to medical school or other graduate schools. Or, with a bachelor's degree in biochemistry, you can teach the next generation of science enthusiasts as an educator at a primary or middle school. Have an interest in the law? Attend law school after graduation and become a patent lawyer. Accomplish that lifelong dream of working with animals by attending veterinarian school or do cutting-edge research that will advance the treatment of life-threatening diseases.
Stats about Biochemistry
As of February 1, 2021: 
49 students are majoring in biochemistry, 11 of whom are double majors
8 faculty and 1 lab instructor
Between 2013 and 2020, 24 students wrote a thesis. Topics included:
Genetic Analysis of Tissue Remodeling and Lipid Storage in Drosophila melanogaster  
Mapping a Genetic Mutation involved in Larval Fat Body Remodeling Disruption in Drosophila melanogaster 
Optimization of a genetic assay for detection of expanded RNA-Hfq interactions  
Chaperone-Like Activity of Human Small Heat Shock Protein-Derived Peptides in Response to Cellular Stress / Emily Gliniewicz 
Engineering Arylboronate -- Modified Dextran Polymers For Use As Biocompatible, Biodegradable Materials In Microparticulate Immunotherapy 
Optimizing a genetic reporter for RNA-protein interactions: in vivo titration of a promoter binding protein  
Analysis of the RNA-binding properties of Hfq proteins from the bacteria Escherichia coli, Listeria monocytogenes, and Caulobacter crescentus 
Site-Directed Mutagenesis Study of the Alpha-Crystallin Domain in Human Small Heat Shock Protein HspB5 
These results are from Mount Holyoke's annual Alumnae Survey: 
86% of respondents satisfied with their careers thus far
91% enrolled in a grad program since graduating from the College
80% who said Mount Holyoke prepared them well for their careers
Most common areas of employment, post-college: medicine and health care