Spotlight on popular majors: Economics
Spotlight on popular majors: Economics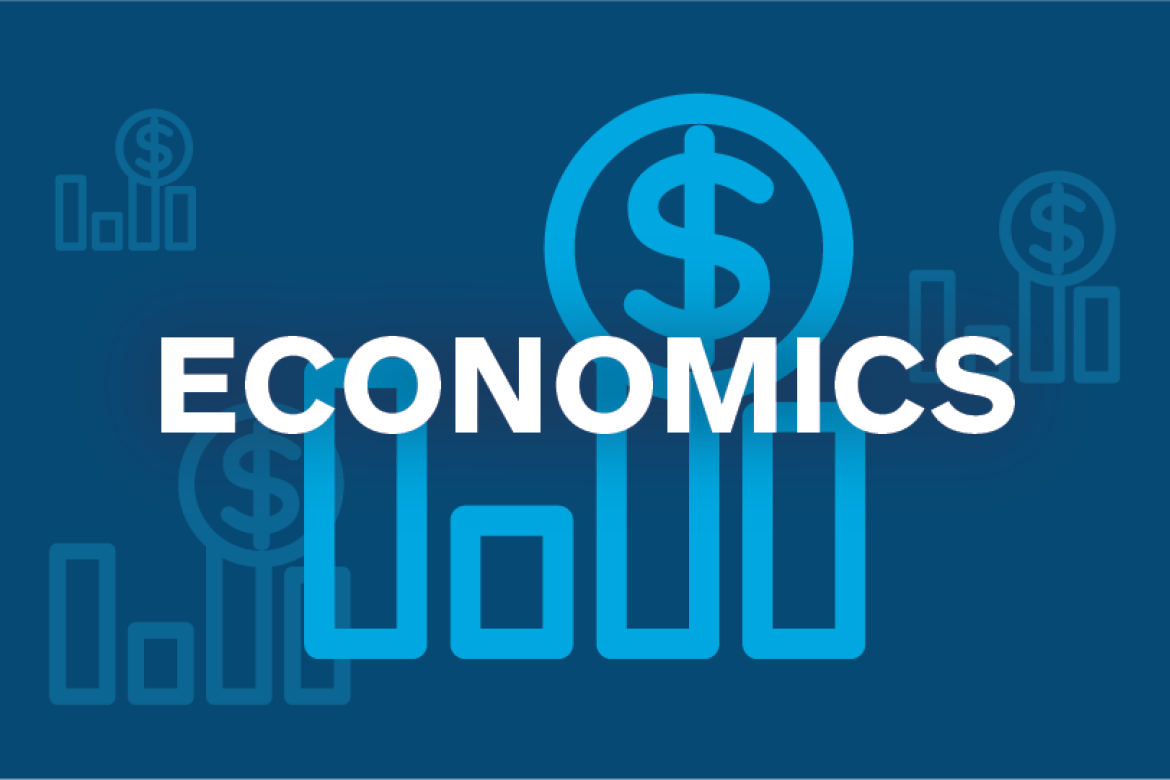 Whether you study finance and entrepreneurship or poverty and the environment, economics is a multi-disciplinary major with a wide range of applications.
Interested in studying a multi-disciplinary major that intersects with business, entrepreneurship, development, social change, public policy, environment, history and philosophy? Consider majoring in economics.  
As an economics major at Mount Holyoke, you will wrestle with larger social issues like unemployment, poverty, inequality, discrimination, underdevelopment and the environment. You can sharpen your analytical and research skills through project-based, hands-on learning using theoretical models, historical context and empirical analysis in subjects ranging from corporate finance to history of economic thought and more.
"Economics has a wide range of applications in the world, as well as multiple opportunities for graduate studies and research," says Rick Feldman, a lecturer and the entrepreneurship coordinator. Feldman's courses focus on global and local challenges from which opportunities for solutions can emerge through innovation and entrepreneurial leadership.
Ever considered starting your own business? As an economics major you can learn various aspects of entrepreneurship as well as global business and managerial economics. Internships at companies such as Morgan Stanley, Fidelity Investments and Goldman Sachs, as well as Lynk-funded research opportunities and professional and networking opportunities help to elevate your capacity for data gathering, critical thinking and problem solving, which can also be useful for a variety of graduate programs.
Economics major Donna Williams '84 used the skills she learned at Mount Holyoke, her MBA at Columbia and her experience in the corporate world to launch Field Foods, which delivers fresh food from local farmers and makers to an individual's home or designated delivery site.  Founded in 2011, Field Goods operates out of an 18,000 square-foot warehouse in Athens, New York and has grown from two employees and 60 customers to 23 employees and 2,600 customers.
You can study economics abroad and develop critical technical skills and analytical skills, along with the language. Learn more about economics and law in Berlin, Germany; examine economic transformation and business challenges in Shanghai, China;, or study globalization, development and environment in Monteverde, Costa Rica. 
"Often students approach economics because they're interested in starting or joining a business," says Luke Wilson, department chair. "Once in the major, however, students are exposed to subfields that allow them to learn how people in different contexts contend with reproducing themselves over time."
Stats about Economics
Alums who majored in economics include Stuti Khemani '94, Sheila Marcello Lirio '89, Kate Gordon Murphy '08, and Vijaya Pastala '89.
As of February 2021:  
105 students are majoring in economics, 32 of whom are double majors
13 students are economics minors
12  faculty
Fifty-nine students graduated with honors between 2010–2020. Thesis topics included: 
It's About Time: Rethinking Fairness and Justice for Women in the Economy
Public Financing of Professional Sports Stadiums
The Effects of Minimum Wages on Poverty in the United States, 2008-2013
The 'Rent-aWomb" Boom: The Political Economy of India's Transnational Commercial Surrogacy Market
The Effect of Conflict and Displacement on Fertility? A Case Study of Northern Uganda
The Economic Impact of Mobile Banking: The Case of M-Pesa Mobile Banking Service in Kenya
Energy Consumption and Economic Growth Nexus: European Industrial Experience 1850-1950
The Effect of Increasing Minimum Wage at a City-Wide Level on the Enrollment in Public Assistant Programs
DACA and its Economic Impacts on Undocumented Immigrants
The Monetary Policy Implications of the Fair Model
Time Series Analysis and Forecasting of the US Housing Starts using Econometric and Machine Learning Models
Behind the Prosperity of the Video Game Industry: The Social Impacts and the Selling Strategies
Educational and Geographic Spillovers of Higher Education in the DevelopingWorld: Case Studies in Sub-Saharan Africa
These results are from Mount Holyoke's annual Alumnae Survey: 
87% of respondents satisfied with their careers thus far
63% enrolled in a grad program since graduating from the College
43% reporting that their career is related to their major
73% who said Mount Holyoke prepared them well for their careers