Student-led coalition focuses on voting
Student-led coalition focuses on voting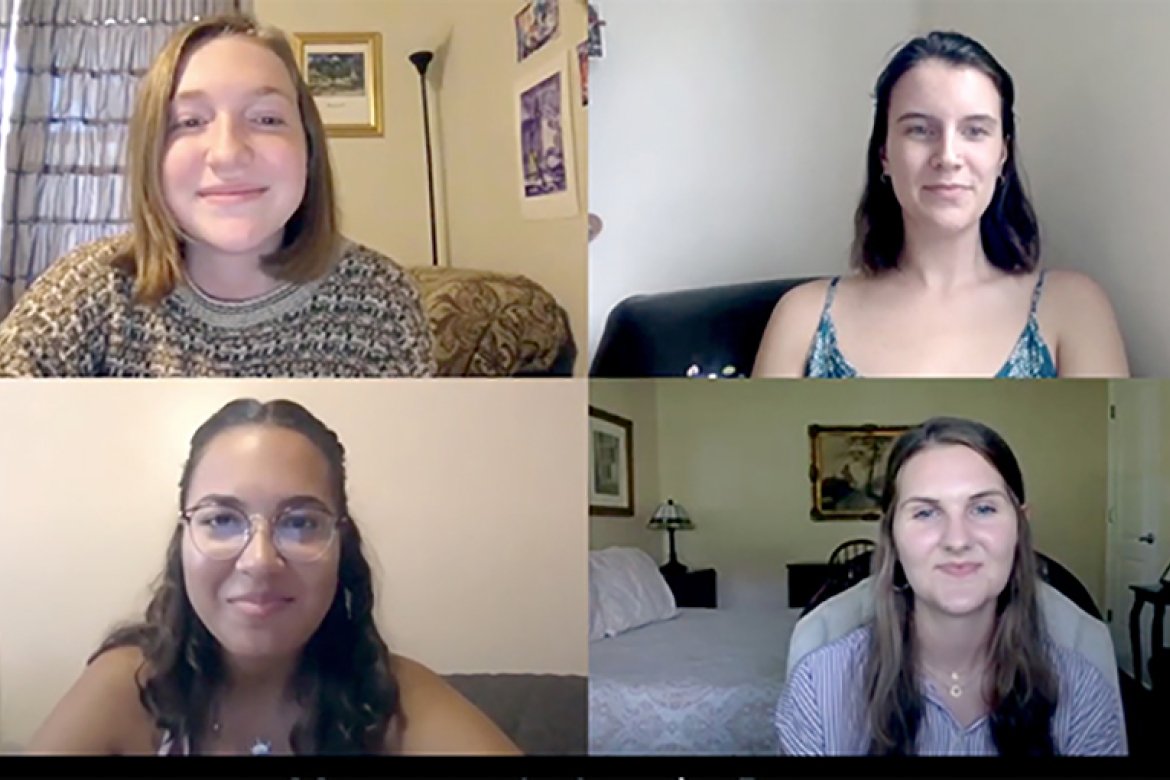 MHCVotes!, a new student-led effort at Mount Holyoke College, is focusing on voter education, turnout and fairness.
A coalition of Mount Holyoke College students, staff and faculty members is working hard to get 100% of eligible voters in the community registered and voting in elections this fall, including the presidential election.
MHCVotes!, started by seven students, builds on previous voter-education and registration efforts by the Mount Holyoke College Democrats, the Student Government Association, and other campus groups to help eligible voters exercise this important civic duty.  The effort also enlists faculty and staff members to help reach as many students, and other community members, as possible. 
Launched officially in June as a student task force, MHCVotes! now has 45 students and 15 staff and faculty members.
Among the founders are Kate Murray '22 and Jaxzia Perez '22, both former MassPIRG New Voter Project interns. They joined Lily James '21, Emma Watkins '23, Maggie Micklo '21, Sydney Williams '23 and Madeleine DesFossés '21, who decided that an effort focused entirely on the Mount Holyoke community would be worthwhile. While students are the primary focus, raising participation among faculty and staff will be an added benefit.
Reaching young people with a message about voting is especially important, Murray said, given current attitudes. 
"When it comes to voting, I often hear young people express contempt," said Murray, a politics and sociology double major. "They think that their vote doesn't matter and the process requires too much effort. This disdain is reflected in the stats. Young people aged 18 to 29 are the largest and most diverse age group in the country, yet they vote at rates 20% lower than other age groups, on average. This is heartbreaking because that means they are at the mercy of voters who may not represent issues that uniquely impact young people. When young people's experiences and opinions go unheard, they inherit a country that does not support issues that they care about, those that directly impact them."
And, according to Perez, the high percentage of international students at the College increases the need for eligible voters to make their voices heard.
"Since the College has such a high international student population, it is important for eligible domestic students to vote," Perez, a politics major with a minor in Latinx studies, noted in an email. "International students will be affected by the policies being implemented and decision-makers being elected despite having zero control over elections. Alongside promoting voter turnout, we want to provide education around voting, the Electoral College and overall civic engagement." 
Since June, MHC Votes! has been working on a number of projects related to voter registration and education. These include developing voter guides for each geographic region of the country, publicizing voter registration information through social media, and working on voting logistics, including compiling resources for registration and absentee ballot requests.
MHC Votes! has created a video explaining the importance of voting and demonstrating how to register, and has also reached out to all professors of First-year Seminars requesting that they share information with their students.
At the same time, MHC Votes! has met with student groups and faculty and staff from various sectors of campus life and strategized about how each office, organization or department can contribute to this effort. Virtual events, such as panels and guest speakers, will be held in the fall in conjunction with multiple departments to motivate students--and other members of the community as well — to cast their ballots and prepare the campus for a new presidential term. 
"We want voting and high civic engagement to be part of our campus culture as much as M&Cs are," Perez said.
For MHCVotes!, another key issue is the unnecessary complexity of registering to vote and actually voting. A key component of their efforts, according to their mission statement, will address this: 
"Our goal is to help 100% of eligible voters cast their ballots in the 2020 election by providing voting process information and the necessary materials so that students can vote safely and in a fully informed manner. We acknowledge that voting is an intentionally complicated and exclusive process, and we intend to do the work to make voting both an accessible and an engaging process for all students."
It is a good news / bad news scenario when it comes to voting patterns by Mount Holyoke students.
According to reports from the National Study of Voting, Learning and Engagement, Mount Holyoke students are extremely politically active. In 2016, 94.6% of eligible students at the College registered to vote. However, only 73.2% actually voted on Election Day. While this percentage is significantly above the national average for all institutions, which hovers around 50%, there is a large disparity between those who register and those who end up voting.
If MHCVotes! is successful, this gap will close this coming November. 
Students who want to learn more about voting and MHCVotes! should visit my.mtholyoke.