Student performance fuses dance, poetry.
Student performance fuses dance, poetry.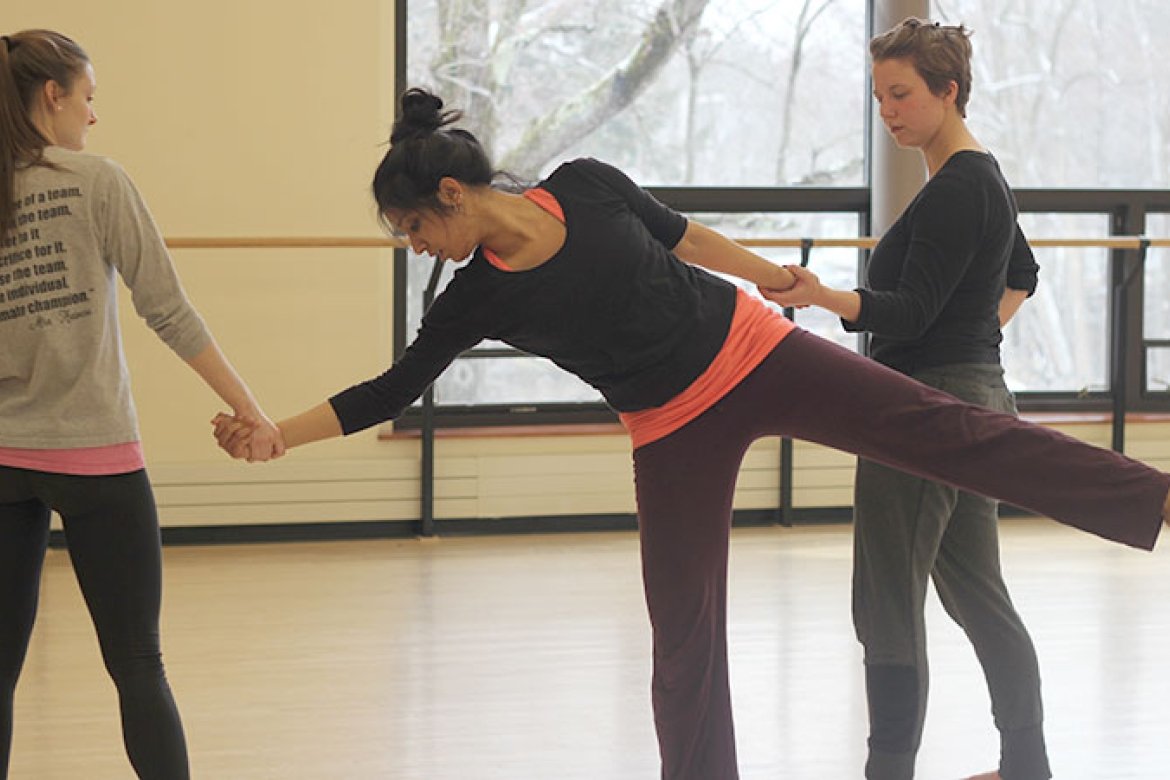 Senior Poorna Swami's presentation combines Indian classical dance, contemporary dance, and poetry.
By Alheri Egor-Egbe '17 
Since she was seven years old, Mount Holyoke College senior Poorna Swami has trained in Bharathanatyam, a type of Indian classical dance.
Now, as an English and dance-theatre special major, she is leading a performance for her senior thesis that combines Indian classical dance, contemporary dance, and poetry.
The event, titled as always, will premiere Saturday, April 18, at 8 pm in the Studio Theatre at the Kendall Sports and Dance complex. It navigates the sensory potential in images, words, and space through dance and live poetry performance, Poorna explained.
Inspired by her experiences as a dancer and as a poetry lover, Poorna also draws from the classical Indian dance tradition.
"I am a writer and avid reader of poetry, so as always, which is a series of 'movement odes,' also emerges from my fascination with language and how words and bodies interact," she said. "At its core, as always draws from the classical Indian tradition of dancing to converse directly with a deity who is physically absent from the performance space. Sufi practices—which aim to unite in an ecstasy the moving body, the spectator, and a divine presence—have also heavily influenced this work."
as always features a quartet of dancers comprising University of Massachusetts Amherst students Anna Wotring and Kelsey Saulnier, Hampshire College student Sophie Schultze-Allen, and Poorna.
Poorna said the show is an important step in her personal and professional development.
"For me, as always has been a first exploration into what it means to create," Poorna said. "I hope, after I leave Mount Holyoke, to continue making performance works that play with words and movement."
The performance, which will be followed by a discussion and reception, is free and open to the public, but reservations are recommended.
The production is supported by Mount Holyoke's dance and theatre arts departments and by the Five College Digital Humanities.