Student writers expose their prose.
Student writers expose their prose.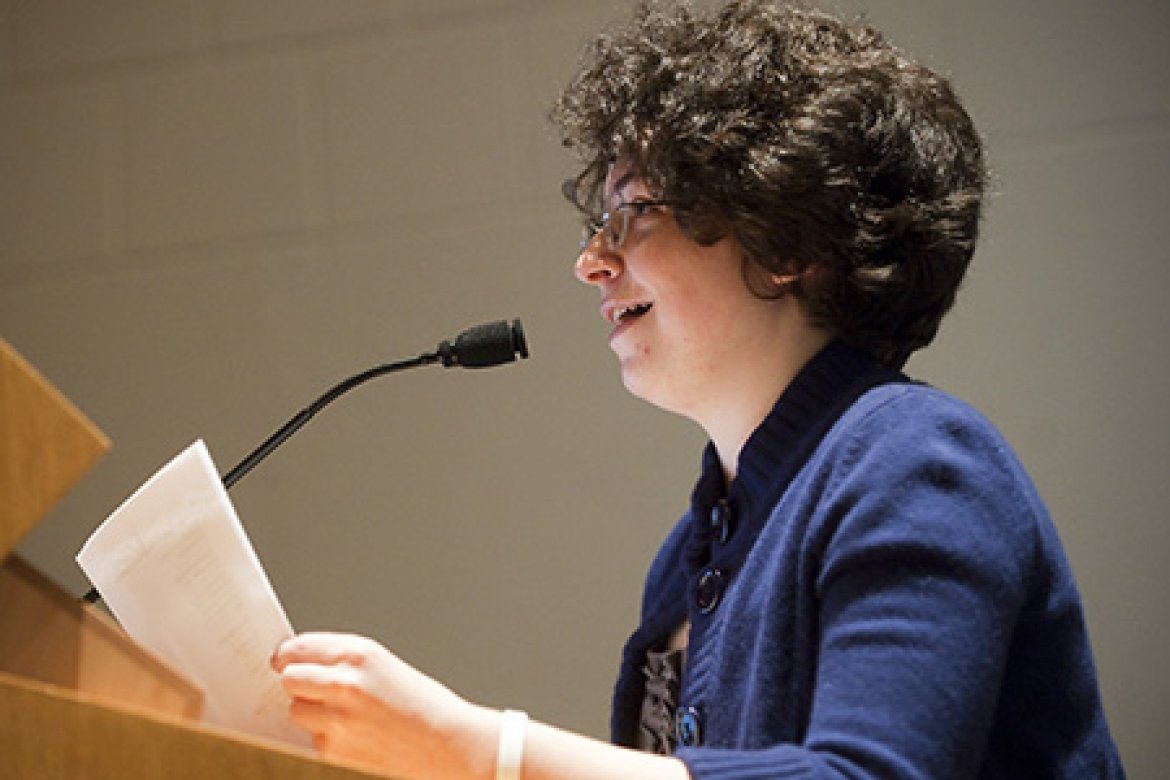 More than 20 students read excerpts from their original work at Mount Holyoke's annual Department of English writers' showcase.
By Alheri Egor-Egbe '17
Students with a variety of majors who are passionate about writing got an opportunity to share their work at the annual Department of English showcase event on February 17.
The annual showcase, which is in its fourth year, was organized by English professors Karen Osborn and Catherine Manegold to give students a relaxed, supportive, and informal way to read their own writing. More than 20 students from all around the globe—from Lahore to Maine—presented a wide range of original works of fiction, nonfiction, essays, journalism, and poetry.
Veronica DeJesus, a junior majoring in biology, was excited about an English class she took last semester and read excerpts of her final essay for that course. "The Humerus is a Bone" combined her knowledge of human anatomy with stylistic skills she gained through various pieces she explored in the class.
"I felt strongly about the pieces we were reading in that class, and reacted in the journal we were encouraged to keep, in margins, in essays, and in poems," said DeJesus. "We read and attempted a few different forms of writing. The piece I read was one I wrote for that course."
John Lemly, Professor of English on the Alumnae Foundation, said that the showcase was part of the English department's commitment to create an avenue for students not just to listen to and appreciate their work and that of their peers, but also to strengthen their own voices as writers 
Lemly quoted Ama Ata Aidoo, the Ghanaian writer and a former member of Mount Holyoke's English Department, who once said, "A young girl's voice doesn't break; it gets firmer. Some of our students become renowned published authors, but most do not. But everyone has a voice that can become 'firmer,' more powerful and beautiful, enriching her life and those around her."
Participating in the showcase for the first time, Aubree Hanks-Witaszek, a sophomore psychology and English double major, said that reading at the showcase helped her overcome a fear of public speaking.
"This past semester, I felt it was time to grow out of it. My aspiration is to become an English professor, and you don't see many awesome professors who aren't able to talk to their class," said Hanks-Witaszek. "I want to be an inspiring educator, so, I have begun to put myself out there. Events like this push me in the right direction."
Lemly knows from experience that some of the students who read at the showcase will go on to broader literary success.
"I've had the good fortune more than 40 years to see students flourish into mature writers [including] the poet Trude Schnackenberg '75, the playwright Suzan-Lori Parks '85, the fiction writer Violet Kupersmith '11, and the Africanist scholar-critic Wendy Belcher '84 [who also read at the event]," said Lemly. "Listening to the readings is uplifting—we need reminders of what strong words could resonate across the campus."