Students take innovation tour in Boston.
Students take innovation tour in Boston.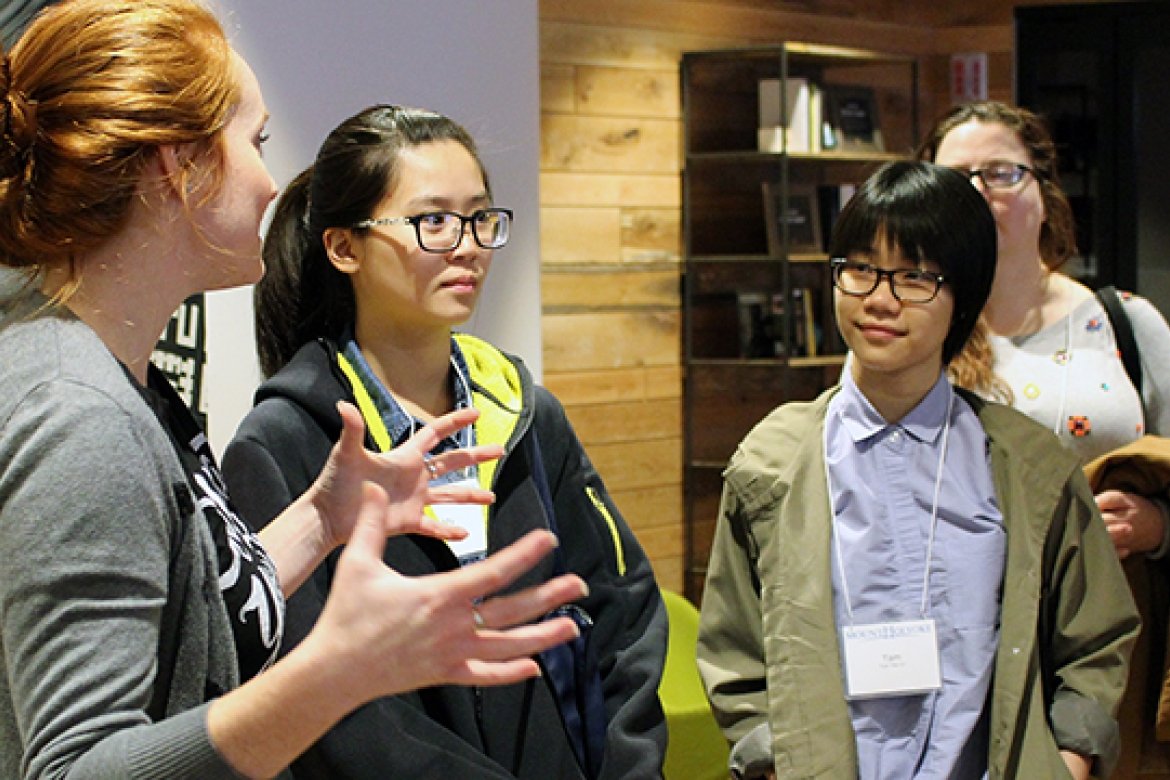 Students interested in entrepreneurship find advice and inspiration in Boston coworking spaces.
By Kristin Balboni
Aspiring entrepreneurs from Mount Holyoke College traveled to Boston recently to see first-hand what it's like to work in a community of start-up companies.
Students made themselves at home among the brightly colored walls, eye-catching inspirational posters, and free-flowing coffee at three coworking spaces: WeWork, Workbar, and District Hall. They toured the facilities and met with entrepreneurs including Workbar CEO Bill Jacobson.
Collaboration and community were central themes at each location, with each one offering a different culture and perspective on this nontraditional—but growing—concept of work.
The focus of the innovation tour was coworking, a popular solution for the needs of start-up companies founded by young entrepreneurs. Coworking is shared workspace that offers many of the amenities of an office setting without the large overhead expense of a traditional lease.
The Career Development Center (CDC) planned the tour as a way to introduce students to innovation hubs and makerspaces. The Boston trip is one of a series of career trips available to students each semester. The CDC visited New York City at the end of January for four themed career treks in journalism, advertising, consulting, and fashion. A visit to New York in October gave students an inside look at banking and finance. The CDC also is planning a trip to Boston in March to visit biotech and pharmaceutical companies.
Related: Slideshow of the CDC's trip to New York
Kelly Uccello, coordinator of employer services at the CDC, led the trip.
"It's important for students to see the many opportunities available to them for their career path," Uccello said. "It is especially valuable for those that don't see themselves taking a traditional route."  
Mount Holyoke students were impressed by the sites they visited.
"I think coworking is a cool concept," said Fei Wang '16. "It is especially beneficial for start-ups and small companies where ideas are generated by constant discussions and meet-ups with different people."
Although Wang wasn't sure coworking would be a good option for her, she appreciated the opportunity to visit the three spaces.
"Each type has its own target audience and operating systems," she said. "It is helpful for me to understand their differences and realize that I might not fit for this kind of working environment."
The innovation tour also included lunch with Kimberly Ainsworth '91 and her husband, Layne, cofounders of Liquid Capital Associates, a firm specializing in financing entrepreneurial businesses. Students shared their business ideas and asked questions about the process of starting and funding a new venture.
Katherine Johnston '16, a Frances Perkins scholar, said she gained valuable insights from the couple.
"I appreciated the advice that they gave about how entrepreneurs need to know their strengths and weaknesses," Johnston said. "It's important to build a team that includes people who have strengths that cover the areas where you are challenged."
Ainsworth encouraged students to take advantage of the opportunities available at Mount Holyoke, citing The Lynk experience, a curriculum-to-career initiative, as an excellent way to try different workplaces before graduation. Her advice for aspiring entrepreneurs dreaming of starting their own company is to recognize that, "It's more of a journey. It takes longer than you think and that's okay."
Find your path. Start here.