Students win NSF, Goldwater honors.
Students win NSF, Goldwater honors.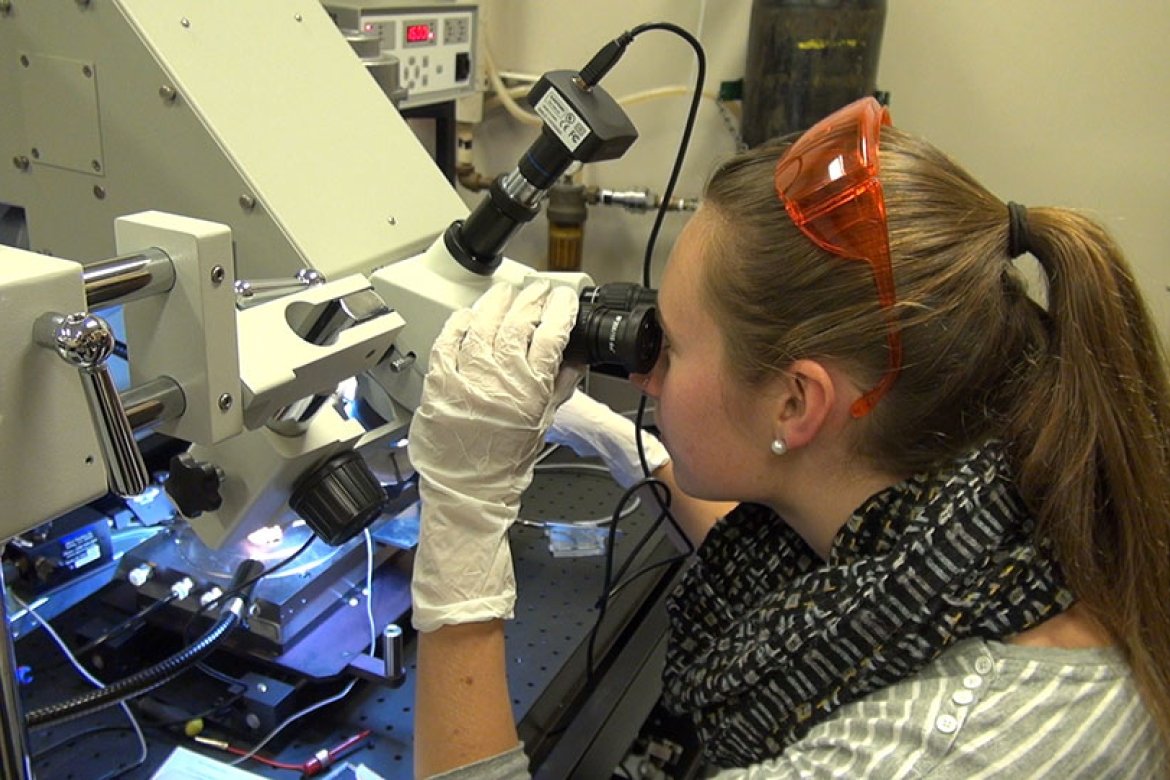 Mount Holyoke College students and alums made a strong showing in this year's National Science Foundation fellowships and Goldwater scholarships.
Two Mount Holyoke College alums have received National Science Foundation (NSF) fellowships, and three current students have received honorable mentions for the Goldwater Scholarship, in recognition of their scientific achievements.
Margaret Anne Stevens '14 and Catherine Elizabeth Braine '11 both were awarded NSF research fellowships, while Alison Ochs '17 with a major in biological sciences, Felicity Emerson '17 in neuroscience and behavior, and Emma O'Leary '16 in biochemistry received honorable mentions for their applications to Barry Goldwater scholarships. Both NSF fellowships and Goldwater scholarships honor those who show exceptional promise in their field.
The vast majority of these honors generally go to students at research university, with only about one in five going to students at liberal arts colleges like Mount Holyoke.
"I think this reflects the quality of our students," said Professor of Biological Sciences and Associate Dean of Faculty Gary Gillis. "It's a combination of incoming quality and how quickly we can provide them with the experience and knowledge they need to move forward in their fields."
Stevens, who also received an NSF research fellowship to pursue her work in designing more efficient energy sources, credits the strong mentorship of physics professor Alexi Arango for her success. Currently, she is at Tufts, working on developing more productive materials for solar cells and thermophotovoltaic devices, which capture energy from heat.
"When I got to Mount Holyoke, I started working in Alexi Arango's lab right off the bat," she recalled. "He gave me the opportunity to pursue independent research projects, which really opened up countless options for me in terms of internships and job opportunities."
Stevens went on to write her senior thesis in Arango's lab, which solidified her interest.
"It was an incredible experience for me to really sink my teeth into a fascinating research project," she said.
Braine, whose NSF grant will fund her graduate work in understanding the role that immune system genes play in determining how neurons in the retina project back into the brain, says her Mount Holyoke experience gave her the footing to get a strong start in the field.
"I did my thesis in [biology professor and chair] Craig Woodard's lab . . . and from that work I knew I wanted to continue in research," she remembers. "He was very supportive in helping me look at internships and jobs when I was graduating."
The students honored by Goldwater also noted that their experiences working closely with professors on research were especially rewarding.
O'Leary, who has worked at a Harvard lab since her first year, investigating a specific mechanism that enables cells to absorb materials from their surroundings, plans to go to Oxford to conduct research in a lab looking at blood cancers this summer, with the help of Lynk funding.
"I am really excited to do applied research this summer," she said. "I want to eventually get a PhD/MD, so this experience will give me the opportunity to explore the medical side of research."
In addition to the NSF fellow grantees, there were four Mount Holyoke honorable mentions: Elizabeth Dina Laudadio, who will be graduating this spring with a major in chemistry, and alum Ellen Kathleen Bledsoe '13, Alissa Jane Flegal '09, and Rachel Ann Krueger '13.
Make your mark. Start here.