Sustainability's new partner
Sustainability's new partner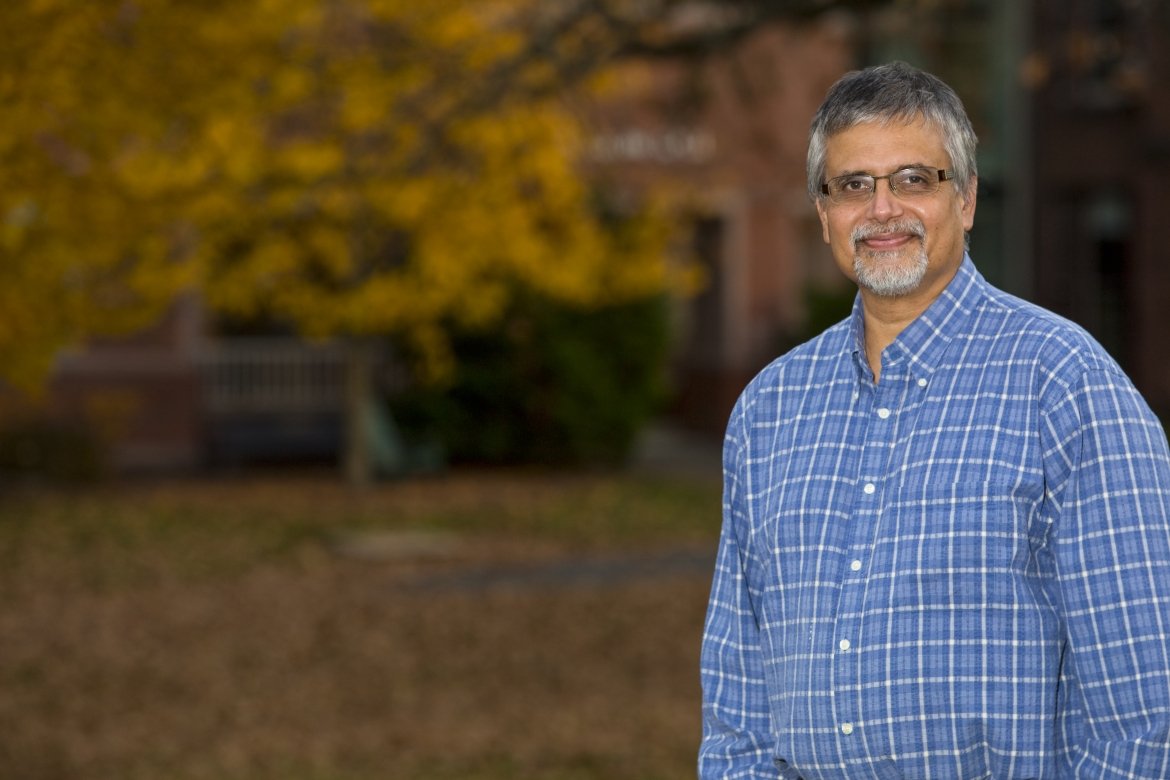 The Miller Worley Center's V.S. "Raghu" Raghavan works to connect operations and academics in building a sustainable community at Mount Holyoke.
V.S. "Raghu" Raghavan, the new Director of Sustainability and Associate Director of the Miller Worley Center for the Environment at Mount Holyoke College.
Raghavan believes that sustainability is fundamentally a question of social justice and that sustainability initiatives need an experiential learning component. 
"It's a holistic approach to sustainability beyond just campus facilities and environmental metrics," he said. "The ultimate goal of sustainability is to build a healthy community for everybody, not just a few people."
His vision to transform Mount Holyoke into a more environmentally sustainable institution is bold.
'I want to involve students and faculty in initiatives across campus — the transition of campus energy infrastructure to renewable energy, incorporation of social justice in sustainability efforts, improving upon our waste, and composting and recycling efforts," said Raghavan, who started at the College in July. "This complements the Miller Worley Center for the Environment's efforts to transform the campus into a learning lab for sustainability."
Olivia Aguilar, Leslie and Sarah Miller Director of the Miller Worley Center for the Environment, celebrated Raghavan's appointment at the nexus of Facilities Management and the Miller Worley Center.
"Raghu's position provides a unique opportunity for collaboration between facilities, dining and other areas of the campus with the Center's expertise," she said. "This is especially helpful with our attempts to infuse opportunities for learning around sustainability into the curriculum." 
Aguilar, whose own research and work focuses on the social facets of environmental justice, sees Raghavan as an important ally in campus initiatives to move toward a better balance.  
"Raghu and I have a very similar philosophy when it comes to sustainability," she said. "We both believe that justice is central to pursuing sustainability. Our work and visions really feed off of each other. For instance, we have found a way to connect his vision of a cohort of sustainability fellows with my vision of a community commitment to climate justice. He helps to make the work of sustainability on campus exciting and bold." 
One of Raghavan's first steps: collaborate with the College's Facilities Management to develop its Energy Master Plan in support of Mount Holyoke's goal to become a carbon-neutral campus by its 200th anniversary in 2037. A centerpiece of the plan is to explore switching the campus from energy-intensive steam-based heating that's generated by fossil fuels to a low-temperature hot-water-based system using renewable geothermal energy.  A study exploring the feasibility of using geothermal energy for campus is currently being finalized.
"This change will drastically reduce our greenhouse gas emissions," said Raghavan, noting that the project will require an enormous infrastructural overhaul. 
"It will involve changing our entire system, our distribution pipes, drilling geothermal bores, adding heat pumps and so on," he said. "It's a drastic shift on the operations side. My goal is to facilitate curricular engagement for the academic side, so our faculty can bring their students to understand this process and use it as an experiential learning opportunity.
"As students learn and practice sustainability here they are in a position to implement these same practices in their homes and places of employment."  
Another step toward greater sustainability on campus was the switch from disposable dishes to reusable containers by Dining Services. When the College made the decision to bring a larger number of students back to campus this spring, under rigorous safety protocols, dining faced an unsustainable problem.
"I realized in the fall that we would be going through about 450,000 to-go containers in the spring semester, along with several hundred thousand cups, lids, sleeves and utensils," said Rich Perna, executive director of Auxiliary Services. Instead, Dining Services invested $30,000 into reusable containers, saving about $300,000 that would have gone toward disposable dishes, and ultimately, the landfill.
"The program has worked out incredibly well," said Perna, who oversaw the changes that led to each student receiving reusable food and beverage containers when they arrived on campus. 
In addition to implementing reusable containers and improved waste collection, dining has increased the amount of locally sourced food purchased by Dining Services.
"One of the biggest contributors to our greenhouse gas emissions is our food footprint," said Raghavan. "The more we localize our food procurement and consumption, the better off we are. Not only does this reduce our carbon emissions but it also strengthens the local economy.  Campus dining has taken a big step forward toward increasing local food procurement."
The shift to carry-out dining also required a change in food waste collection for composting.  Raghavan has worked with Facilities Management to enhance food waste collection from residence halls.
Beyond dining, Raghavan is exploring ways to reduce reliance on fossil fuels beyond campus.  He represents the College on the South Hadley Sustainability and Energy Commission. The commission is actively exploring options for developing infrastructure for electric vehicles, such as charging stations.    
"This can be a grand educational opportunity for all of us and I am excited about it," he said.  
Before joining Mount Holyoke, Raghavan served as the director of sustainability for the University of Missouri.