A trove of historic sportswear uncovered
A trove of historic sportswear uncovered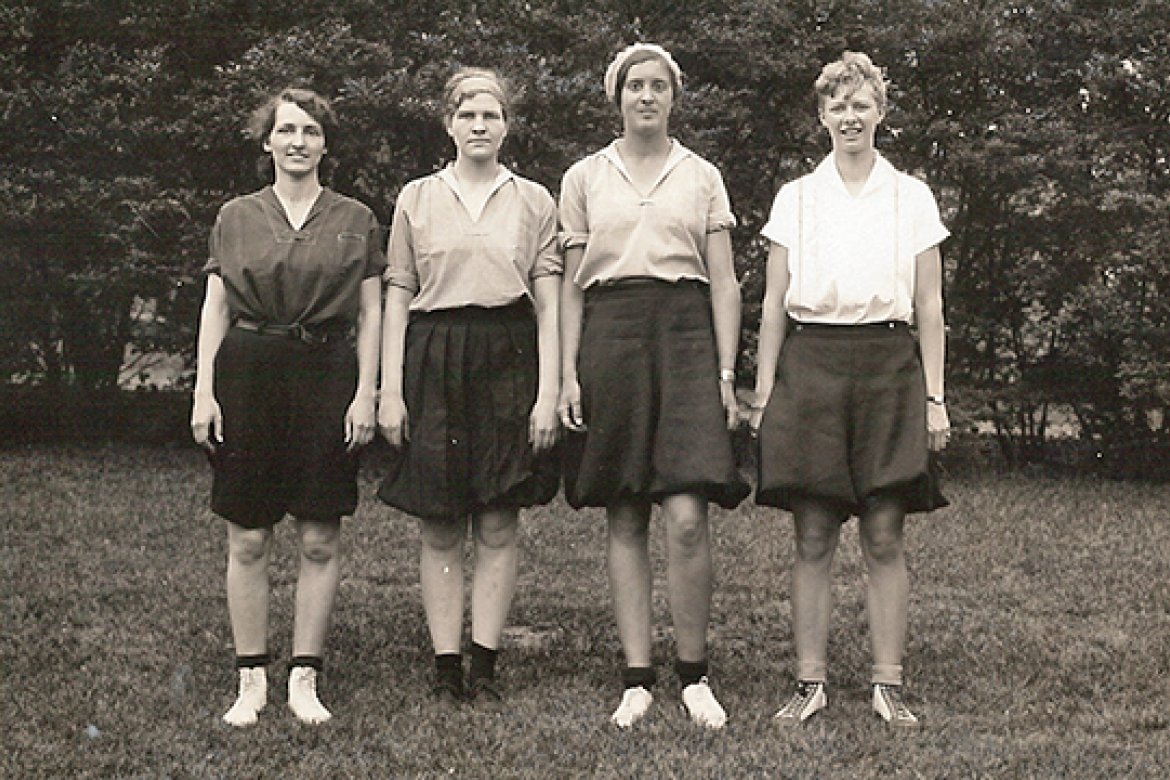 A newly uncovered collection of athletic apparel provides a rare glimpse into some of the earliest athletic wear for women — and the students who wore it.
By Keely Savoie
Bloomers, basketball uniforms and wool bathing suits are just a few of the items that have been uncovered in a historic collection of athletic apparel at Mount Holyoke College that dates as far back as the 1890s.
The collection is now being thoroughly researched and inventoried at the College's Rooke Theatre and through its Archives and Special Collections in an effort to preserve what might be the largest known collection of women's athletic apparel.
Women's athletic gear: a mystery of history
No one really knows when or why the collection started — the thread of its existence has been lost to history. The earliest known reference to the collection came from Mildred Howard, who served as the chair of the physical education department from 1927 to 1963 and oversaw the construction of Kendall (where her ghost is rumored to occasionally appear.) Even so, no one knows whether Howard started the collection or simply kept  it up.
The assortment of antique athletic wear had been mostly kept in archival boxes in a closet for untold decades, with a brief public appearance as part of an exhibit at the Mount Holyoke College Art Museum in 2004. But this year, Barbara "Bardee" Sadlier, associate director of athletics at Mount Holyoke, took it upon herself to find more appropriate storage for the antique clothing.
Historic collections of women's athletic apparel are rare. This is partly due to the cultural norms of the time — social mores of the late 1800s and early 1900s prevented women from wearing athletic clothes in mixed company. Mount Holyoke's single-sex campus would have been one of the very few places where women could engage freely in sports. Furthermore, Mount Holyoke founder Mary Lyon had an unwavering dedication to the belief that in addition to an academic education, women should have a spiritual and physical education as well.
"We really wanted to put them in a place where they would be properly preserved," said Sadlier, noting that Patricia Warner, a world expert on women's athletic apparel, had characterized as the collection as the "best in the Western Hemisphere."
The Mount Holyoke collection
In order to learn more about the history of women's athletic apparel in general and the Mount Holyoke collection in specific, students Lillian Williams '18 and Sahar Eisenstein-Bond '18 moved the boxes of clothing from Kendall to the Rooke Theatre and began inventorying it with the help and oversight of Elaine Bergeron, the costume shop manager.
The clothes themselves are far from what one generally associates with athletic wear: They are heavy and cumbersome woolen ensembles, with stockings and bloomers, blouses and overshirts. They are true relics of their eras, with sartorial flourishes that can pin them to a particular time: the square sailor-suit collar that was popular in the 1940s, the risque low back of the 1930s swimwear.
"It's amazing that even when women gained the freedom to participate in sports, they were still so literally restricted by their clothing," said Bergeron.
A window into the lives of women in the past
Some of the pieces have names sewn in or even notes attached to them, so Williams and Eisenstein-Bond have been able to trace them to specific alumnae and date them with precision.
Leslie Fields, head of Archives and Special Collections, was thrilled to have student interns thoroughly research the origins of the pieces through the College's collection of letters and yearbooks and  in some cases link specific items with specific alumnae.
"It's really rare that you get to date historical clothing with such precision," Fields said.
But the research goes beyond pinning the pieces to a particular year. Many of the alumnae who wore the clothing wrote about their athletic wear, enamored of its stylishness and relative freedom over their everyday clothing at a time that would have included whale-boned corsets and binding stockings and garters.
Even when they didn't write about their athletic gear, they wrote about their activities, in letters preserved in the archives. The women themselves often led extraordinary lives. One outfit was worn by Margaret Yerger (née Roberts) '36, became a fighter pilot; another belonged to instructor Viola Barnes, who did her doctoral work at Yale, and then came to Mount Holyoke to become head of the history department and establish the equestrian program.
Most striking of all, according to Williams, is the women's vivaciousness, energy, humor and enthusiasm that comes through in their notes and letters to one another.
"When you look at photos from the time, they are stiff and posed and look so serious," said Williams. "But then you read their letters and realize that they were funny and full of life and they actually act like teenagers. Looking through the yearbooks you can start identifying with them. And all of them, for years after they left Mount Holyoke, are still talking about how much they loved it here."
The collection is currently in the midst of being researched and preserved. Ultimately, it will be staged in an exhibit, said Bergeron, when it is determined how the clothing can be best preserved and shown to the world.
Discoveries happen here. Learn more.