Voting and voter suppression
Voting and voter suppression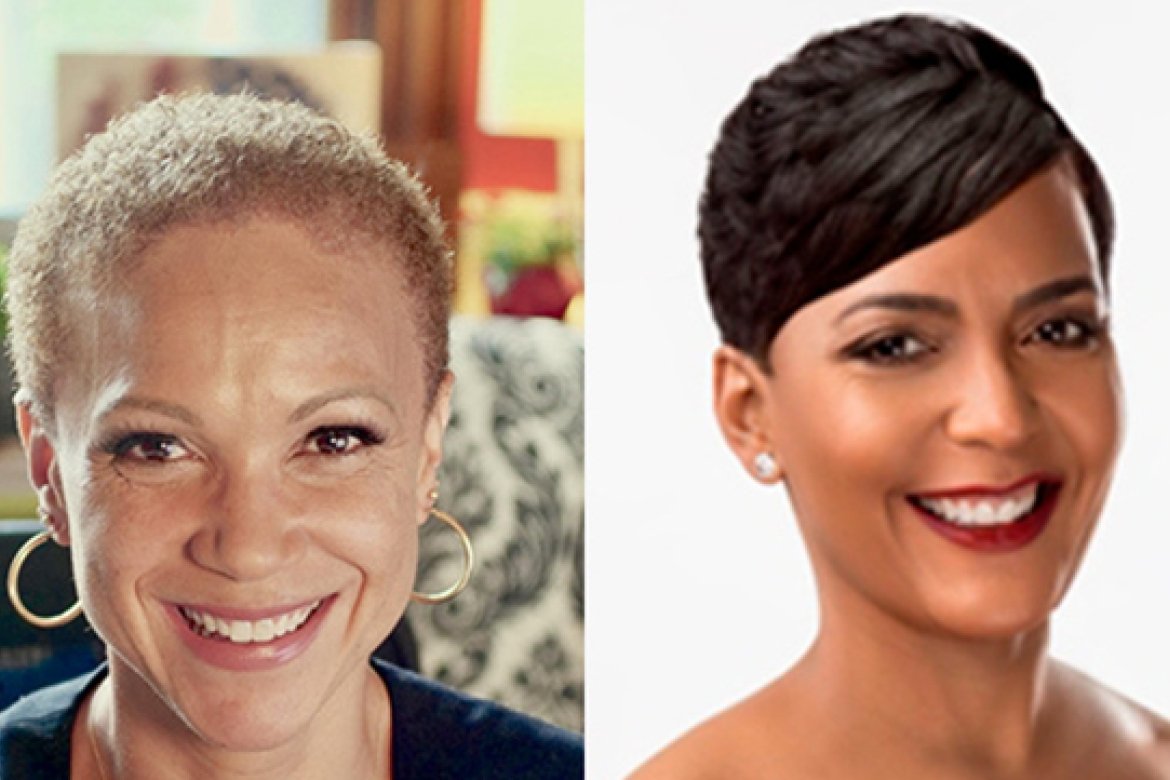 Atlanta mayor Keisha Lance Bottoms and writer Melissa Harris-Perry talked voting and voter suppression as a part of Mount Holyoke's voting series.
By Keely Sexton
As a part of Mount Holyoke's ongoing series about voting, the Office of Diversity, Equity and Inclusion hosted a Zoom conversation between Atlanta mayor Keisha Lance Bottoms and the professor and political commentator Melissa Harris-Perry about the right to vote, the necessity of voting, and the crucial importance of voting in this moment.
The program began with introductions from Kijua Sanders-McMurty, vice president for equity and inclusion, and Cheryl Lowery of the Joseph and Evelyn Lowery Institute on Justice and Human Rights. Securing the right to vote, especially among communities of color, was the lifelong passion and commitment of Lowery's father, Rev. Joseph Lowery, who passed away in March. Exercising it is the only way to preserve it, Lowery said.
"This is your opportunity to influence a major election," she said. "For goodness sake, get up and vote!"
After Lowery spoke, Sanders-McMurtry played a video of Stacey Abrams, again urging everyone to vote.
"Here at Mount Holyoke and around the nation, with each protest and each vote we move inexorably towards a future where equal justice under law is not just a phrase carved into marble buildings, but a belief carved into the hearts, minds and souls of all Americans," Abrams said in the video."I believe in our capacity to do what Dr. Lowery exhorted us to, and become instruments of the people's will for justice, for fairness, for progress. So let's get it done."
Sanders-McMurtry then introduced interviewer Melissa Harris-Perry, the writer, professor, television host, and political commentator who  focuses on African-American politics. Mount Holyoke student Kate Murray '22 introduced Keisha Lance Bottoms, the progressive mayor of Atlanta who was named a possible vice president for Joe Biden. 
When Harris-Perry asked Bottoms how she felt about the right to vote, she didn't pull any punches. 
"I don't feel good about where we are with voting, but it doesn't mean that we don't still show up and we don't try," she said. 
Bottoms spoke about the myriad ways in which voter suppression has become increasingly flagrant, with polling stations being removed, higher barriers being imposed on voters, especially those in communities of color, absentee ballots going missing, and votes not being counted. 
Even Bottoms's own cousin, who had voted at his polling station for 30 years, was suddenly informed that his name had been removed from the voter list because he was a convicted felon — he was not. Endless lines to vote, disruptions in the mail and the President himself decrying nonexistent large-scale voter fraud and encouraging his supporters to monitor polling stations — the feeling of powerlessness and frustration at the polls is not accidental, Bottoms said.
"That's what this is all about, it's about making people quit, it's about making people get so frustrated that they give up and they don't care about voting. They don't want to be bothered with it."
While voting is often cast as a decision between two candidates, in actuality, the first and most important decision is whether to vote at all, Harris-Perry said. Turnout often determines the result and whose voices are heard. When particular demographics are galvanized — as were Black women in 2008 and 2012, and white men in 2016 — their candidate of choice is elected. And while national elections are of indisputable importance, voting on all levels makes a difference.
"When you have someone in the highest office environment who spews hate, when you have someone at a local level who spews hate, it sows division and that division grows and it festers," Harris-Perry said.
"It's not just about this guy in the White House. It's about local elections. It's about statewide elections."
Bottoms is trying to combat barriers to voting in her own city as mayor. Although she doesn't have direct power over voting itself, which is under state control, she signed an executive order giving Atlantans four hours off of work so that they can exercise their right to vote.
"It makes all the difference," she said. "It doesn't mean that our leadership is perfect. It doesn't mean that our country is perfect."
But voting can bend the trajectory toward better policies that unite and lift people up, she said, and while the United States is what Bottoms calls, "an imperfect union," when people engage and lift their voices up, they can be heard.
"That's why our votes matter."