Weissman Center Celebrates 20th Anniversary
Weissman Center Celebrates 20th Anniversary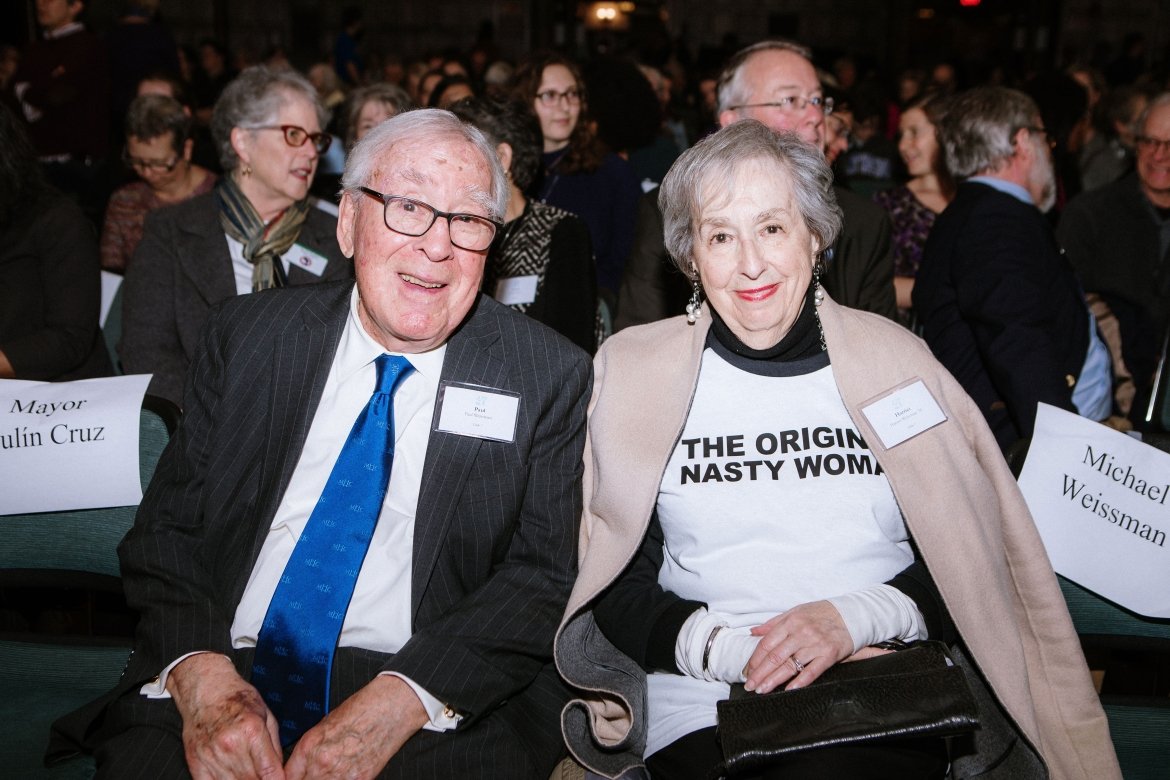 Hundreds gathered to honor Harriet and Paul Weissman
Hundreds of friends, alumnae, faculty, students, and dignitaries gathered together over the course of two days to celebrate the 20th Anniversary of the Weissman Center for Leadership, and to honor its visionary founders, Harriet Levine Weissman '58, and her husband Paul.
We are so grateful to so many people who made the 20th Anniversary a joyous and memorable experience. 
To President Sonya Stephens and Dean of Faculty Jon Western, for their deep commitment to the work of the Weissman Center, and to Carolyn Dietel at the Frances Perkins Program and the many other campus leaders who made the 20th Anniversary possible.
To Mick Caouette, director of the new documentary "Summoned: Frances Perkins and the General Welfare," for enlightening the world on the enduring work of our beloved alumna, and for honoring Harriet and Paul in presenting the documentary as an East Coast Premiere at the Weissman Center's 20th Anniversary.
To Susan Bateson '76, Tomlin Perkins Coggeshall, and the leaders at the Frances Perkins Center in Maine, for their generous collaboration.
To esteemed alumnae leaders Naomi Barry-Pérez '96, Sarita Gupta '96, and Maria Mossaides '73, who illuminated Frances Perkins' far-reaching social programs and their importance to today's workforce and vulnerable populations.  
To inspiring alumnae roundtable panelists Courtney Brunson '16, Marcella Jayne FP'13, Angelica Mercado '19, Kavita Ramdas '85, and Leocadia Zak '79, who shared how Mount Holyoke College and the Weissman Center were a formative experience in their personal and professional lives, and who discussed leadership and diversity in a changing world. 
To prestigious faculty roundtable panelists Sam Ace, Chris Benfey, Jen Matos, Kate Singer, and Preston Smith, who shared their scholarship, initiatives, and teaching curriculum made possible by Weissman Center support.
To Congresswoman Nita Lowey '59, for her gracious and delightful tribute to her long-time friends, Harriet and Paul Weissman.
To the Honorable Carmen Yulīn Cruz Soto, Mayor of San Juan, Puerto Rico, whose moving address explored the wide-reaching and transformative impact of Harriet and Paul's leadership mission.
And finally, to Harriet and Paul Weissman, for their profound vision, spirit, and generosity in launching a leadership center at Mount Holyoke College twenty years ago, and for their dedicated and ongoing commitment to the Center and its mission to inspire and cultivate successful and purposeful leadership for today and the future.  
We hope the following videos will showcase the excitement, learning, sharing, joy, and love that we felt together, and for one another, as we commit ourselves to building a better world.