Elfing is a first-year and sophomore based tradition that is a favorite among students.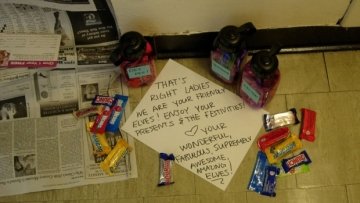 When the Class of 1966 were first-years, they were severely hazed during Hazing Day. They did not want the class of 1967 to undergo the same harmful experience, so they decided to "care" for the first-years in secret. Each sophomore was paired with a first-year. The sophomore left little presents outside the first-year's doors for about a week. These gift-leaving sophomores were called elves.
This went over so well that, while in 1965 the first-year guide listed the sophomore class as "sophomore sisters," by 1966 they were listed as Elves. Under the legitimate wing of the school, Elfing became a beloved tradition.
Today, elfing occurs early to midway through fall semester. One date is set across campus for the start. Typically, the first part of Elfing is covering the first-year's door with newspaper or something fun, so that when the first-year innocently awakes, they will open the door to a surprise. They will usually find the first of their little elfing gifts as well. The first-year, known as the "Elfee" (as in the one being Elfed), receives these presents over the course of the week from their Elf who, of course, goes by a false name. After Elfing, the sophomore reveals their true identity.
Happening at Mount Holyoke
Mount Holyoke Traditions