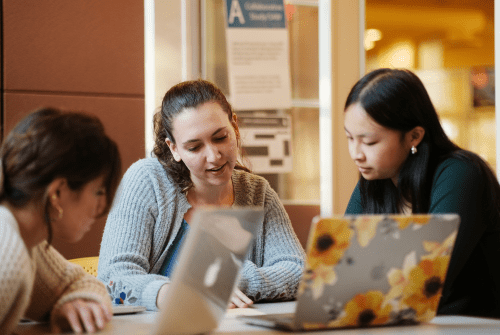 Speaking, Arguing, & Writing (SAW) Center
Speaking, Arguing, & Writing (SAW) Center
The SAW Center is a place where students work together with skilled peer mentors to speak confidently, argue persuasively, and write with clarity. SAW mentors are students who have undergone a rigorous training program focused on collaborative peer learning with an acute focus on writing and public speaking development.
The SAW Center is designed to offer you a unique opportunity to get useful feedback on your writing and speaking assignments.
Writing Development
At the SAW Center, SAW mentors can help you by working intensively with you on multidisciplinary written assignments, including college essays, lab reports, creative writing pieces, senior theses and more. Mentors offer one-on-one assistance at every step of the writing process, from brainstorming to revision.
SAW Mentors will
discuss your assignment with you and make suggestions on approaching a topic
help you develop your own editing and proofreading skills through advice and guidance on thesis development, use of evidence, organization, flow, sentence structure, grammar, punctuation and more
direct you to other resources for further assistance
Mentors will not
edit or proofread a paper
write any part of your paper for you
Public Speaking Development
SAW mentors also offer support to help you strengthen your public speaking skills. The SAW Center features a fully mediated public speaking appointment room facilitates the rehearsal of various forms of speaking engagements, such as conference presentations, course speeches, and interviews. You can meet with a mentor to review the organization and flow of your speech and to receive feedback on your vocal delivery, body language, use of visual aids, and more.