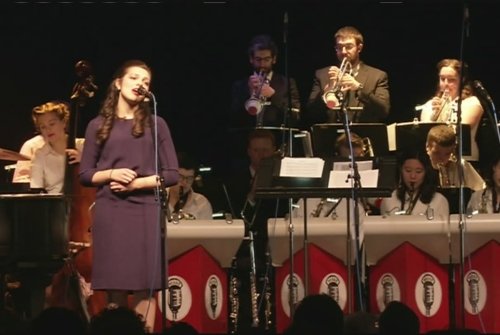 The Jazz Ensembles of Mount Holyoke College consists of three ensembles: Big Band Jazz, Chamber Jazz, and Vocal Jazz.
Students from all over campus with majors ranging from the Sciences to the Humanities converge in Pratt Memorial Hall each week to study and perform "America's classical music" in the Jazz Ensembles of Mount Holyoke College. Speak with any Mount Holyoke "jazzer", as they are affectionately called, and they will tell you of a wonderful feeling of community within the three groups. It is remarkable that within three short years of its genesis, the original eight member instrumental combo grew into three ensembles featuring over forty singers and instrumentalists.
Jazz Ensemble participants appear in numerous concerts and events on campus which have fast become traditions, including the Family & Friends Weekend Jazz Concert in October; "Hot Jazz On A Cold Night!" in December; and March's unique performance project, "The Big Broadcast!", an authentic 1940's radio show. The Jazz Ensembles also seek out tour opportunities, and often in conjunction with other department ensembles.
The Jazz Ensembles are directed by Mark Gionfriddo.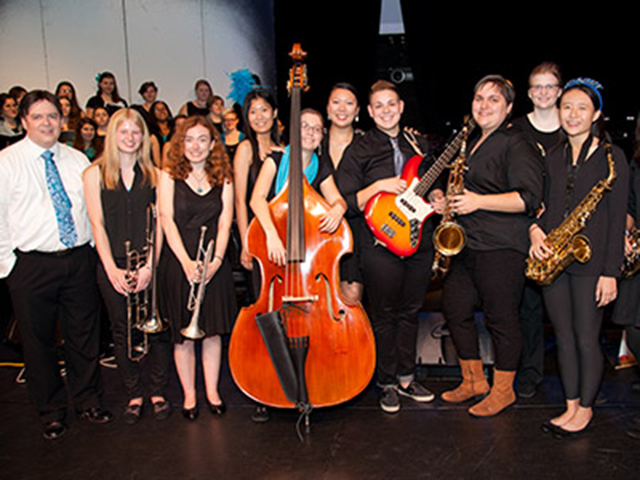 Big Band
Are you a brass, horn or rhythm section player with high school jazz or marching/concert band experience, and are looking for an opportunity to continue playing at college? Perhaps you have a background in classical music or playing in an orchestra, but you have always wanted to try jazz! The twenty member Big Band, specializing in classic and contemporary repertoire from Ellington to Baylock, is where seasoned instrumentalists work alongside inquisitive, excited beginners.
Big Band Jazz is a mixed instrumental group open to beginning, intermediate, and advanced musicians. Students learn a variety of classic and contemporary swing, Latin, funk, rock, pop and jazz standards, many from the American Popular Songbook. The group performs in concert twice a semester and occasionally off campus. The Big Band is comprised of alto, tenor, and baritone saxophones, trumpets, trombones, and a rhythm section of piano, guitar, bass, drums and percussion.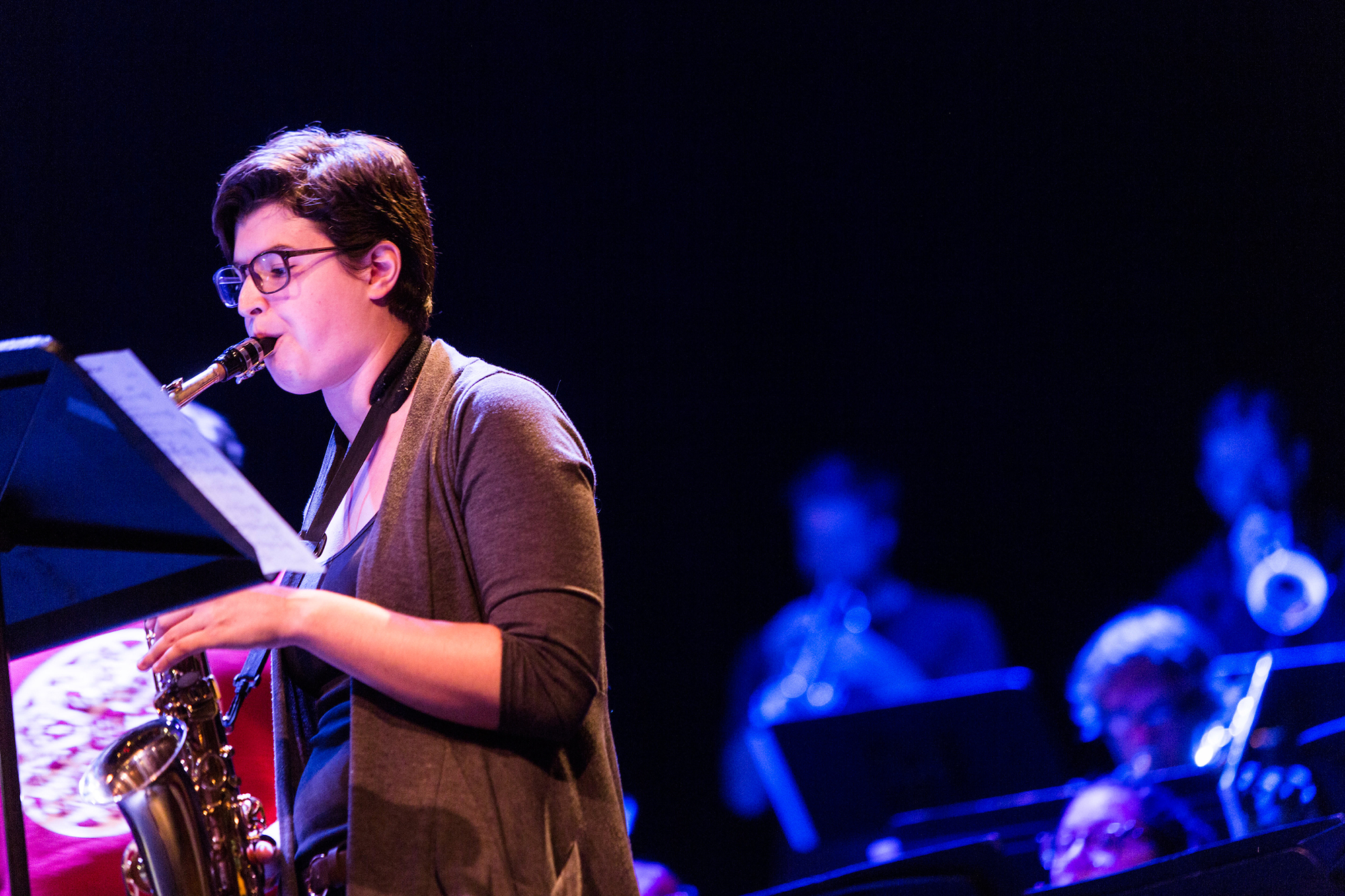 Chamber Jazz
For those with plenty of jazz experience already and who desire to stretch their boundaries into more challenging jazz forms, the Chamber Jazz Ensemble is for you. Chamber Jazz is a select instrumental combo open to more advanced jazz musicians with emphasis on complex forms such as Dixieland, bop and fusion. Students also learn exercises and techniques that will aid them in solo improvisation.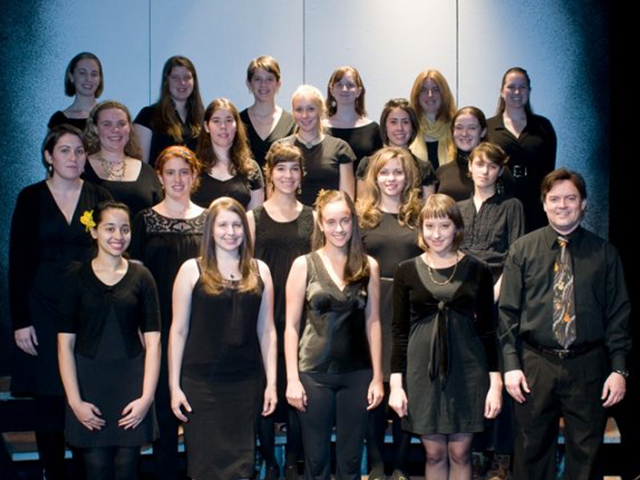 Vocal Jazz
If you are a singer and enjoy the ballads of the incomparable Lady Day or 'scatting' in the style of Ella the Great, the Vocal Jazz Ensemble performs these selections and much, much more. And there are plenty of solo opportunities available for Vocal Jazz members accompanied by Big Band Jazz and Chamber Jazz! Vocal Jazz is a select group of up to 25 singers that performs classic and contemporary jazz vocal and jazz choral music. The group performs in concert twice a semester and occasionally off campus as well. One-on-a-part and small group singing are especially explored in the Jazz Ensembles annual March performance project, "The Big Broadcast!"
Auditions
Auditions are really painless! We will understand if you've never played or sang jazz music before – don't let that deter you from trying out – everyone who joins has different musical experiences, some with no jazz experience at all. You can bring in a tune or song with which you are comfortable. More advanced musicians are asked to sight read a passage of music.
Upcoming auditions
Please use the jazz audition sign-up form to choose an audition time.
You will be asked to play or sing a selection that best shows off your facility with your instrument or with your voice.
Please contact Mark Gionfriddo with any questions.
History of Jazz at Mount Holyoke
On the evening of April 29, 1999 (the anniversary of Duke Ellington's birth), the audience witnessed a historic occasion when the first MHC Music Department student recital exclusively devoted to Jazz music was presented. Over the years, Mount Holyoke students have formed informal groups for "jam sessions", but prior to the spring of 1999 they had to travel to one of the other Five College campuses to audition for and play in an official jazz ensemble. When tracing the history of the Jazz Ensembles, one must consider that the study of jazz is relatively new to the campus as well.
In the spring of 1997, Music Department Chair Larry Schipull approached Mark Gionfriddo to ask if he would be interested in teaching jazz piano to Mizue Morita '98, who wished to study jazz on campus. More piano students for Gionfriddo followed in Mizue's footsteps, including Sarah Russo '01. Sarah and bassist Joyce Devlin (Professor Emeritus, Theatre Arts) had been meeting regularly to jam and were looking for an opportunity to play with other campus musicians. After preliminary meetings with Sarah and an approval from Larry and the Department, Gionfriddo formed the first Jazz Ensemble in the spring of 1999. The personnel of the first ensemble, known as the 'Charter Combo', featured Ryo Fukai '02 on soprano, alto & tenor sax; Amy Kommatas '01 on alto sax; Jennifer McDonald '98 on trombone; Russo, who also assisted Mark as Student Coordinator; Jamie Miller '01 on piano; Devlin; Caitlin Parsons '02 on bass & vocals; and Susannah 'Ana' Pearce '00 on drums.
The Jazz Ensemble became an official Music Department course offering in the fall of 1999 and enjoyed continued expansion over the next several years. After the historic debut concert, the ensemble appeared with the Concert Choir (now Chorale) for a Founder's Day celebration in November of 1999. Chamber Jazz and Vocal Jazz were formed as offshoots of the Big Band and became official courses in 2000 and 2001, respectively. The Ensembles were also the only groups asked to appear on March 3, 2001 at a special dedication concert commemorating the renovation of Pratt Music Hall.
Another historic moment was the first appearance of the ensembles at Christmas Vespers when Chamber Jazz was selected by Choral Director Catharine Melhorn as featured instrumental ensemble for the 2002 event. Vocal Jazz made its first appearance at Vespers 2003 and is now a yearly participant. The Jazz Ensembles have toured and appeared in concerts in New York City, Boston, New Jersey, Cape Cod, Nashville and Washington DC. The Big Band was featured in 2006 on two episodes of the popular National Public Radio quiz show "Says You!" Currently, the groups are celebrating the tenth anniversary of the ensembles, and this was commemorated with a kickoff year concert featuring returning alums and current students in May of 2008.
Gionfriddo has founded several concert themes which have become campus traditions: one is the annual Winter Concert entitled "Hot Jazz On A Cold Night!" and the other is March's semi-theatrical homage to the 1940's radio variety show, "The Big Broadcast!", which has been featured annually.
Contact Us
The Music Department offers a program exploring the history, theory, literature, performance and cross-cultural study of music.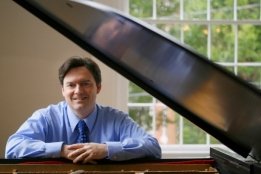 Director of Jazz Ensembles
Coordinator of Piano Instruction
Instructor of Music