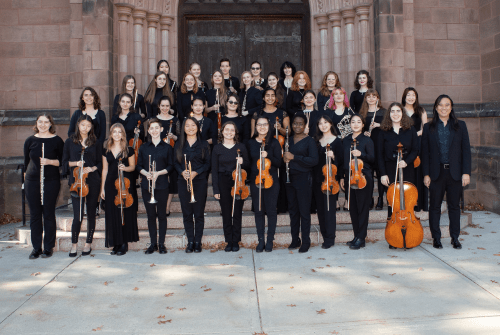 The Mount Holyoke Symphony Orchestra is a fun, passionate, diverse, and welcoming community of musicians dedicated to performing a variety of musical genres through unique concert experiences in the community and beyond.
The orchestra is one of the largest musical groups on campus. Led by conductor Matthew Wardell, the group reflects the diversity of the college's community, with musicians from the five colleges and the Connecticut River Valley, in addition to students, faculty and staff from Mount Holyoke College. Students who perform in the orchestra might be majors in music or biology, English or international relations, philosophy or mathematics. They are drawn by the collective desire to be an active participant in creating great beauty in the realm of sound.
Have questions about orchestra? 
We attend both the academic fair and the involvement fair. Stop by to find out more about the orchestra and our plans for the coming year, auditions or any other questions you might have. If you can't meet us in person, you can also email our interim music director Matthew Wardell.