Tianhui Ng
Orchestra Director
Associate Professor of Music
on leave fall 2023 and spring 2024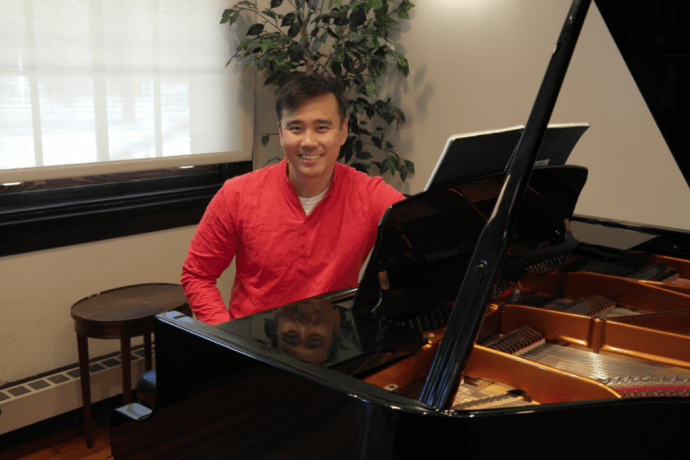 The American Prize winning conductor Ng Tian Hui is Music Director of the Mount Holyoke Symphony Orchestra (USA), and the Interim Music Director of the University of Massachusetts Amherst Symphony Orchestra (USA).
Innovative programming
His innovative programming has been acknowledged with grants from institutions such as the Massachusetts Cultural Council, National Arts Council of Singapore, Singapore International Foundation, Women's Philharmonic, and WomenArts, in addition to other awards from the Oregon Bach Festival, the Dartington International Music Festival, the Yale School of Music, and the Singapore Government Public Service Commission.
Advocating new music
An advocate of new music, he has assisted in and premiered new works by Pulitzer and Rome Prize winners such as Curt Cacioppo, Aaron Jay Kernis, Robert Kyr, David Sanford, and Joan Tower, and many young composers. He is particularly proud of his commissioning work, which has helped composers like Chen Zhangyi garner international prizes such as the London Symphony Orchestra Prize. His 2001 direction of Stravinsky's The Rake's Progress was praised by the Birmingham Post (UK) for its "high orchestral quality" while his 2014 premiere of Mary D. Watkins's Civil Rights era opera, Dark River, was critically acclaimed in the United States.
International and versatile conducting 
Tian has conducted orchestras around the world including the Moravian Philharmonic Orchestra (Czech Republic), Dartington Festival Orchestra (UK), Orchestra of the Royal Opera of Wallonie (Belgium), and the Oregon Bach Festival Orchestra (USA), and musicians from the London Symphony Orchestra (UK), Orquestra de Cadaqués (Spain), Scottish Chamber Orchestra (UK), Tempesta di Mare (USA), and Vancouver Symphony Orchestra (Canada).
A versatile musician, he is equally at home in the realm of choral music and has conducted ensembles like the Stuttgart Chamber Choir (Germany), Carnegie Hall Festival Chorus (USA), Oregon Bach Festival Chorus (USA), Yale Schola Cantorum (USA), and the Young Person's Chorus of New York (USA). He has collaborated with internationally renowned artists such as Dashon Burton, Tyler Duncan, Marcus Eiche, Adrianne Greenbaum, Ayano Kataoka, Ilya Polataev, Gary Steigerwalt, Astrid Schween, Philip Lima, Hanna Elisabeth Müller, Nicholas Phan, James Taylor, Gilles Vonsattel and Soyoung Yoon.
Tian's irrepressible musical spirit first expressed itself when he conducted a choir of kindergarten children in his native Singapore at the age of five. A pianist, singer, and trombonist, he later studied composition and early music at the University of Birmingham (UK) where he discovered his love for Stravinsky and contemporary music.
Creative and interdisciplinary approaches
Returning home, he helped found one of the first contemporary music ensembles in the country and was soon composing for animation, dance, film, chorus, and orchestra. It was during this time that he discovered his affinity for interdisciplinary work and created the groundbreaking site-specific community-based arts festival, NOMAD, with which he has won awards from the Singapore National Arts Council. His works have since been heard in diverse settings such as the Hong Kong Film Festival, Animation World Magazine (USA), and Apsara Asia Dance (Singapore).
Tian continued his education at the Yale School of Music (USA) where he helped to start a new tradition with the music of his graduation recital reflecting on war and conflict. There, he fed his passion for the masterworks of the choral orchestral repertoire, assisting such renowned interpreters as Nicholas McGegan, Masaaki Suzuki, Dale Warland, Simon Carrington, Marguerite Brooks and Jeffrey Douma. His recent studies have included work with Paolo Arrivabeni, John Carewe, Peter Eötvös, Kurt Masur, and Michel Tabachnik.
Education
M.M., Yale University
B.M., University of Birmingham