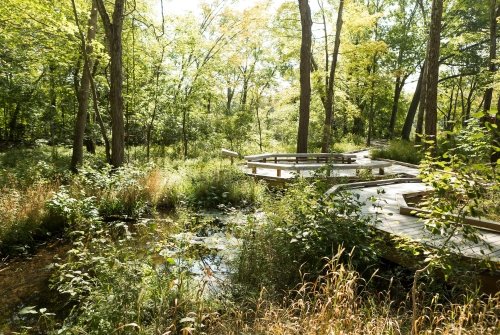 Restoration Ecology Research
Restoration Ecology Research
The Restoration Ecology Program focuses on real-life restoration projects, both on and off campus.
Project Stream
Project Stream is at the heart of the Restoration Ecology Program. Prior to 2012, Project Stream was an unnamed (and largely unknown) waterway feeding into the north end of the Mount Holyoke College lakes system. Kate Ballantine's Restoration Ecology class began studying the stream and conducting research. They soon found that, like much of the globe, the Mount Holyoke College water system has problems with nutrient pollution, and Project Stream was not functioning to its full potential to remove those nutrients and filter the water. REP students took on the task of planning for and implementing a full site restoration. Through their efforts, that plan became a real-life restoration project.
Project Goals
To improve the quality of water entering Upper Lake from the tributary stream.
To set the site on a trajectory toward dominance by native plant species.
To encourage site visitors and program participants to engage in the science, practice, and social dimensions of ecological restoration through education and outreach endeavors.