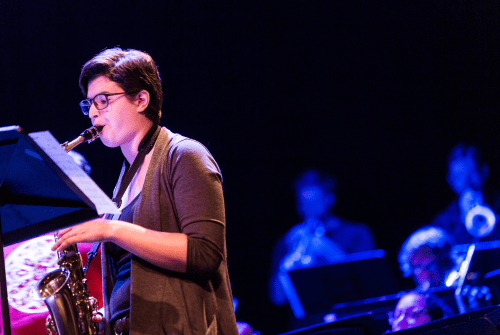 Performance Study in Music
Performance Study in Music
Learn and use the tools that differentiate musical periods, styles, and national characteristics.
Auditions and the Music Proficiency Exams are required for official registration in all performance courses; a minimum intermediate level is required for registration in most instruments, regardless of whether your home institution is Mount Holyoke or one of the other colleges in our consortium. The exam schedule, topics and skills are posted in advance.
Lessons and individual performance studies
All students are eligible for lessons. We have many students enrolled in performance study who are not music majors or minors. Private instruction is offered at three levels.
All performance study is for credit and the grade you receive will be included in your GPA. Students enrolled in a 50 or 60-minute lesson receive 2 credits per semester Students enrolled in a 30-minute lesson receive 1 credit per semester. Students taking performance study at the 300 level receive 4 credits per semester.
Shared student recitals
If you enroll in 200-level performance studies you will be required to participate in a public performance during the same semester. Unless you have a significant solo performance in another concert, you should plan to perform at one of the multiple shared student recitals that are scheduled at the end of each semester.
If you enroll in 100-level performance studies you may also choose to perform at the discretion of the instructor and as space allows.