Award Opportunities in Politics
Award Opportunities in Politics
The Department of Politics awards a number of fellowships and prizes each year. Fellowship opportunities are open to alums. These fellowships and prizes each require an application as specified.
Fellowships
The fellowships are awarded to alums and students who are candidates for a degree from Mount Holyoke, with majors in Politics or International Relations. Former applicants, including recipients, may reapply. Recipients who decide to defer enrollment in graduate school can defer acceptance of an award for up to one year. In such cases, the individual must be enrolling in the same program for which they were awarded a fellowship to attend.
To apply, submit the following materials to Linda Chesky Fernandes in a single email:
• Proposed plan of study (2 pages max)
• Applicant's cv or resume
• Official transcript of undergraduate and, where appropriate, graduate study
• Please also arrange two letters of recommendation to be sent to Linda Chesky Fernandes by the deadline.
The Ruth C. Lawson Fellowship was established in 1976 by colleagues, students, and friends of Miss Lawson.
Award: Up to $10,000 for advanced study in international politics. The number of fellowships—and amount—may vary, depending on the applicant pool.
The Ellen Deborah Ellis Fellowship in International Relations was established in 1944 by students and friends of Miss Ellis.
Award: Up to $4,000, preferably for graduate study in international relations.
The Donald G. Morgan Fellowship was established in 1976 by colleagues, students, and friends of Mr. Morgan.
Award: Up to $1,500, preferably for attending law school.
In the event that no award is made for law school in a given year, an award may be made for graduate study in political science involving a special interest in the theory, development, values, and adaptability of the U.S. Constitution.
Prizes
Graduating seniors are welcome to apply for these prizes. 
The Libby Rosenfeld Himelstein Prize ($500) is awarded to the graduating senior Politics major who, in the judgment of the Department, submits the best essay in the field of Politics.
There is no restriction on the form this essay may take.  Students may submit (or faculty may nominate) essays written for the competition, as independent work, or as papers prepared for courses in the Department. Senior theses, however, are ineligible. Essays will be judged by the usual criteria of excellence in research, argument, and expression. To apply, submit your essay to Linda Chesky Fernandes (lfernand@mtholyoke.edu).
The prize is awarded in the memory of Libby Rosenfeld Himelstein, a political science major in the class of 1954, who believed strongly in the tradition of graduates like Frances Perkins, who used their political skills for humanitarian ends. Libby Rosenfeld began her career working on elections law for the state of Connecticut, married a professor of English at Adelphi University, raised two sons who became physicians, did extensive volunteer work, and ended her career as a vice president and taxation expert for Prudential Securities, where she was known for her rock-ribbed integrity. An endowment to support this prize has been donated by her husband, sons, and brother.
The Lawson-Loewenberg-Van Cleve Prize ($500) is awarded to a graduating senior Politics major or minor with an excellent academic record and, preferably, planning for a career in public service.
Applicants should submit a transcript, résumé, and brief statement of their public service work and career plans to the Department of Politics (Linda Chesky Fernandes lfernand@mtholyoke.edu).  These materials may be supplemented, where appropriate, by letters of evaluation from people for whom, or with whom, the applicant has worked in a public service capacity.
This prize honors Ruth Van Cleve and, at her request, Ruth Lawson and Gerhard Loewenberg. The generosity of Ruth Van Cleve's late husband and their children is responsible for this prize.
Ruth Van Cleve received her BA magna cum laude from Mount Holyoke in 1946 and her LL.B. from Yale University in 1950. She was a member of the Mount Holyoke Board of Trustees for 20 years from 1965 through 1986. Ruth Van Cleve received an honorary LL.D. from Mount Holyoke in 1976 and a Medal of Honor from the Alumnae Association in 1979.
Ruth Van Cleve compiled an exemplary record of government service at the Interior Department and the Federal Power Commission. In 1964 at the Interior Department, Ruth Van Cleve became the first woman to serve as the Director of the Office of Territories; the first woman to serve as a bureau chief in that Department; and in 1975, the first to serve as an Assistant General Counsel of the Federal Power Commission. In 1977 Ruth Van Cleve became Director of the Office of Territorial and International Affairs, and she is considered the principal architect of the legislation leading to statehood for Alaska and Hawaii.
This prize is also named for Ruth Lawson, a 1933 graduate of Mount Holyoke, and a revered teacher of Ruth Van Cleve's at Mount Holyoke who inspired her to pursue a career in public service; and for Gerhard Loewenberg, a close friend, a fellow Trustee of Mount Holyoke and former Chair of the Board of Trustees, and a former member of the Politics Department.
Contact Us
The Department of Politics strives to help students become informed citizens who think critically about the important issues of our time.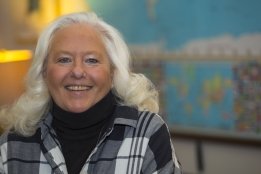 Academic Department Coordinator