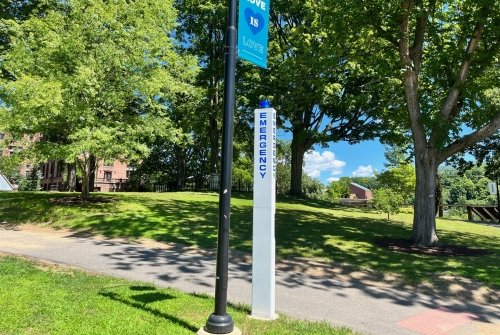 Emergency Phones/Call Boxes
Emergency Phones/Call Boxes
Our campus has a number of emergency telephones strategically placed on campus to provide emergency access to Public Safety and Service. Each emergency phone is a metal box with a luminescent blue light on top and is clearly visible day and night.
These phones ensure an immediate response in the event of a dangerous situation but are NOT to be used in non-emergency situations. You may also use them to report incidents or suspicious people, or to ask for an escort. Simply push the red button on any blue light phone. The phone will signal Public Safety and Service automatically and direct someone to you.
Emergency Phone Locations
In addition to this list, the campus map marks the call box locations.
1837/Mandelles parking lot
1837 Hall, west
79-83 College Street, west
Art Building, south
Betty Shabazz Cultural Center, south
Ciruti, south
Clapp, west
Creighton Hall, northwest
Creighton Hall, southwest
Creighton Hall, northeast
Creighton Hall, southeast
Greenhouse, north
Kendall Parking Lot, South
Kendall Parking Lot, North
Mary Lyon Parking lot, north
Newhall Parking Lot, west
Observatory, east
Otto C. Kohler Building (Facilities Management), west
Pratt, northeast
Wilder, east