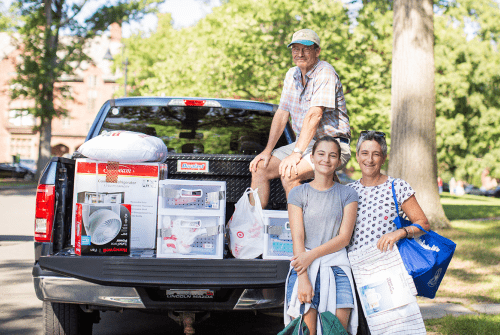 Storage Space for Students
Storage Space for Students
The College provides a trunk room in each residence hall to provide storage to active students during the academic year. The trunk room is intended for academic-year storage only. The Mount Holyoke College academic year begins with the opening of school, in September, and ends with the closing of the residence halls for the underclass students in May. The trunk room is designed to provide space for boxes, suitcases, and those few extra items students bring from home but realize they do not need. Trunk rooms are only large enough for students to store a few belongings.
Items stored in trunk rooms must be clearly marked with name, class year and date of storage. Room furniture, upholstered/overstuffed furniture, bikes, and items stored in open containers pose fire risks to the community and are prohibited from the trunk rooms. If these items are found in a trunk room, they will be removed and disposed of immediately.
At the end of each academic semester, Facilities Management staff go through the trunk rooms and remove abandoned items and unsafe items. Students store belongings at their own risk. The College is not responsible for protecting or securing items stored in trunk rooms. The College is not responsible for anything stored in the trunk rooms. Items may be inadvertently removed and discarded, misplaced, stolen, or subject to other accidental damage or loss. The College strongly encourages students to make off campus storage arrangements. To obtain access to the trunk room, please contact your Residential Fellow. Public Safety and Service, Facilities Management, and the Office of Residential Life will not unlock trunk rooms. The trunk room is a locked but unsecured area. Access is available to any student or staff member affiliated with the College. The trunk rooms are located in the residence hall basements and subject to moisture and climate changes.
At the closing of Spring semester or upon any extended separation from the College (medical leave, withdrawal, graduation) students must take belongings home or locate an off campus summer storage facility.
Storage Guidelines
What types of items CAN be stored?
Luggage and trunks
Plastic storage bins with lids
Refrigerators and microwaves
Rugs (must be rolled, tied, and labeled)
Items stored in trunk rooms must be clearly marked with name, class year and date of storage.
All items must be in a closed or sealed container. Open crates, bags of any kind, and open boxes are not allowed. Anything improperly stored will be discarded.
Furniture of any kind such as futon frames, upholstered chairs, etc.
Items stored in large travel bags or garbage bags
Crates or boxes with no lids
Bikes
Floor Lamps
Flammable or hazardous materials
Summer Storage
There is absolutely no storage available during the summer months. Students must take their belongings home during the summer months or locate an off-campus storage facility. Graduating seniors must remove all belongings from the trunk rooms immediately following graduation. After graduation, any items remaining in the trunk room belonging to graduated seniors will be removed and disposed.
Any items found in trunk rooms during the summer months will be discarded.
MHC's Preferred Vendor
Boomerang Storage
Contact: Scott George
413-586-2666
Door-to-door storage and shipping services
Free Pick up, Free Delivery, and Free Boxes!
Only company authorized to deliver to your room prior to your return to school
20 Years of experience with student storage and shipping
Locally owned and operated
Email: service@boomerangstorage.com
Other local storage facilities
This list is provided as a convenience. Mount Holyoke College does not endorse for or vouch for any of the companies listed. For additional storage options, please consult the local yellow pages.
Amherst Self Storage
1270 Federal Street
Belchertown, MA 01007
413-729-3260
Chicopee Self Storage
657 Meadow Street
Chicopee, MA 01013
413-592-0709
customerservice@chicselfstorage.com 
Chuck It Self Storage
346 East Street
South Hadley, MA 01075
413-532-9567
Cold Spring Self Storage
150 Bay Road
Belchertown, MA 01007
413-323-0001
Community Self Storage
22 Industrial Drive
South Hadley, MA 01075
413-522-0300
Ideal Movers & Storage
10 Mill Valley Road
Hadley, MA 01035
413-584-4746
info@idealmovers.com
Neighbor
877-915-0362
Sheridan Street Self Storage
105 Sheridan Street
Chicopee, MA 01020
413-533-1095
customerservice@sheridanstreetstorage.com
Sitterly Movers & Storage 
270 Liberty Street
Springfield, MA 01104
413-737-2641
info@sitterlymovers.com
South Hadley Self Storage
46 East Crew St.
South Hadley, MA 01075
Contact: Nicole LeBlanc
413-230-0924
southhadleystorage@comcast.net
UHaul: Holyoke Location
250 Appleton Street
Holyoke, MA 01040
413-539-9261
UHaul: Chicopee Location
499 Montgomery Street
Chicopee, MA 01020
413-535-3037
The UPS Store: Chicopee Location
1981 Memorial Drive 
Chicopee, MA 01020
Contact: Audra Vitale
413-539-9112
store1144@theupsstore.com
The UPS Store: East Longmeadow Location
444A North Main Street
East Longmeadow, MA 01028
413-525-5959 
store0964@theupsstore.com 
Contact Us
The Office of Residential Life is responsible for the administration of—and student life in—the residence halls on campus at Mount Holyoke.
205 Blanchard Campus Center