Danielle R. Holley
President
Professor of Politics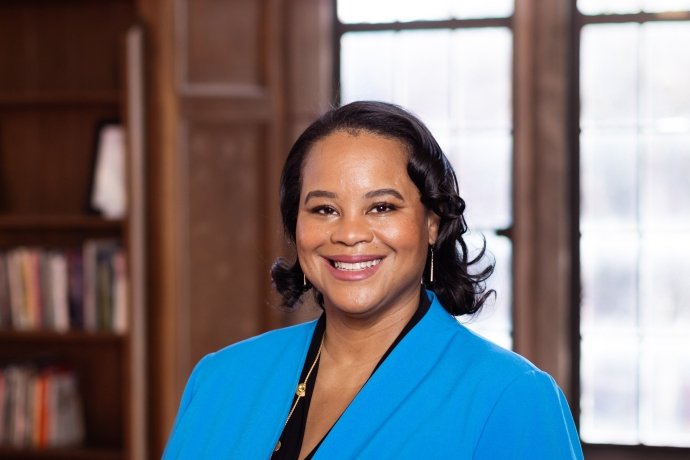 Danielle R. Holley is the twentieth president of Mount Holyoke College. A noted legal scholar and educator, Holley served as Dean of the School of Law at Howard University (2014 - 2023) prior to joining Mount Holyoke. She holds a B.A. from Yale University and a J.D. from Harvard Law School. Holley also previously served as a law clerk to Judge Carl E. Steward on the U.S. Courts of Appeals for the Fifth Circuit.
Her achievements during her tenure at the Howard School of Law include the introduction of a six-year BA/JD program, the launch of experiential learning and career preparation initiatives with World Bank, Microsoft and Amazon Studios, among others, and a 200 percent increase in fundraising success, including a $10 million grant to support public interest law, the largest in the Howard School of Law's history.
President Holley's scholarship spans the governance of public schools, increasing access to higher education and diversity in the legal profession. Her contributions to the legal profession and higher education have been recognized with numerous awards including the inaugural Impact Award from the Association of American Law Schools, the American Bar Foundation's Montgomery Summer Research Diversity Fellowship Distinguished Alumni Award, the Lutie Lytle Conference Outstanding Scholar Award, the National Bar Association's Heman Sweatt Award and the University of South Carolina Educational Foundation's Outstanding Service Award. She was twice awarded the Outstanding Faculty Member award during her tenure at the University of South Carolina School of Law.
A lauded and sought-after expert on a wide range of civil rights and equity subjects, President Holley has offered her academic analysis of topics related to desegregation, racial discrimination and affirmative action, the history of the civil rights movement, diversifying K-12 pipelines to higher education, admission of undocumented immigrants to public colleges and universities, women in academic leadership and reproductive rights. She is a leading scholar of the Supreme Court decisions regarding race-conscious college and university admissions. Her insights have appeared in the media on numerous occasions, including MSNBC, The 19th, ABC News, The Boston Globe, NBC Nightly News, Reuters, WBUR and more.
Currently, President Holley serves as the co-chair of the Board of the Lawyers' Committee for Civil Rights. She has also served on the board of the Law School Admission Council and on the board of the Howard University Middle School of Math and Science. She is a moderator for the Aspen Institute, a Liberty Fellow through the Aspen Global Leadership Network and a fellow with the American Council on Education. She is also a member of Delta Sigma Theta Sorority, Incorporated, the trailblazing sorority for Black women in higher education founded at Howard University in 1913. President Holley is Mount Holyoke's first permanent Black president in the College's 186-year history, and the fourth Black woman in history to lead one of the original Seven Sisters.