Leslie Fraser
Multifaith Chaplain and Advisor to the Unitarian Universalist and Protestant communities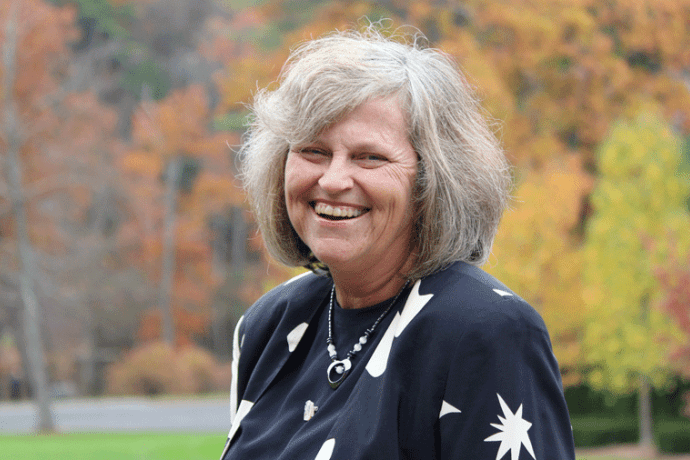 Leslie Fraser has served as a religious advisor at Mount Holyoke since 2004. She is also a community chaplain, part-time minister, and adult educator and career counselor at the University of Massachusetts.
"As Rev. Martin Luther King, Jr. spoke of the world house that all people on earth must live in together, I believe that we also share a world spirit, one that touches and inspires all that dwell in this magnificent universe. With the hope of sharing this one spirit, with its rich diversity of expression throughout religions, culture, and history, I answered a call to ministry. My theology is to live justly, to love constantly, to serve mercy and peace.
"My own roots are Celtic, and I am deeply drawn to the practices of Celtic spirituality as it blends Christian and pre-Christian traditions. My ancestry also has roots in the Protestant Reformation, and I am descended from William Brewster, the spiritual leader of the English Pilgrims who settled in North America. I was raised Catholic and have a deep love for ritual, as well as the peacemaking traditions that inspire Pax Christi and liberation theology. A practicing Unitarian Universalist since 1984, I am a guest minister for UU congregations in Northfield, Petersham, and Greenfield. I also serve as associate pastor for a small community church in Erving. I have had a Buddhist practice for over two decades, and been guided by Hindu and yoga practice for many years as well. My love for the earth has led me to Native teachers and practices from many cultures. My love for healing inspired me to become a Reiki master, and to lead contemplative worship practices, including centering prayer, labyrinth meditations, and Taize services.
"I believe that the world spirit is one that we must live and practice in our lives. That spirit has led me into the world of social justice work throughout my life, in community mental health, social services, nonprofit management of peace and environmental organizations, publishing, education, and ministry."
Fraser's undergraduate degree is a double major in human services and women's studies. She did graduate work in labor studies and education, and is completing seminary training for a Master of Divinity degree. She is in-care to ordination with the United Church of Christ. Ordained as a nondenominational minister, Fraser has performed weddings for Mount Holyoke alums. She is also certified as a Prepare/Enrich marriage counselor.