Robert Darrow
Visiting Instructor in Politics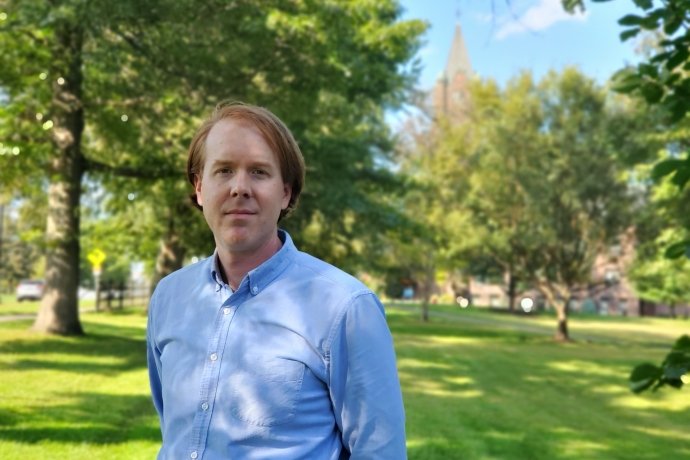 Robert Darrow's research aims to promote more sustainable and democratic futures by exploring how industrial societies are reducing their reliance on fossil fuels and transitioning to renewable energy systems. His work contributes to scholarship on twenty-first century democratic practices and the political dynamics of technological change, but also attempts to speak to wider audiences of policymakers, community organizations and concerned citizens. Both his research and teaching stress active engagement in public life.
It is now widely acknowledged that making the transition to renewable energy is technically and economically feasible; the obstacles are primarily political. Darrow's research asks how these obstacles are being overcome in practice, and with what consequences for broader dimensions of sustainability, and for the organization and exercise of political power. His current project charts the progress of wind turbine development in Denmark over five decades, as the Danes became world leaders in the production of renewable electricity. This mixed-methods study draws on fieldwork, dozens of in-depth interviews with key stakeholders, and a new quantitative dataset of Danish wind turbines to analyze how the country's electricity system has evolved over time, and the impacts of this transition on democratic practices and capacities. Darrow works mainly in the subfields of Comparative Politics and Political Theory, but his research is informed by and engages with a broadly interdisciplinary community of scholars. He regularly works with engineers, ecologists, and activists.
In the past, Darrow has conducted research on mountaintop removal mining in West Virginia, and participated in an NSF-funded study comparing renewable energy policies at the state and local levels around the United States. He has also worked in the electric utility industry on nuclear power issues and as a journalist reporting on local politics. Darrow's scholarship has appeared in Energy Research & Social Science and Spaces for the Future: A Companion to Philosophy of Technology.
Darrow is a fellow in the National Science Foundation's IGERT Offshore Wind Energy Program at UMass Amherst. At Mount Holyoke, he teaches courses in Comparative Politics, American Politics and Political Theory.
Areas of Expertise
Environmental politics, renewable energy, science and technology policy, political theory
Education
M.A., M.S., Virginia Tech
B.A. Michigan State University